This month we are all about celebrating moms and what makes them so, well, SUPER! Here at SignUpGenius, we have been talking to a couple awesome moms who "do it all" for their families, their childrens' schools and communities. Read about how this plan-tastic mom takes on her busy schedule with the assistance of SignUpGenius!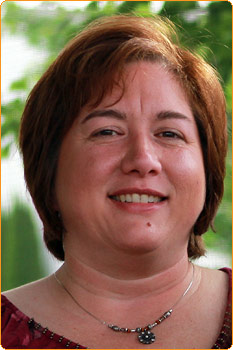 Name:  Dana Zucker
Location:  Ohio
Family: Married to Mark; one daughter age 10
Super-Mom Roles: Playground Project Coordinator, PTO Webmaster, Girl Scout Leader, Scrip Coordinator, Members at the Fair Coordinator (Summerfair Cincinnati)
What is your favorite family activity? Family game nights and hiking in "nature's playgrounds."
Describe the perfect Mother's Day: The day would begin with my traditional breakfast in bed, prepared by my daughter (with dad's help). We would go for a walk in a garden and then maybe take in a movie.  The day would end with dinner out at a favorite restaurant, ideally with other mothers in my extended family.
How did you learn about SignUpGenius.com?  From a PTO parent. After using it once, we were hooked.

What activities/events do you use the site for?  The PTO has used SignUpGenius.com for staff meals, field day, book fairs, donations for movie nights, class picnics, staff appreciation events, Big Brother/Big Sister snack donations, volunteers for candygram sales, picture day help, COSI on Wheels volunteers, vision and hearing screeners and carnival volunteers. I am also using the website this year to coordinate volunteers for Summerfair 2013, a fine arts and crafts fair that takes place over three days this summer.

Which features of the site have been most useful to you?  Besides the 24/7 access for volunteers, I find the ability to duplicate sign ups to be very helpful. The ability to email group members with changes, send invites to different groups, and the option of just publishing the link and not actually sending emails have all been very helpful. I also like that groups can be transferred to other volunteers, allowing them to eliminate one step when they begin to use SignUpGenius.

What have others thought about SignUpGenius.com when you've recommended it to them?  Everyone that I know who has tried it has loved it, even if they were skeptical at first.

How has SignUpGenius had an impact on the people with whom you work? Now all members have access and have the same opportunity to get the shifts they want. Members have made comments that they are impressed by how well the website works and are happy to move away from the old system.

What would you like to tell others who are thinking about using SignUpGenius.com?  You cannot beat the convenience.  You can design the sign up or edit it any time, day or night. You have the ability to transfer and/or duplicate group lists or sign ups, both of which are great time savers. Volunteers save time by not having to email back and forth to a coordinator or return phone calls.  And anyone can see exactly what is needed at any given time, allowing for last minute offers to help.  It really is not difficult to learn how to use, and you will be so happy when you do!

Thanks, Dana, for sharing with us and for spreading the word about SignUpGenius! We are thrilled you have chosen our site as your go-to online sign up tool and look forward to hearing more about your upcoming events!
Now we want to hear from you. Yes, YOU! If you know a SignUpGenius Super-Mom, feel free to share your story with us below in the comments or on our facebook page.