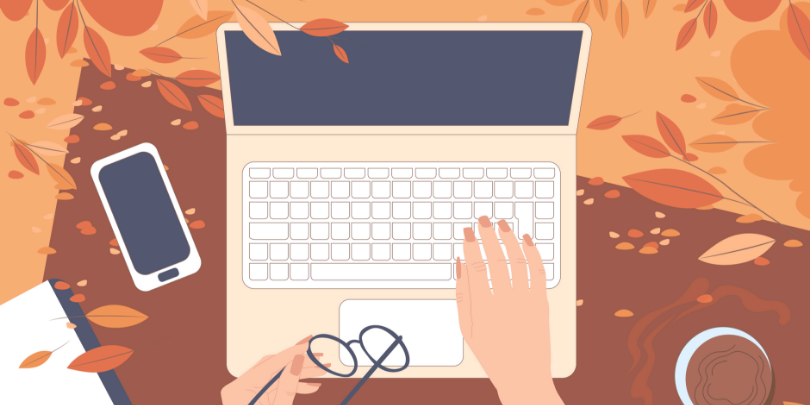 Fall brings a touch of magic to the air. It's the time of football tailgating, fall festivals, trips to the pumpkin patch or getting lost in a corn maze. And, we can't forget Halloween!
Fall is a busy time of year and can create a lot of work for those managing groups or activities. However, the reward of gathering people and sharing experiences is worth the cost. But even superstars like you can sometimes use a little help. SignUpGenius was created to help simplify your organizing efforts - allowing you to focus your genius and energy on the things that matter most.
With a little help from online sign ups, you'll bring the laid back vibe of summer into the fall season. After all, you'll be working smarter, not harder, with SignUpGenius.
For a little fall inspiration, check out some of the popular sign ups that other geniuses are creating this time of year.
Football tailgating
With so many of us watching football, why not watch the big game together? Organize a tailgating event or just invite your friends and family over to cheer on your teams. If you ask them to bring a snack, you risk ending up with 10 bags of chips and nothing else. To ensure you don't run into a snack snafu, create an online sign up.
An online sign up is an easy way to send invites to collect RSVPs. Add slots for food, and you can turn the event into a full-on potluck or cookout for your game day festivities.
Need folks to bring corn hole or other games? Be sure to add slots and recruit people to bring items that add to the entertainment. With an online sign up, you'll coordinate the fun and food that make the big game so special.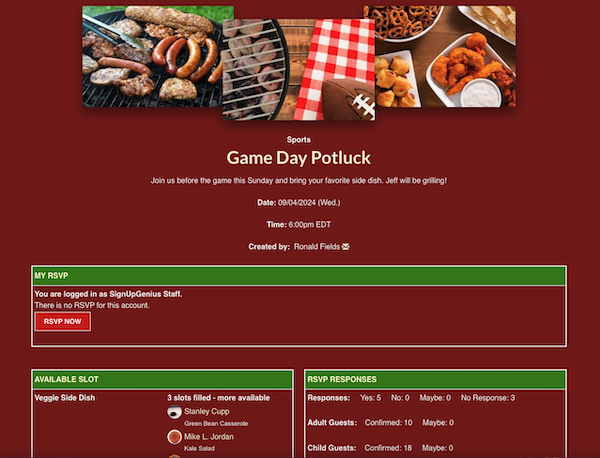 Fall field trips
From pumpkin patches and apple orchards to hayrides and corn mazes, fall is a great time for field trips. Field trips to the farm are the perfect outing for a classroom of students. It's an opportunity to have fun and learn about the sources of food and agriculture. Field trips are valuable experiences for students, but often require logistics such as chaperones, permission slips or even an entrance fee.
With an online sign up, you can recruit parents to help chaperone the event. To cover meals or entrance fees, be sure to collect money on the sign up. Collecting money on the sign up keeps the process paperless and makes it safe to handle the funds and ensure that each person has paid. You can even attach a field trip waiver on the sign up or related emails for parents to download and return with their children.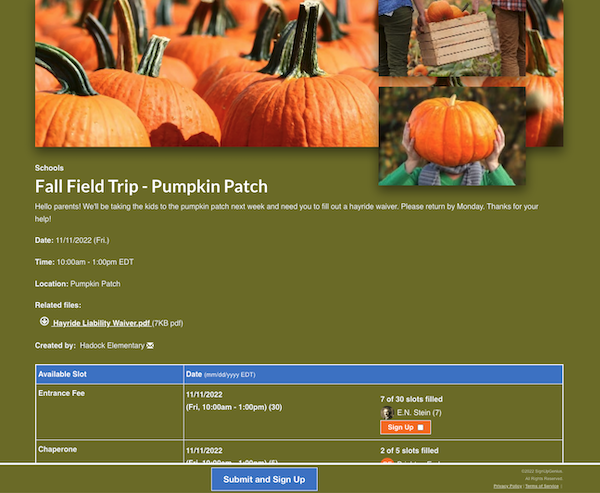 Halloween events
Halloween is one of the most fun filled holidays of the year. From organizing a spooky haunted house to gathering neighborhood friends for a trick or treating event, the night is sure to be memorable. No matter what Halloween event you plan, coordinating volunteers is a sure way to enhance the experience. After all, most people want to help, they just need someone to share what is needed. Fortunately, you can become an organizing genius they need with an online sign up.
To plan a neighborhood event, consider a Halloween block party. Use an online sign up to recruit neighbors to host different social gatherings such as an outdoor movie or telling ghost stories around the fire pit. Kids can trick or treat, roast marshmallows and watch a Halloween movie all in the same night.
With an online sign up, you'll look like an event pro. They'll never know how easy it was with just a little coordination.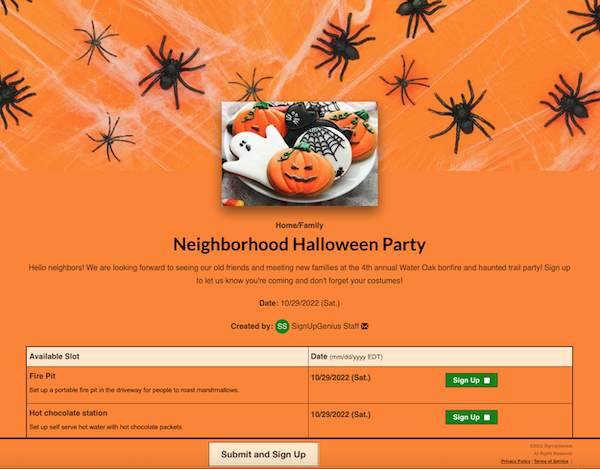 Fall festival
Fall is a time for fairs, carnivals and festivals. The cooler temperatures welcome people outside to enjoy events filled with music, food and fun! But, festivals don't plan themselves. They require lots of hard work and logistics to ensure you have the vendors and entertainment that are necessary for pulling off a great event.
Whether you are planning a BBQ festival or a hoe down in the park, an online sign up is a great way to recruit volunteers and provide a way for vendors to register for the event. With our tabbing feature, you can create multiple sign ups and link them as selectable tabs.
If you are planning a large scale event, consider creating an event page with our portal page feature. Either way, you'll simplify the event coordination process and make it easy for volunteers and vendors to register.
Genius Tip: With our custom questions feature, you can create custom form fields to gather the information you need to collect from vendors when they register.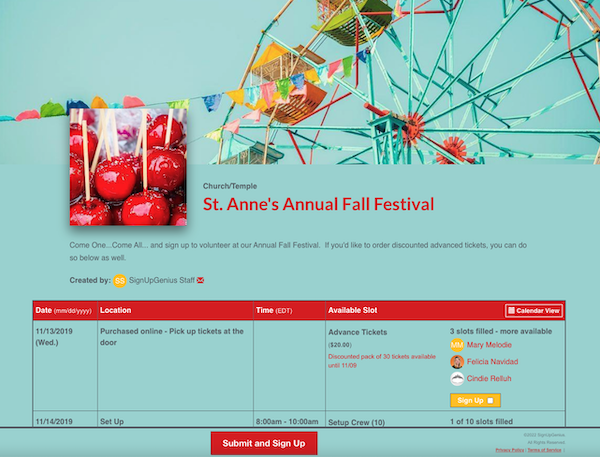 Chili cook-off
Whether you are a chili cooking champion or a chili eating pro, a
chili cook-off
is a great event that brings people together. Chili cooking championships are perfect for work gatherings or as a local event. In either case, you need a simple way to register your contestants.
An online sign up makes the process simple to register chili cook-off contestants. You can also create custom question fields to make the sign up a registration form that collects information from participants when they sign up.
Need to sell tickets in advance for the event? With our LumaPay feature, you can collect money and even offer an early discount as an incentive for purchasing in advance. It's a great way to collect money for fundraising or for prize money.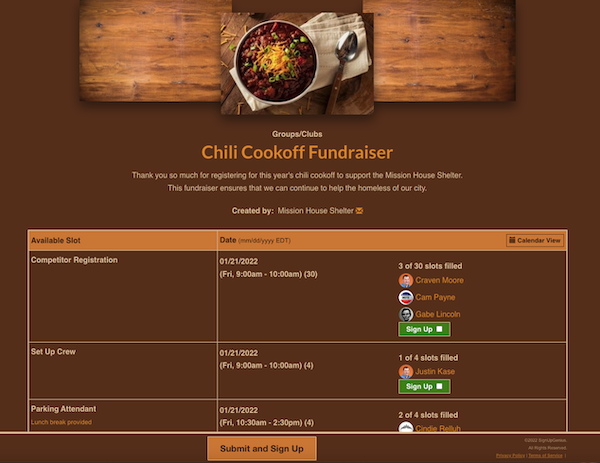 No matter what's coming up this fall, you're ready to tackle any event with the help of an online sign up. Your organizing powers will go beyond so many others as you seamlessly plan away and recruit the help you need. You'll know the secret to organizing magic with SignUpGenius!