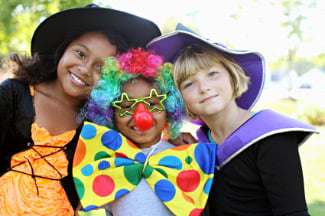 When it comes to Halloween, forget about a party that requires messy clean up, overboard décor options and too much time in the kitchen. The way to throw a Halloween party that everyone looks forward to year after year is to go old school with a block party!
Want to wow your friends with the simplest of all parties? Follow these steps for hosting a Halloween party to remember. (Warning: do this once, and you may end up with a tradition on your hands!)

Keep It Casual
This is not a formal holiday affair. It's Halloween. The atmosphere and the hostess should remain calm and casual. A few Halloween-themed decorations sprinkled here and there will provide a little atmosphere, but there's no need to raid the party store.

Tip: Check out the Dollar Store for inexpensive but festive decorations that can be kept or tossed after the party.
One word: POTLUCK
The best part about a block party is that you don't have to single handedly feed the whole crew. SignUpGenius makes it easy to set up a basic menu and ask guests to sign up for dishes. Remember to make your request list long enough for everyone to bring something.
Tip: On the sign up, include the items you will provide so guests can see the full list. See our menu sign up example!

Location, location, location
The best part about a block party is that you can avoid the dreaded post-party cleanup. We host our annual bash in our driveway. Nope, it's not fancy, but it does the job. Guests are invited to bring lawn chairs, bikes, scooters and outdoor toys. Then we let the kids loose. It helps that we have a huge front yard on a quiet street and that our neighbors partake in the event so the kids have two yards to run amuck in.
Tip:  If your driveway isn't ideal, consider a local park or even the end of a cul-de-sac.
The More The Merrier
A block party is not the time to be stingy with the invites, and creating your invite via SignUpGenius makes it easy to keep tabs on attendees. Our annual event hosts 50+ people and grows each year. Without a doubt it is chaotic at times, but the all-inclusive list allows everyone to feel welcome.
Tip:  You can even create a group in the SignUpGenius system, so it makes it easy to invite the same crew year after year without searching for email addresses.
---
Check out our 50 Cheap and Easy Halloweeen Costume Ideas!
---
Costumed Capers
The dilemma: parents don't want to see costumes ruined before the big day but it is a Halloween party. The solution: invite kids to arrive all dolled up to show off their costumes (and snap the annual photo), then have everyone change into play clothes before dinner. It's the best of both worlds. There's time to "ooh and ahh" over everyone's looks, and then everyone can get comfy.
Tip:  Costumes worn over street clothes make the quick change easy.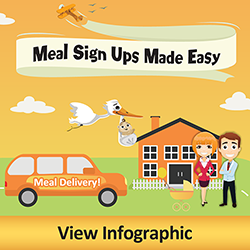 Say Cheese
Assuming this throw down is a success and becomes an annual tradition, getting all of the kids together for a group shot will become a cherished memory. Make sure guests know to arrive promptly so you can capture that moment at the beginning of the party before everyone discards their costumes.
Tip:  Assign ONE person to take the group shot - this is important. You will never get all of the kiddos looking at once when 10 moms are vying for their attention. One group shot + one photographer = success.
Favors
To me, it doesn't feel like a party without favors. Just skip the candy; most moms agree that the sweet stuff is in over abundance this time of year. In keeping with the party's theme, raid Target's dollar spot for Halloween loot.

Tip:  Look for glow sticks, sticker books, temporary tattoos, bouncy balls, spider rings, etc. For small   children hand out the favors Trick-or-Treat style.
Here's to a successful Halloween block party and the start of a new tradition!
 
Jennifer Burg is a flip-flop wearing, Gator-loving, picture-taking, deal-hunting Florida gal. As an overachieving mom of two awesome daughters, making to-do lists helps her remain calm and (somewhat) organized. When she's not planning events and party sign-ups, you can find her blogging at www.TheSuburbanMom.com.