Looking for a fun twist for your next group get-together? Look no further than the good old-fashioned chili cookoff. People will get to show off their cooking skills and interact with each other in a relaxed environment. Add in an element of friendly competition and you have the perfect recipe for an event your group will love.
Planning a chili cook-off involves more than just crock pots and shredded cheese. To ensure your chili bowl or cookoff event is a hit, you'll need to be organized. To help, here are 45 tips and ideas to get you started.
Venue
One of the first things you'll need to do is pick a location that can accommodate your group. This way there's plenty of room for pots, slow cookers, bowls and other chili accouterments. The last thing you need is not having enough outlets to accommodate for all the crockpots.
The Party House - Does someone in your group have a large kitchen that is the go-to place for dinner parties? If they are willing to host a cook-off, offer to coordinate help for the planning, set up and clean up.
Go Outdoors - An outdoor setting is ideal when chili is involved! You can make it happen with exterior electrical outlets, power strips and several long folding tables. Throw on some disposable tablecloths to simplify the cleanup, and designate a table or two for toppings, drinks and desserts.
Office Kitchen - If a member of your group has access to an office or commercial kitchen, this venue is a great option for your event. Clear the counters in the kitchen (or use a conference room or other larger space) so contestants can set up their pots for sampling.
Community Clubhouse - A community clubhouse or apartment common space is another ideal venue for a cookoff, giving everyone plenty of room to serve up their spicy creations. It also usually has a more home-like feel which makes for a fun and inviting space for the event.
Sample Sign Up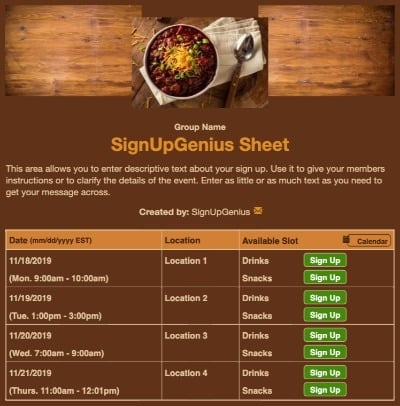 Themes
Everyone loves a good theme, whether it's for the entire event or just individual chili stations. These themes are sure to inspire some friendly competition.
Backyard BBQ - Set the mood with checkered tablecloths, cold drinks in mason jars and plenty of burlap.
Fiesta - Decorate with pinatas and sombreros or make it Tex-Mex with ten-gallon hats and plenty of cacti.
Blazing Saddles - Host a Western-themed cook-off with cowboy memorabilia like hats, boots and saddles as decor.
Medieval - What better way to illustrate some spicy chili than a fire-breathing dragon? Encourage team members to dress as knights or royalty and accent your venue with castle-themed decor.
Down on the Farm - Guests can dress as farmers or their favorite farm animal; decorate with bales of hay and farm-fresh veggies (as a bonus, people can use them as a garnish in their bowls of chili!)
Lumberjack - Perfect for a cold-weather event: picture a lumberjack eating a pot of chili over an open fire. Have team members wear flannel shirts and decorate with pine trees, axes and other woodsy items.
Hot, Hot, Hot - Lean into the idea of spicy, "hot" chili. Decorate with plenty of paper flames and pick imagery and props that go along such as fire trucks, fire extinguishers or even devil horns and pitchforks.
Cool Down - Conversely, you could pick a frosty theme that will inspire your team to "chill out" with cutout snowflakes, snowmen, ice sculptures and the like.
"Crocktoberfest" - For an autumn cook-off, you could pick a German-inspired theme. Decorate with beer steins, lederhosen and other German props.
The Big Game Football and chili are a winning combination! Encourage guests to wear their favorite team gear and set the atmosphere with football-inspired décor.
Plan a chili cook-off fundraiser with an online sign up. View an Example
Get the Word Out
Invite your group and start the buzz for your chili celebration. Offer incentives or prizes at your event to boost participation.
Send a Sign Up - An online sign up makes it easy for guests to RSVP, volunteer to help, bring items and more. The host can quickly track the attendee count and see what party items are still needed.
Paper Invitations - Go traditional and send a real invitation in the mail. Choose a fun design that ties in with your theme.
Calendar Invite - Ensure your guests will remember the event by sending a calendar invite and a reminder a day or two before the cook-off. Genius Tip: SignUpGenius will send an automatic reminder for you when you create an online sign up.
Recipes
If you want to give your team some inspiration, include recipe ideas along with the invite. If you are planning a theme, be sure to give your recipes ideas a bit of a theme twist for fun.
Traditional - When most people think of chili they think of ground beef, beans and some kind of tomato base. Different levels of spice and varied vegetable additions can make each batch unique.
Mix Up Meat - Rather than sticking to just one meat, try mixing varieties such as ground beef and Italian sausage, turkey or lamb.
White Chicken - This golden chili is a delicious alternative to its tomato-based counterpart. Use ground or shredded chicken and your favorite assortment of spices.
Vegetarian - Who needs meat to make a hearty, delicious dish? The internet is full of tasty all-veggie chili recipes with plenty of flavor and texture.
Meat Alternative - If all-veggie isn't your thing but you don't want traditional meat, consider a meat alternative like tofu or soy crumbles.
Texas Red - Made without tomatoes or beans, this chili style can be so heavy on meat and flavor that you won't even miss them.
Cincinnati-style - Give attendees a taste of the Midwest with this style of chili that often features cinnamon and cloves and is often served over spaghetti.
Contest Ideas
Of course, the most important part of a chili cook-off is the competition. From judging to categories and prizes, you can tailor your event to work best for your crew. Here are a few ideas: 
Judging
Choose a group of judges to deliver the chili verdicts or let guests vote on their favorites. For company events, having employees vote by ballot is an easy option.
Pick Your Panel - You can draw names for judges out of a hat or ask for volunteers.
Local Foodie - If you have a connection to a local food blogger or someone who works in the restaurant industry, they would add a level of expertise to your panel.
Popular Vote - Let the attendees vote on the chili themselves. Provide ballots and pencils or add a fundraising element by putting jars in front of each pot and having people drop cash in for their favorites. Donate the collected money to a local nonprofit such as a food bank.
Organize an office potluck with an online sign up. View an Example
Award Categories
The moment of truth has arrived, consider awarding chili prizes in these categories and brainstorm your own:
Spiciest - Label each chili with a scale to show how hot (or not) so your tasters won't have any surprises. You could use numbers (1-5 with 5 being the spiciest) or get creative by having booths post one, two or three bottles of antacid to show the spice level.
Best All-around - This winner balances flavor and spice to perfection.
Most Unique - This prize goes to the cook who whips up chili with an unexpected twist.
Most On-theme - Recognize the cook who embraces the party theme best in their creation.
Prizes
If you want to offer the winners more than bragging rights, ask guests to chip in a few dollars for prizes. Prizes are a great way to reward participation and hard work from all the chefs.
Annual Trophy - You could DIY a silly object like a "golden ladle" or customize something more polished from an online shop.
Branded Swag - If you have an artist or graphic designer in your group, ask them to create a funny logo for your event and use it to design cups, mugs, t-shirts or other swag for your winners.
Eat Local - Treat the winner to a night out at a local restaurant.
Go Gourmet - Award the winner a gift card to a cooking store or for cooking lessons.
Chili Themed - From chili pepper necklaces to stress toys, gift the winners some spicy swag.
Coordinate a chili and s'mores night with an online sign up. View an Example
Don't Forget the Essentials
Once you have the chili covered, be sure to plan for the party essentials. They are easy to overlook but super important for putting the final touches on the cookoff.
Topping Bar - Encourage each booth to provide fixings, or set up one communal bar with sour cream, shredded cheese, green onions, corn chips, etc.
Dessert - Contestants will want something sweet after all that spice. Pick something easy to eat and hold like cookies, or popsicles if it's warm outside.
Beverages - Of course you'll want to provide plenty of water, but also consider milk and sports drinks to counteract super spicy dishes.
Serving Items and Utensils - Disposable is probably the easiest option, but make sure you have plenty of trash cans nearby.
Antacids - All that tomato and spice may cause digestive issues for some of your attendees. Be prepared with plenty of antacids.
Sanitizer - Provider sanitizer or wipes so attendees can clean their hands quickly between tastings.
Bibs - Prevent hard-to-remove tomato stains by stocking up on bibs for everyone.
Electrical outlets/extension cords - Confirm ahead of time how many people will be bringing slow cookers/instant pots or other items that will require electricity. Then figure out if you'll need to bring additional extension cords or surge protectors based on the access to outlets at your venue.
Volunteers for setup/cleanup - Recruit volunteers to help set up before the event and clean up after (using a sign up makes this easy).
Whether your event is a huge gathering or small group, it's sure to be a success if you plan ahead, simplify communication with your group and focus on fun!
Sarah Pryor is a journalist, wife, mom and Auburn football fan living in Charlotte, N.C.