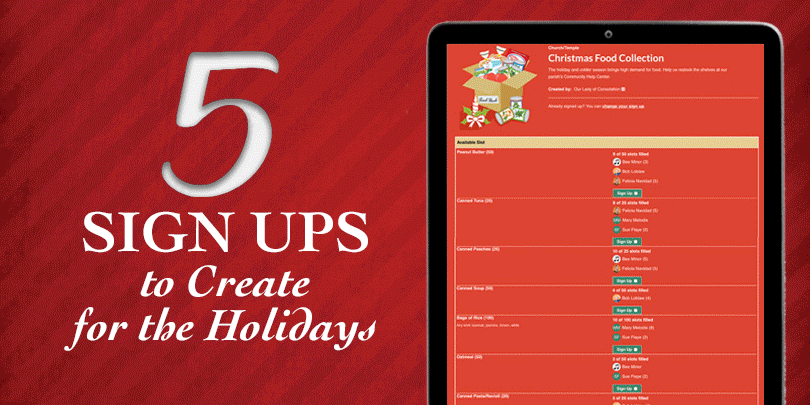 It's a wonderful time of year to celebrate with loved ones and serve your community. As we count down to the end of the year, families and friends gather to have fun and make a difference. We look forward to holiday parties, service projects and other festive happenings. Yet, organizing these events can be a tall order when left to one person.  
Online sign ups make planning everything from dinner parties to food drives easier than waking up on Christmas morning. You can encourage participation with festive holiday themes and automatic reminders about the upcoming event. Feel like a true genius when you make a whirlwind holiday season feel whimsical with these five sign ups! 
Secret Santa gifts exchanges 
Secret Santa events are fun for the workplace, or any group. However, everyone may not want to participate in the event. A sign up is the perfect way to give people the opportunity to opt-in. You can even
hide the names on the sign up
, if you want to keep your list of respondents a secret.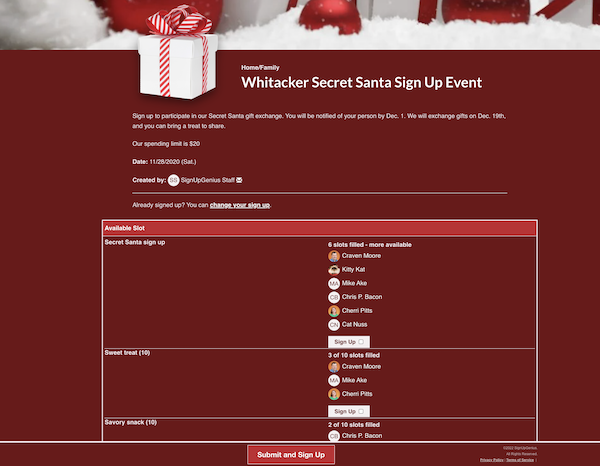 Create a sign up with a slot for people to register for participation in the Secret Santa. Be sure to list additional slots to bring treats to your holiday event. Remember to note any details about the event in the sign up description. Participants can view the details at the top of the sign up. Once you have your list of names, you can assign each member to a different group member on the list. We recommend creating and exporting a sign up report to make things easy to track.  
Spice up the conversation at your gift exchange with some of these holiday "would you rather" questions! 
Holiday toy drive 
One of the best parts of the holiday season is seeing children's faces light up with joy. Plan a toy drive for your next volunteer project with an online sign up and encourage people to spend time giving back during the holiday break.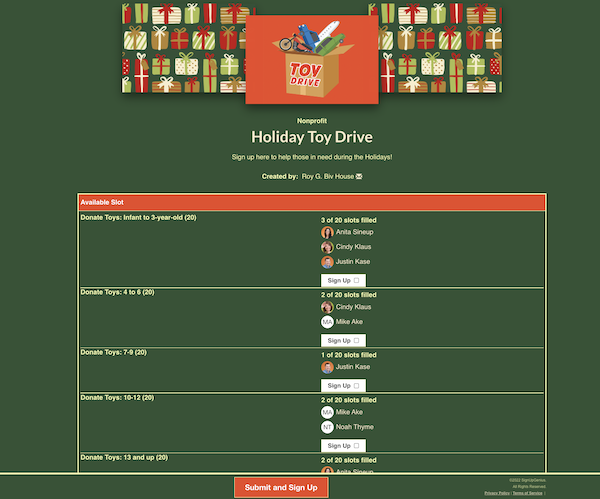 Share your sign up on your social media outlets and by email and send automatic reminders to volunteers before the event to boost support. You can also choose to accept donations with our payment processor, LumaPay. Using their digital wallet or credit card, volunteers can complete transactions directly on the sign up. 
Running a large scale Christmas operation? If you need help organizing your toy drive or other holiday events, grant sign up admin access to others with our multiple administrator feature. Assign permissions and allow other people to assist with sign up management duties. Responsibility can be fun when you share the work!  
Christmas productions 
Some of us have fond memories of being the main character of a holiday play in our childhood churches, and others remember being a camel. Whether playing a character or helping decorate the set, putting on a play requires several steps. Start off by hosting auditions with a sign up and
sharing it
on your website and other platforms.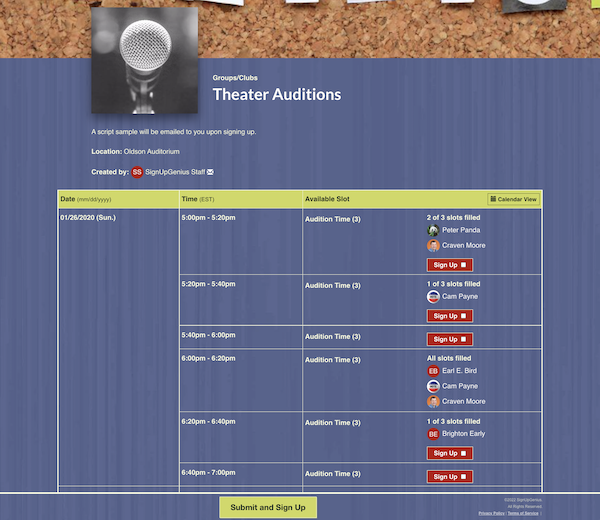 When you confirm the audition sign ups , attach forms such as a monologue or song lyrics to sing. You can create a custom email that automatically sends this and other instructions to your participants upon signing up. Also, you can opt to lock time slots after a certain date so people won't reschedule their audition and throw you off track.  
Company holiday dinner  
Hosting any company event can be nerve-wracking, but there's a special emphasis on making sure the holiday celebrations go well. Sign ups make organizing workplace events convenient and simple. You can collect RSVPs and even list out dishes for people to bring to the event, or list menu options for respondents to select ahead of time.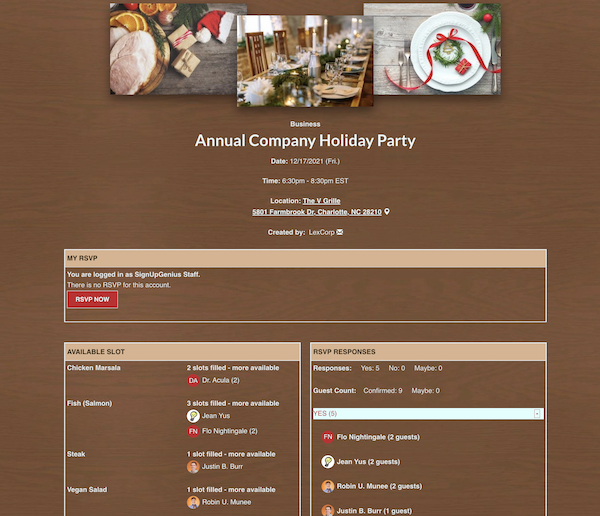 For a more informal dinner, require a comment in your sign up to ask your coworkers what they'll be bringing so other guests can avoid repeating items. You can also create slots to request specific items and set quantities, so guests know exactly what you need. 
Read through our tips to plan a potluck to make sure your dinner goes off without a hitch. Show consideration by including a custom question for dietary restrictions or food allergies. At the dinner, try some icebreakers to get to know your coworkers and their plus ones better, or play some office appropriate Christmas games! 
Food donation 
Planning a food drive gives people an easy and impactful way to support their community during the holiday season. With a little planning, you can embrace the spiriting of giving by helping families in need. 
Sign ups help simplify organizing for food drives and other large scale donation events by managing volunteer schedules, requesting donations and collecting money. You can create a custom theme for your sign up to reflect your neighborhood or organization. If you are looking to organize a service project other than a food drive, check out 30 ideas for volunteering during Christmas.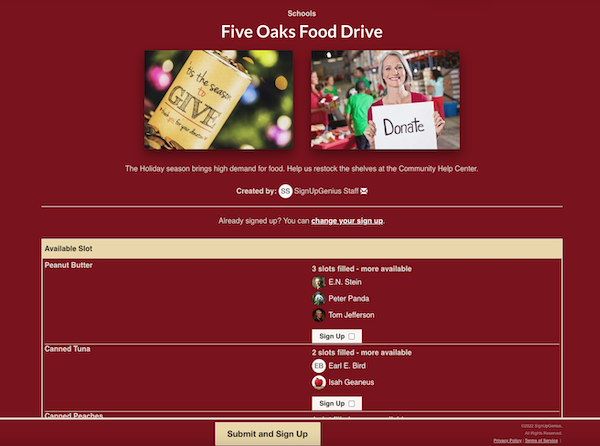 The season of giving is the perfect time to give back and enjoy festivities with friends and family. Sign ups simplify holiday planning so you can focus on making special memories. Get started today!