50 Christmas Potluck Ideas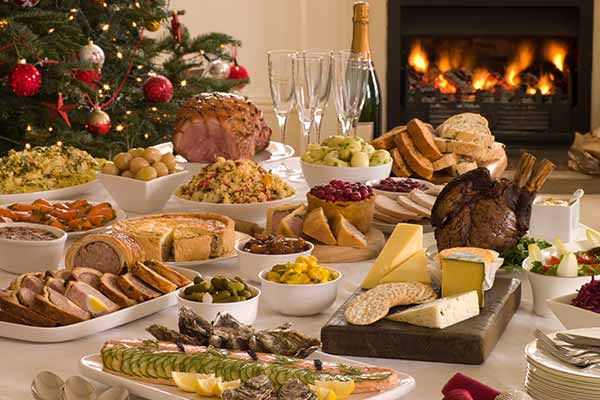 Picking up a bunch of aluminum trays from your nearest fast casual chain restaurant might may sound tempting. But you could miss an opportunity to create great holiday memories by hosting a good, old-fashioned potluck. Here are 50 tips to make planning your Christmas potluck party almost as easy as the aluminum tray way. 
Planning
Start Early - Nobody likes how retailers seem to skip over Thanksgiving and go straight to focusing on Christmas. But there is something to be said for at least having the major party parameters (date, time, place, theme, etc.) nailed down early. Start laying the groundwork in early November.
Schedule Around Busy Schedules - You don't have to take a formal poll, but ask around and build consensus around a date. Some people will be too busy on weeknights to attend. Others will have no interest in spending their Friday or Saturday night at a potluck. Maybe lunchtime is the optimum hour for your group.
Know Your Numbers - As you're working to determine a day and time, get a sense of how many people are planning to come. Kids and significant others will add significantly to your head count. Genius Tip: Collect RSVPs with an online sign up.

Invite Early - Sending out your invitations up three to four weeks in advance is not too soon for the holiday season.
Set an RSVP Deadline - Because the head count is so crucial to your planning, it's reasonable to want to have an estimated number of attendees in advance of the event. Genius Tip: Lock your sign up by date to avoid last-minute changes for your party.
Consider a Theme - Because it's a Christmas event, there's somewhat of a built-in theme, but you can always add your own festive twist. An idea: Have attendees bring food that reflects their family heritage or a dish that is one of their family's favorites. Have everyone bring copies of their recipe and make it a recipe swap.
Consider a Competition - Have attendees vote on their favorite dish in each category and give small prizes for the top picks at the end of the meal. This will thrill the winners and inspire others to up their recipe game for the next year. 
---
Plan your potluck menu and guest list with an online sign up. SAMPLE
---
Cooking
Provide the Main Dish - If you've got the budget for it, consider buying the main dish — such as pre-sliced ham or turkey or fried chicken — so that no one guest has to shoulder that burden.
Communicate - If you are providing the main dish, let everyone know what it is so they can bring items that complement the meal.
Create Categories - Give your guests lots of latitude to decide what they want to bring, within their selected category, such as a main dish, side dish, salad, appetizer, starch or dessert. Genius Tip: Organize your potluck's menu with an online sign up.
Suggest a Quantity - Christmas is all about abundance, so you'd rather have too much food than too little! One rule of thumb: Ask each of your guests to bring enough of their dish to feed one-third to one-half the number of the expected attendees.
Be Flexible - Monitor your sign up list and be prepared to add more slots in various categories as needed.
Remember the Vegetarians - Reserve at least one slot in each category for a vegetarian option.
Note Food Allergies - Avoid naming names, but include a reminder on your sign up list if there are any people in your group with serious food allergies.
Drinking
Supply Drinks for the Group - Having everyone sipping on the same stash lends a nice cozy vibe to your party.
Have Everyone BYOB - Suggest guests bring a little extra to share.
Buy the Non-Alcoholic Drinks for the Group - Have others bring beer or wine — a nice compromise.
Have Drinks Available from the Start - Whichever option you choose, try to have at least some drinks ready before attendees arrive. People feel less awkward with something in their hands.
Organize a Hot Chocolate Bar - For something extra special that your guests will remember into the new year, have hot water and instant hot chocolate packets available, plus bowls of yummy add-ins such as marshmallows, sprinkles, caramel sauce and peppermint sticks.
Offer Coffee - If you can swing it, the aroma of freshly brewed coffee is the perfect way to announce, "It's time for dessert!"
---
Plan a Breakfast with Santa with an online sign up. SAMPLE
---
Entertaining
Keep Background Music Flowing - Create your own Christmas playlist or find one online, and have it playing on your speaker dock as people arrive.
Hold a Raffle - Give each guest a raffle ticket as they arrive, then periodically (say, every hour or half hour) pause your music to announce the winner of a fun, small prize. It'll add to the excitement and provide conversation fodder for your attendees.
Give the Kids Something to Do - If children are invited to your party, grown ups will have more fun if they don't have to hear their little ones complaining of boredom. Make sure kids have a Christmas craft or game to keep them occupied. Check out some fun holiday games for kids.
Try Some Christmas Trivia - Round out the event by dividing attendees into groups and seeing who is most knowledgeable about Christmas movies, songs and pop culture. Don't forget to provide a prize for the winners.
Hold a White Elephant Exchange - Everyone brings a small wrapped gift and then attendees draw numbers to determine the order in which they will pick and open the gifts. Just make sure you clearly set the ground rules in advance: What's the maximum each attendee should spend on gifts? Should they be gag gifts or nice gifts? Is it fair game for an attendee who is later in the picking order to "steal" a gift from an earlier picker?
Plan an Ornament Exchange - Have each attendee bring a wrapped ornament and place it on a table as they arrive. As people leave, they pick a wrapped box (not their own!) from the table and open it when they get home for a nice memento.
Don't Forget Philanthropy - Have each attendee bring non-perishable foods for a food pantry, a gift for a needy family or some other item for a worthy cause. If you can say a word or two about the featured charity during a pause in the festivities, it will make it more meaningful.
---
Plan a holiday cookie decorating party with an online sign up. SAMPLE
---
Planning Logistics
Get Decorating - All the food and festively attired attendees will fill up much of your space, so you don't need to go overboard on the decorations. But it is nice to have tablecloths, centerpieces and maybe a few wreaths hanging around that say "Christmas!" This is a good task to delegate to one of your more creative attendees.
Gather Plates, Utensils, Etc. - Like the main dish and drinks, it's ideal if the host can provide these. But plates, cups and utensils are also good items to assign to an attendee who'd prefer not to cook (or include on your potluck sign up).
Make Sure You've Got Sturdy Plates - People will try to load them with as much food as possible, so don't skimp.
Make Sure There are Bowls - When someone shows up with a crockpot of soup or chili, you will feel like a genius.
Clean Out the Fridge - Make room for dishes that need to be kept cool before dinner.
Provide Coolers - Set these out for both drinks and cold items that won't fit in the fridge.
Clean the Oven - Then preheat it to 200 degrees, so early arrivals can keep their hot dishes hot.
No Cooking Allowed - Make sure guests know if there won't be a kitchen available to prepare their dish at the event. (Too many cooks in the kitchen make for a potluck nightmare.)
Power Up - Make sure you have outlets and extension cords for crockpots. Have electrical tape ready to secure cords if necessary, so your guests won't be tripping over them.
Label Your Ladle - Suggest that guests label their serving dishes and utensils in advance so they are sure to get them back after the party. You could also provide tape and markers for those who forgot.
Avoid Food Mysteries - People like to know what they are eating. Set folded index cards and markers on the buffet table and have attendees make a sign for their food item.
Have Extra Serving Utensils on Hand - People will forget to bring their own.
Set Out Munchies - Include festive favorites such as flavored popcorn and sugared nuts. Offering a few light appetizers will keep people from attacking the buffet table before all the attendees have arrived.
Organize Items - Make sure everything fits on the serving table so that the line flows well. One school of thought: Have attendees get their main dish first, then fill up the rest of the plate with sides. Others put the main dish at the end so people will take smaller portions of it.
Set Up Separate Food Stations - If possible have one table for drinks, one for desserts and another for all the other food.
Leave Space - Make sure to arrange food items in the buffet line so people have a place to set their plate down temporarily if necessary.
Prepare for Garbage - Use the biggest trashcans you have to minimize the number of times they have to be emptied during the party.
Get Several Rolls of Paper Towels - Have them strategically placed throughout the party venue.
Use Hot Pads or Towels - Keep these at the ready to place under hot dishes to protect hands and your tabletop.
Offer To-Go Boxes - It's fun to send attendees off with festive Chinese takeout boxes full of their new favorite dishes.
Prepare for Cleanup - If you're using an unfamiliar venue, be sure you know in advance where the cleaning tools (brooms, vacuum, mop, etc.) are and how clean you are expected to leave the space.
Recruit Cleanup Elves - Ask people to sign up in advance to help, because there's nothing that will dim your bright holiday spirits more than getting stuck with all the dirty work.
Start Planning for Next Year - That's right — it's never too early to plan for the next Christmas party! Throughout the party, you will think of things you're glad you did — and things you'll wish you hadn't. Write those thoughts down and save your notes for next November — when it's time to plan another Christmas potluck!
Plus, don't forget to enjoy your own event! With a little planning, you'll have most of the work done ahead of time and have lots of fun at the holiday potluck. 
Jen Pilla Taylor is a former journalist and mother of two school-age children.