30 Christmas Volunteer Opportunities and Ideas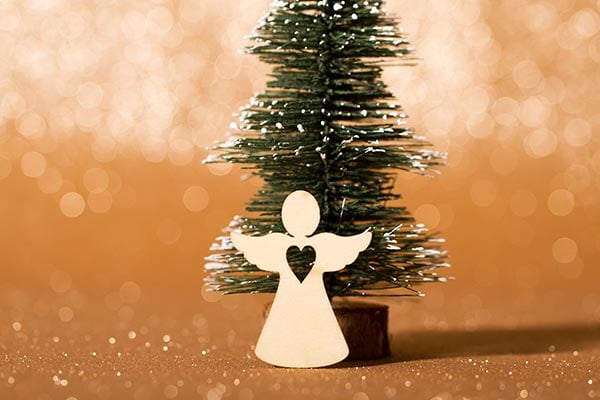 The holiday spirit is all about giving. What better way to spread some cheer than by giving back? It can be a small gesture like a baked cookie or serving meals at a community event. Here are 30 Christmas volunteer opportunities and ideas.
Serve Kids this Christmas
Read to Kids - Parents and/or grandparents can pick their favorite holiday-themed children's book and make a date to read to their child's class.
Throw a Polar Express Party for Kids in a Shelter - Have everyone dress in their pajamas and make sure to bring some hot chocolate. Even better if you can collect donations beforehand and distribute new sleepwear to kids.
Sponsor a Family - Many local stores and nonprofits will offer lists of people who can't afford gifts. Choose to sponsor a family — buying gifts for everyone on the list — and even throw in a gift card for a holiday meal if you can.
Donate Clothing for Newborns in the NICU - It can be hard for families to find the holiday spirit when a newborn is facing an uphill battle, so go shopping for holiday preemie outfits and donate to your local hospital. A little love goes a long way.
Toys for Tots - Run by the Marines, it may be the most well-known Christmas effort around. Take your kids to the toy store to pick out toys to donate. Make sure not to wrap them before donating.
Collect School Supplies - We tend to think of doing this at the start of the school year but why not make sure kids are set for after winter break as well?
Help a Classmate - Check with the teacher or guidance counselor to see if there is someone at your child's school who may be struggling financially. Work with school officials to take up a collection and anonymously provide support for the family.
Operation Christmas Child - This nationwide charity asks you to fill up a shoebox and has delivered more than 157 million boxes worldwide.
Shop with the Salvation Army - Here's your chance to be one of Santa's elves. Every year in the weeks leading up to Christmas, the Salvation Army works with thousands of families in communities across the U.S. to help provide Christmas to those who otherwise wouldn't have one. That takes a lot of people behind the scenes gathering the gifts.
Offer to Babysit - Give free babysitting to someone in your circle of friends or family so that person or couple gets an unexpected date night or a much-needed break from the kids.
Host a Christmas Party for the Kids in Your Neighborhood - This can be a fun way to get all the kids together. You may even consider turning the party into a volunteer activity by asking attendees to bring things to donate.
---
Adopt a family and ask people to help cover their Christmas gifts with a sign up. View an Example
---
Thank Those Who Help Others
Bake Cookies for First Responders - This can be a fun way to get the kids involved. Bake and decorate Christmas cookies and hand-deliver them to the nearest police or fire station.
Make and Send Christmas Cards to Military Personnel - Being away from home during the holidays is tough but getting a little Christmas cheer can have a big impact. Your local Red Cross can help get you the correct address through the Holidays for Heroes program.
Pass out Candy Canes with Inspirational Notes to Strangers - This simple gesture will go a long way at a time when everyone might be a little more stressed out than usual.
Random Acts of Kindness - Leave extra money at the office vending machine, hide scratch-off lottery tickets, tape coupons to their respective products at the grocery store. Leave a small note letting the recipient know they just benefitted from a random act of kindness.
---
Coordinate retirement home Christmas caroling volunteers with a sign up. View an Example
---
Have Some Fun this Christmas
Go Caroling - Grab some of your neighbors or coworkers and go door-to-door singing all of your holiday favorites.
Wrap Presents - Lots of bookstores, boutiques and even malls offer opportunities to wrap Christmas presents with funds supporting a local nonprofit.
Donate Home-baked Goods to an Area Shelter - Nothing is better than a homemade treat during the holidays.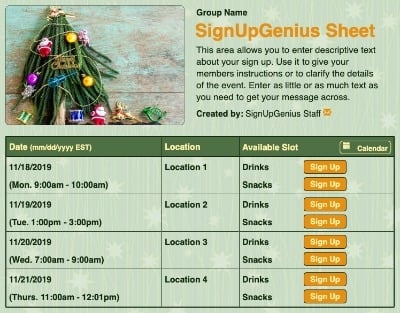 Impact Your Local Community this Christmas
Serve Food at an Area Shelter - It may seem like an easy task, but you'll need to call ahead. This is a popular volunteer activity around the holidays for families. Consider going on an "off date" (usually early in December or the week after Christmas).
Animal Shelter - You may not want to bring home a new puppy for Christmas but that doesn't mean you can't enjoy one. Visit the local animal shelter and offer to help bathe and walk the animals.
Pass out Blankets, Gloves and Jackets to the Homeless - Temperatures will no doubt dip just in time for the holidays, making it the perfect time to offer some extra warmth to those in need.
Make (or Buy) Blankets for Cancer Patients - Providing warmth and comfort during a chemo session can make a world of difference during a difficult time.
Sing Carols in a Nursing Home - Gather a group and plan a list of fun holiday songs. Don't worry if you can't carry a tune, as long as you're spreading Christmas cheer!
Collect and Donate Hygiene Items for a Women's Shelter - Things like perfumes and lotions can be more fun to include as well as practical items like toothpaste and deodorant. Make sure to ask for a list of specific needs that will best benefit the residents.
---
Recruit Christmas stocking volunteers to sort donations with a sign up. View an Example
---
Meals on Wheels - Offer to help drive so that a regular volunteer can get some much-needed time off around the holidays or volunteer to pack the meals.
Donate Books - Collect the books you (and your kids) don't read anymore and donate them to the local library, school, daycare or literacy organization.
Help a Neighbor in Need - This could mean shoveling snow, mowing their lawn or picking up fallen leaves. It may seem like a simple task that could make a big difference to someone else.
Find a Local Nonprofit - There are tons of small nonprofits that are unique to the community they serve. Find an organization that resonates with you and ask what they most need this time of year.
Clothing Drive - The end of the year is a great time to clean out your closet. Make sure to look for warm clothing like coats, jackets and scarves to donate or go buy new items to donate.
Pay It Forward - Make someone's day by unexpectedly (and anonymously) paying for their coffee or drive-thru order. You may just start a chain of people doing good.
Doing good will make you feel good all year round — but especially during the holidays. Find the activity that works for you, grab your friends and family and spread some holiday cheer. Bonus? Santa just might reward you for it.
Michelle Boudin is an investigative reporter for WCNC TV and a freelance writer.