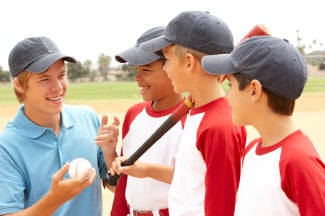 Youth sports survives on volunteers. If your child plays a sport, it's your duty, and hopefully your pleasure, to find a way to help out! If you're the lucky team mom or dad in charge of recruiting volunteers, here are some ideas that should make the job a bit easier.
1. Communicate frequently and clearly. Don't make people come after you or leave them guessing. Spell out responsibilities and expectations. Provide schedules, sign-up sheets, directions--whatever it is parents need to make their job as volunteers as painless as possible.
---
Organize your sports team with SignUpGenius.
---
2.
Be organized.
When you take the time to get organized, it gives other volunteers confidence and makes volunteering much more enjoyable for everyone. Volunteers feel more confident that their role is significant when they work with people who fulfill their positions with excellence, too.
3. Be family friendly. Be sensitive to volunteers who have other children. Work with their schedules, and allow their kids to help out as long as they are properly trained. Be flexible if the unexpected keeps them from showing up to volunteer.
4. Show appreciation to volunteers. A heartfelt "thanks" goes a long way in ensuring that you will see that volunteer again. Volunteers sacrifice time and money to help out but gratitude is really all they want in return.
5. Provide training. If a new mom comes in to work the snack bar, take a few minutes to show her the ropes. If a new dad volunteers to keep the books, be sure he feels comfortable with his task. Don't just throw parents into the job if they don't know what they are doing. It will frustrate them and the people they are helping, and they'll make it a point not to help out the next time.
6. Be happy with whatever they can give. People will be available at different times. Some may never be able to show up early to work the snack bar, but they can pick up snack bar food the night before. Or maybe a parent can't ever drive for away games, but she can run the clock at home games. Gratefully take whatever help people can give. With everyone pitching in, doing whatever it is they can do, the job will get done.
---
Collect money directly on your sign up. FIND OUT MORE
---
7.
Make it easy for volunteers to sign up.
Point parents to SignUpGenius at the initial parent meeting and explain how it works. Once they see how easy it is to create a sign up and volunteer online, they'll be eager to use the site to save themselves time. For those who shy away from any form of technology, you can pass around a sign up sheet printed from the site and enter their information later online.
8. Use the phone. While sending out an online volunteer sign up works to get the majority of parents to help out, every once in awhile it helps to connect with a parent by phone. You might find that a potential volunteer has a few questions or isn't quite sure how to connect with the team's specific needs.
9. Be a model volunteer for others to follow. Don't ask more of other parents than you are willing to give yourself. Your enthusiasm and generous attitude will motivate others to get involved.
When you make volunteering a great experience for others, you'll find that most parents are eager to help. With free assistance from SignUpGenius, you'll be the most organized, easiest volunteer coordinator to work with in the whole youth sports league!
Janis Meredith writes Jbmthinks, a blog on sports parenting and youth sports. After being a coach's wife for 27 years and a sports parent for 17, she sees issues from both sides of the bench.