40 Basketball Team Award Ideas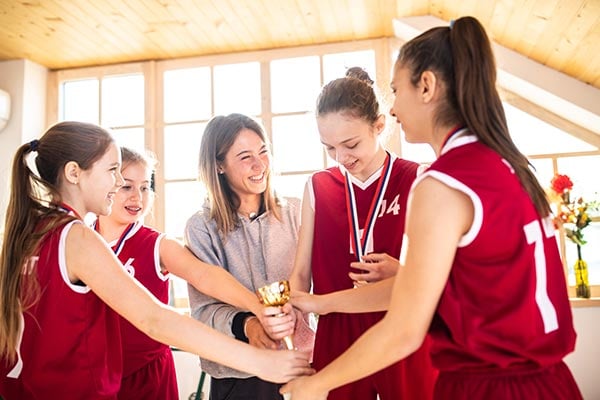 After months of dribbling, shooting, scoring, guarding, and watching the team come together, it's time to recognize everyone's hard work. Whether you honor players with classic trophies or choose to do something outside the box, these 40 basketball team award ideas will make everyone feel special and keep players motivated all season long!
Everyday Recognition
Bestow Beads - Encourage players to do their best by giving out achievement beads after every practice. Assign colors to each bead based on a key skill or a way to go above and beyond. For example, blue shows excellent hustle, red for assists, green when a player shows team spirit, etc.
Student Athletes - It's tough to be a hardworking student while also bringing it to the court every day. Ask teachers to create awards for team players to recognize their accomplishments in the classroom as well as on the court.
Say Cheese - Each week, post pictures of the most improved players on social media (with permission) and recognize him or her for putting in the extra effort. Include a slideshow at the end of the season.
Write a Letter - Show your appreciation for every member of the team with a handwritten letter. It's a wonderful way to make players feel extra special and something they will keep forever.
Player Recognition - Give players the opportunity to rave about their peers. Have teammates draw a name out of a hat and prepare to say a few words about him or her.
Read All About It - If your school has a paper, ask if the team can have a special insert or article about their achievements and include profiles of each player.
Gift Cards - Trophies and awards are great, but gift cards are super useful. Honor the team with gift cards that fit their personalities. Have a shopper on your team? Give them a card to their favorite store. Have a player that can't get enough pizza? Find one to a tasty pizzeria. Keep it simple and fun.
Most Likely - Go yearbook-style and come up with "most likely" awards for players. You can be as serious or silly as you wish.
Team Drawing - When players meet goals in practice or during a game, enter his or her name in a drawing. Pull out the lucky winner at the end-of-year banquet and surprise them with a big gift!
---
Coordinate your season concessions volunteers with a sign up. View an Example
---
End-of-Season Awards
Compliment Corner - As you call up the team to thank them for a great season, include three adjectives that describe each player and let the audience know what makes them special.
Superheroes - Does your team have a player who always saves the day or one who can ice an opponent at the free-throw line? Find figurines of superheroes and wizards and let each player know you appreciate their superpower!
Wrap Up Video - Create a video of game highlights and share it at the banquet. If you are putting this together last-minute, ask team parents to email or text video of the games they've filmed.
Parental Praise - Get team parents involved by asking them to send a few words about their child. As players are recognized during the end-of-season banquet, use the descriptions to see if the audience can guess who it is.
Coaches Awards - Don't forget the coaches, staff and team parents who work tirelessly during the season to help everyone do their best. Bring the team together and create awards for all those hardworking adults.
Bring in a Superstar - Make your sports banquet one to remember with a special guest to give a keynote and congratulate the team on a great season.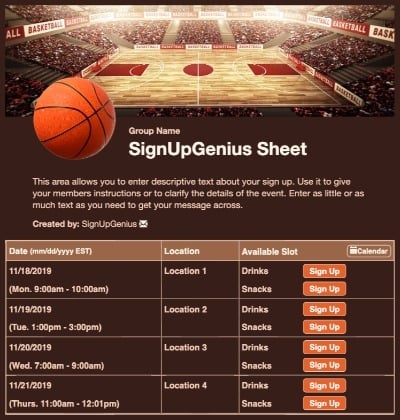 Funny Awards - After the serious part of the ceremony is over, humor the team and parents with not-so-serious honors like best hair, funniest, etc.
Share Stories - Be sure to let players have a moment during the ceremony to share their special memories of the year.
Superlatives - Recognize standout players with superlatives like best forward, best free-throw player and more.
Red Carpet - Honor the team Academy Awards-style! Roll out a red carpet with a backdrop for photos and give awards for best actor, actress, etc. or pick a film star or movie a player emulates.
Award Apparel - Make the season extra special by giving team apparel in place of awards. Players will love wearing memories of the season all year.
---
Sell your tournament tickets and merchandise with a sign up. View an Example
---
Active Awards
Host a Clinic - Before the season wraps up, host a community basketball clinic and watch the kids really shine!
Pay It Forward - After the season is complete, ask each player to write a letter to next year's team, offering advice and tips for a successful season.
Team Song - Don't just talk about the season — sing about it! Make up a song about the year or each player. You can even ask the school choir to perform at the awards ceremony.
Plant a Tree - Your team grew a lot this season! Honor that effort with a special tree planting on the school campus.
Do Some Good - Celebrate the season's accomplishments by doing a service project as a team and giving back to the community.
Caricatures - If you are hosting a banquet, bring in a caricature artist to sketch personalized drawings of players, coaches and staff. Give a sketch of the team to coaches and assistants for a creative end of season gift.
Collect Sporting Goods - An end-of-season banquet is a great time to come together to celebrate, it's also a wonderful opportunity to collect gently used sporting items to give to organizations in need.
Game On - Liven up your banquet with games everyone will love. Have a free throw contest, a three-point shootout, or a game of H-O-R-S-E.
---
Plan an awards banquet and collect meal preferences with a sign up. View an Example
---
DIY Awards
Center of Attention - Create special centerpieces for the banquet tables using pictures of the players along with other basketball-themed decorations, then have each player take theirs home as a memento.
Banner Idea - At the beginning of the season, invite students and staff to sign a banner with words of encouragement for the team. At the end of the season, take a picture to give to players and distribute among the team.
Eat It Up - Trophies are great, but why not raise the fun with creative and funny awards written on sugar cookies or small cakes to take home?
Recognition Ribbons - Honor the players with ribbons they can wear all season to show their team pride.
Basketball Keepsakes - Purchase small rubber basketballs and ask coaches and team managers to sign them for each player. Give them to players as treasured keepsakes.
Photo Album - At the beginning of the season, ask a team parent or student to attend games and snap pictures of players in action. At the end of the season, give players a framed pic to take home.
T-shirt Time - Who doesn't love a T-shirt? Finish the season by giving every member of the team and coaching staff a T-shirt. This is a wonderful way to show team spirit and promote your basketball program!
Numbers Game - Using construction paper or cardboard, draw and cut out each player's uniform number to use for place settings at the banquet.
Paper Jerseys - If players can't take their jerseys home after the season is over, make one out of paper and have the team and coaches sign them.
Inspirational Words - In addition to awards, give laminated cards with words of inspiration and quotes to players.
Ornament Honors - No matter the time of year, a holiday ornament is a wonderful keepsake.
Beyond the Trophy - Snag a team picture, then visit an online store to create beach towels, mousepads and other creative and useful items to give to the players.
From tryouts to the last game, these suggestions to keep the team motivated and happy will make your season nothing but net. 
Courtney McLaughlin is a freelance writer in Charlotte, N.C. She gratefully shares her life, home and heart with her daughter and their dog.