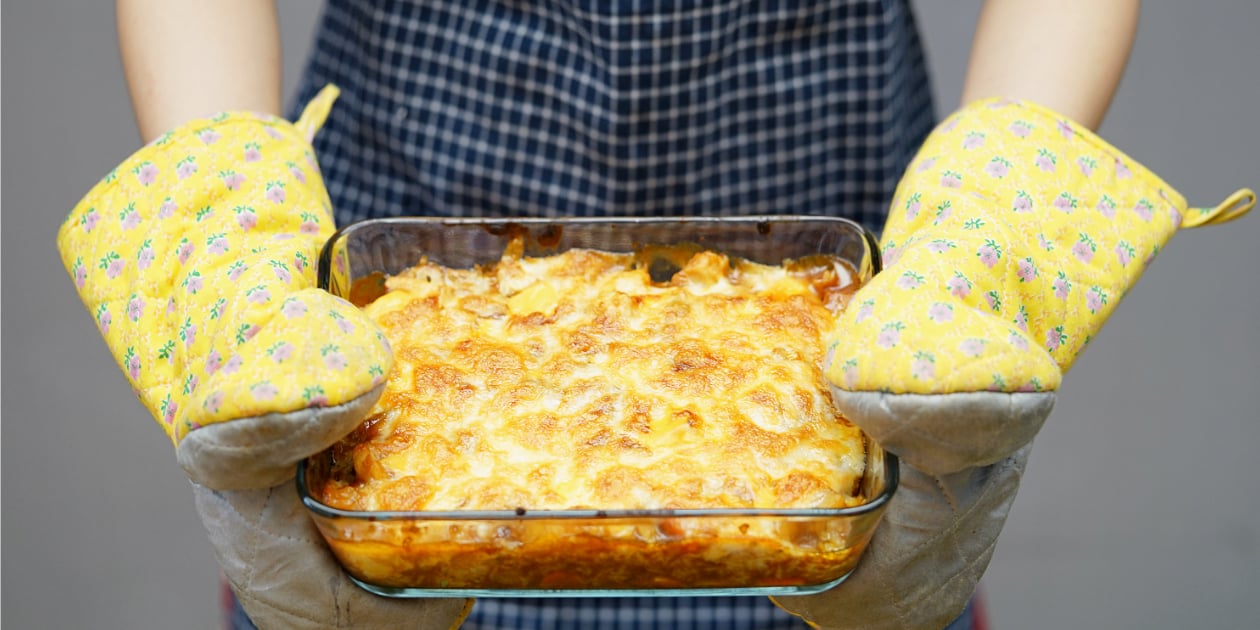 Whether a family is celebrating the birth of a baby or a friend is recovering from surgery, hospitalization or COVID-19 illness, being able to help with meals is a critical way to lend support.
When you offer to coordinate a meal calendar, wouldn't it be a relief to know that the process is going to be simple for you and the family you are serving? By following these meal sign up tips, the planning and execution are sure to be a cinch.
Find out what will be most helpful.
No one wants to throw out a fridge full of inedible or unused food. By checking in with those receiving meals first, you can plan around any allergies or food aversions.
You'll also want to ask how often they want meals brought — what is the best time and method for drop-off? Some folks will be giddy at the thought of visitors, while others will wish for more of the drop-and-run version of meal delivery.
People will breathe a sigh of relief if you communicate their preferences to volunteers, so be sure to ask before organizing the meal sign up.
Simplify with an online sign up.
Who wants to mess with complicated reply-all emails, messy spreadsheets or a barrage of group texts? Instead, check out our large array of 
food sign up designs
 and 
create your sign up
in minutes.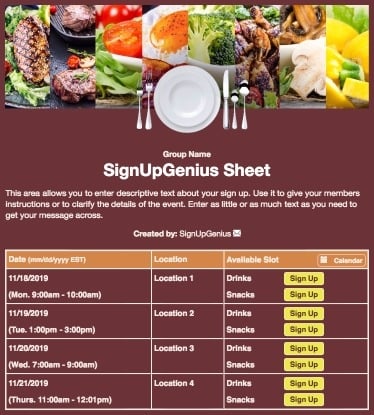 With SignUpGenius, you can avoid the possibility of double sign ups, plus your volunteers can swap slots on their own and receive reminder emails automatically from the site. You can also collect money on your sign up for the family to order out their favorite take out.

The best part? With one link, you, your volunteers and the family you are serving can all see the entire sign up at any time.
Learn how to create a SignUpGenius meal sign up. See How
Include important info in the general details of the sign up.
Remember all of those great questions you asked the receiving family before you created the meal sign up? Make sure you include that in the general details of the sign up.
It's also a good place to add some tips like using disposable containers and labeling them with the contents to make life even easier for the family.
Ask meal providers to be specific in their sign up.
Everyone loves a hot and tasty meal delivered right to their door at no charge, but really, who wants chili for two weeks straight? So, do everyone a favor and ask the meal providers to include the details of what they will bring in the comments field when they sign up.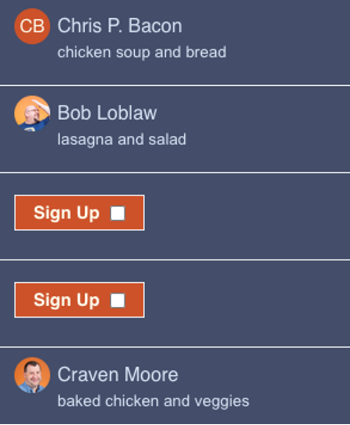 Include extra sign up slots for meals besides dinner.
Meal sign ups are usually limited to dinners, but what about breakfast, lunch and snacks? You could give new parents a boost by coordinating delivery of some fruit and muffins, healthy snack foods, or a breakfast casserole once or twice a week.
Whether you want to provide plenty of snacks, toppings for salads, or give the family a taste of Thanksgiving with some classic sides, we have ideas for ways to get creative with your donated dishes.
Check in with the receiving family.
After a few meals have been delivered, ask the receiving family how it's going. If they have any suggestions for adjustments to the sign up, you can make modifications and
send out an automatic email
to your group via SignUpGenius.
Send a thank you to meal providers afterward.
If you want to win the Most Amazing Friend Ever award, let the receiving family know you'll send out thank yous for them. There's nothing wrong with the old-fashioned paper cards, but if you want to save some time and stamps, you can send each meal provider a thank you email.
You can even send out a bulk thank you to specific group members from the SignUpGenius site. Now that it's so easy to coordinate a meal sign up, we know you're going to have oodles of time on your hands. Not only that, but all of your homebound friends or neighbors will love you even more.