50 Picnic Food Ideas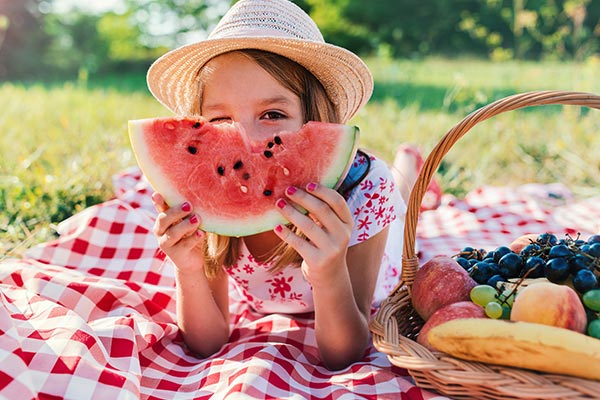 Grab your basket and blanket — it's picnic season. When planning which tasty treats to bring, you'll want to consider how you're going to transport your dish. Sandwiches are often a great choice when you're feeding just yourself and a special someone. Larger items like casseroles or salads can usually be served right out of the container they were made in. Enjoy these 50 ideas for tasty, easy-to-transport picnic foods.
Sandwiches
PB&J - Give this childhood staple an adult upgrade by changing up nut butters (try almond or walnut) and picking artisanal jams like fig or plum. Nut allergy? Try sun butter made from sunflower seeds.
Sub Sandwich - Load up your favorite meats, cheeses and condiments on thick bread that can stand up to the load.
Pimiento Cheese Sandwich - Southerners love this flavorful spread because it's creamy and goes with everything.
Cucumber Sandwiches - Mix a little cream cheese and garlic powder in with your mayo for these refreshing treats.
Egg Salad on Bread - Add avocado for an extra protein punch.
Chicken Caesar Wrap - You can eat your favorite salad sans fork and knife — just wrap it up in a whole wheat wrap and bring a cup of Caesar dressing for dipping.
Veggie Wrap - Add goat cheese for a creamy flavor.
Deli Meat and Cheese Roll-Ups - Skip the carbs by simply rolling turkey or ham with a slice of your favorite cheese and sticking a toothpick through the middle to hold it together.
Lettuce Wraps - Toss a washed head of lettuce in your basket and prepare a savory meat filling ahead of time (ground beef, water chestnuts and onions marinated in hoisin and soy sauce is a good start). Then make and eat your wraps at the picnic site.
Calzone - Feeling like some Italian food, but want to skip the mess? Cook up a couple of calzones and fill them with pepperoni, ham, your favorite veggies and of course tons of cheese.
Gyro - The Greeks got it right on the first try with the perfectly portable pita. Stuff them with lamb or chicken, onions, olives and a little Greek yogurt-based tzatziki sauce.
Quesadillas - Make them ahead of time and wrap them in aluminum foil, so they stay warm. Bring mini cups of sour cream or guacamole for dipping.
---
Plan a family reunion potluck with a sign up. View an Example
---
Snacks and Sides
Deviled Eggs - Save the egg carton to transport them.
Chips - Choose a big bag of chips to share (be sure to toss empty bags in the proper waste receptacles, or take them home to throw them away).
Pickles - Skip the jar and store in a reusable container with a small amount of juice.
Apples - Bring a knife to slice once you get to the picnic spot (or slice them ahead of time), and bring a small container of peanut butter for dipping.
Oranges - Cut ahead of time and store in baggies, or peel the skin by hand after you've set up your picnic area.
Caprese Skewers - Use a wooden skewer to put together fresh mozzarella, a cherry tomato and a basil leaf for a tasty one-bite salad. Drizzle with balsamic vinegar for extra points.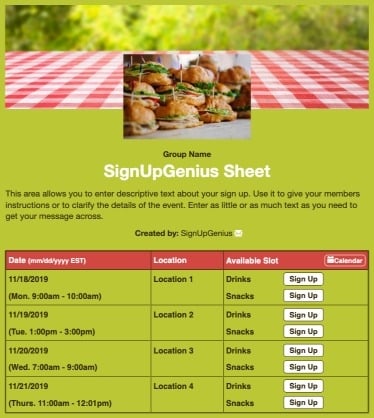 Veggies and Dip - Carrots, celery and ranch dressing are a trio made in heaven.
Strawberries and Blueberries - Just bring them in their container from the store, but be sure to wash them before packing them.
Cheese and Crackers - Splurge on a fancy selection of cheese you wouldn't normally get at the deli, like smoked gouda or muenster.
Trail Mix - Buy it bagged or make your own with your favorite combination of nuts, dried fruits and even small candies.
Veggies and Hummus - Simply pack in a resealable container and snack on the go.
Chicken Salad and Crackers - If you like it chilled, toss in an ice pack.
---
Coordinate an office potluck with a sign up. View an Example
---
Drinks
Bottled Water - Opt for reusable water bottles to be kind to the environment. Many parks have water fountains that will allow you to refill your own bottles.
Canned Sodas - Be sure to look for a nearby recycling bin.
Beer - Go with cans because many parks don't allow glass. Be sure to check your picnic venue's rules on alcohol.
Boxed Wine - Again, you'll likely need to avoid glass bottles. But don't fear — today's tasty boxed wine is a far cry from the cheap varieties of days gone by. Many vineyards even offer small boxes the size of just a glass or two.
Desserts
Cookies - Store-bought or homemade, the ultimate portable dessert will be a crowd-pleaser.
Brownies - Toss in chocolate chips or caramel chunks and wrap with cellophane or foil to keep crumbs out of your basket.
No-bake Bars - Skip the oven entirely with recipes made with peanut butter, cream cheese and other tasty ingredients.
Cake Pops - Frosted cake or cupcakes may not survive a picnic basket, but cake pops likely will. Recipes are plentiful online and mostly consist of boxed cake mix, a bit of frosting and melted chocolate or candy coating for the pretty exterior.
Chocolate-dipped Strawberries - Pick a chocolate that will dry to a hard shell, and transport these yummy treats in an egg carton.
Fruit Turnovers - You'll feel healthy if you forego the chocolate in favor of a fruity pastry.
---
Plan a potluck picnic in the park with a sign up. View an Example
---
Indoor or Outdoor Picnic for the Whole Crew
Planning an outdoor party for a large group, like a church picnic or family reunion? You'll need more than a couple of sandwiches. If the weather or venue drives your party inside, you can still bring an alfresco feel to the great indoors with gingham tablecloths, farmer's market baskets and vases of cut flowers. Here are some tasty, transportable ideas that can feed everyone.
Fried Chicken - Forgo silverware in favor of letting folks eat with their hands. Be sure to provide plenty of napkins.
Pizza - Another classic food you can eat with your hands that travels notoriously well — just ask your local delivery place. Make your own and get creative with toppings like squash, chorizo and a drizzle of honey.
Ribs - They may be messy, but this classic picnic food is a tasty conversation starter (your guests will have to ask each other for napkins!)
Casserole - Bake in a container that can also serve as a serving dish. Just pop aluminum foil over the top.
Salad - Mix your greens and other veggies in a large bowl with a lid at home. Don't add dressing until you get to the picnic area to ensure the lettuce stays fresh. Pick seasonal ingredients like strawberries in summer and grilled squash in fall.
Dinner Rolls - Buy them pre-cooked from the bakery and bring them in the plastic they came in.
Potato Salad - Make it yourself or buy at the deli. Just be mindful that it shouldn't sit out at room temperature (or warmer) for more than a couple of hours.
Grilled Asparagus - If your venue has a grill, simply toss the stalks in olive oil and a little lemon juice, wrap them in foil and throw them on the grill. Otherwise, bake them in the oven at home and serve straight from the pan.
Corn on the Cob - Boil ahead of time or cook them on the grill, if available.
Pasta Salad - This cold dish generally travels well. Find a recipe online or buy the boxed variety.
Cole Slaw - Upgrade by adding bleu cheese or cranberries. You can make slaw ahead of time and store it in the fridge — just shake it up before you set it out at your picnic.
Kebabs - Pick unique meat and veggie combinations like chicken and avocado or pork and apples. Skewer them and transport in a large container so guests can grab a stick and eat on the go.
Seven-layer Dip Cups - Scale down your favorite recipe and make it in small clear cups your guests can hold for mobile snacking.
Fruit Salad - Mix and match your favorite fruits like strawberries, kiwis and pineapples for a colorful sweet treat that travels easily and is healthier than chocolate.
Cornbread - Cook in one large loaf that can be sliced, or make easy-to-grab corn muffins in a regular muffin tin.
Drink Station - Fill pitchers or spigot-dispensers with refreshing options like lemonade, iced tea and water. Leave a cooler of ice nearby, as well as lemons, cucumbers, mint and other fun items for garnishes.
Nothing says summer like getting together for a good old-fashioned picnic. Whether you're eating with just one special person or a whole group, picnics are the perfect excuse to enjoy the great outdoors.
Sarah Pryor is a journalist, wife, mom and Auburn football fan living in Charlotte, N.C.