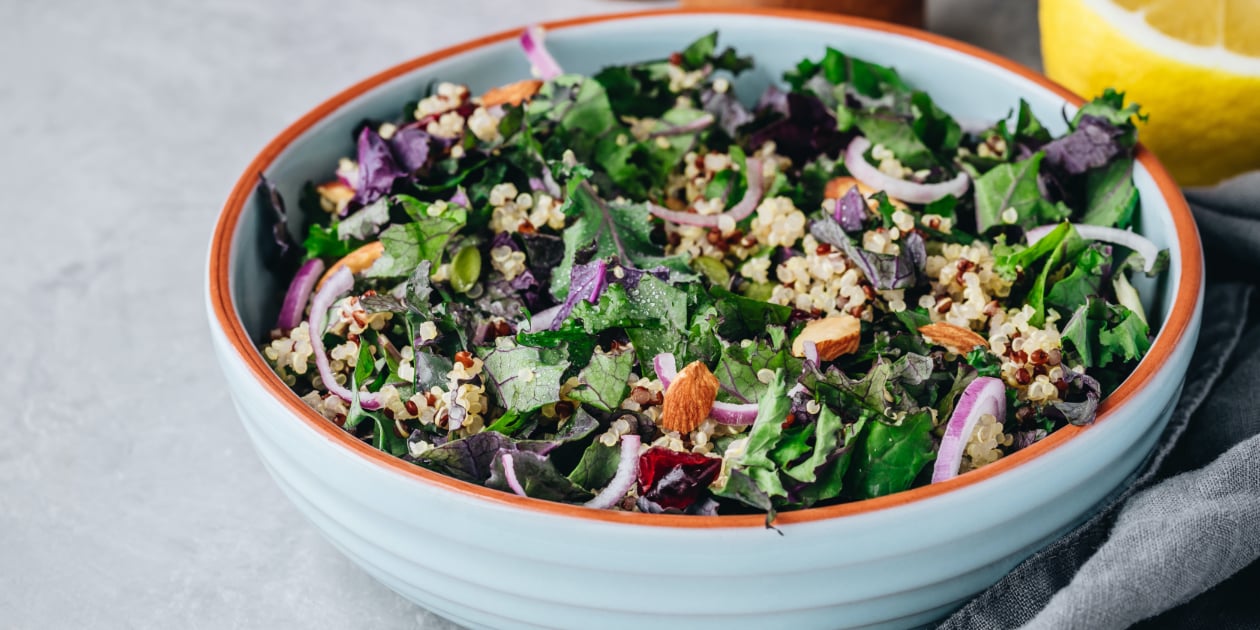 Whether you're looking to boost nutritional value or add flavor, there are lots of ways to spruce up a salad. We've got a rundown of 50 salad bar toppings to help get you thinking creatively the next time you throw together a bowl of leafy greens.
Crunchy Options
Add a little crunch with these ideas. They're usually best when added at the end, but we're giving them the top spot.
Nuts (almonds, sugared pecans, walnuts, peanuts)
Tortilla chips
Sesame seeds
Croutons (try taking old bread and making your own)
Onion rings
Granola
Plan a neighborhood fiesta potluck with a sign up. View an Example
Creamy Options
From tasty cheeses perfect for salads to delicious dairy-free options, add a touch of creaminess to salads with these ideas.
Shredded cheese (cheddar, parmesan)
Gorgonzola cheese
Blue cheese crumbles
Tahini
Hummus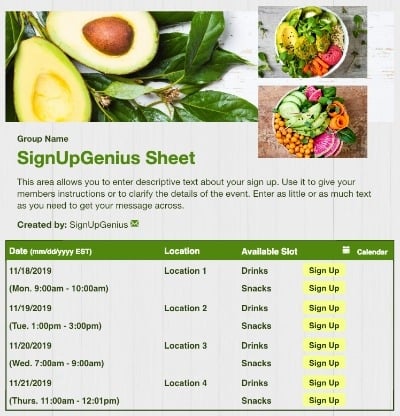 Vegetables
Try any of these veggies roasted, grilled, marinated, raw or even pickled.
Asparagus
Zucchini
Beets
Artichoke hearts
Cucumbers
Peppers
Carrots
Broccoli
Peas
Red onion
Celery
Mushrooms
Sweet potato
Radishes
Olives
Corn
Plan meal deliveries for folks in need with a sign up. View an Example
Fruits
Toss in these fruits dry or fresh, chopped or whole.
Raisins
Apple wedges
Tomatoes (sundried, cherry, chunks)
Cranberries
Peaches
Strawberries
Pineapple chunks
Proteins
The heart of the salad bowl! Spice it up with meat, seafood, or vegetarian proteins. Include a little of each for people to choose from!
Meats
Chicken
Turkey
Steak
Ham
Bacon
Boiled Eggs
Bring people together for a church potluck with a sign up. View an Example
Seafood
Tuna
Salmon
Crab Cakes
Shrimp
Scallops
Vegetarian
Kidney beans
Black beans
Garbanzo beans
Edamame
Tofu
Depending on the type of salad you're making, a combination of these toppings can take it to the next level and give you enough options for a different salad every night of the week!
Michelle Boudin is an investigative reporter for WCNC TV and a freelance writer.