Sunday Potluck Brunch Ideas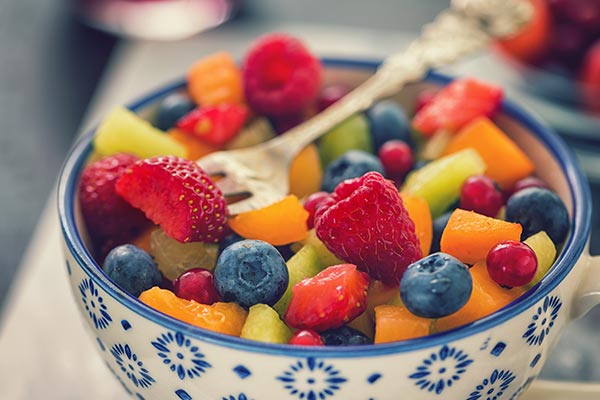 Brunch is the meal that everybody loves because it offers anything you could want. Feel like lunch? Try chicken and waffles. In the mood for a true breakfast? Make an omelet. But brunch can be a lot for one cook to handle. We're making it easy for you to throw a Sunday brunch potluck — so all, even the host, can enjoy!
Appetizers
Fruit Tray - It's always nice to offer healthy choices. Ask guests to sign up to bring different fruits. This is one that you can easily make ahead. Simply slice fruit and separate into sealed bags so the different fruits don't mix ahead of time.
Flights of Bacon - Wow your guests by offering different flavored strips of bacon. Have fun with everyone's favorite breakfast cheat by offering bacon flavored with maple syrup, chipotle, honey or brown sugar.
Mini Quiches - It's always fun to have a sampling of mini quiches. And for someone who doesn't like to cook, this can be an easy item to grab readymade to simply heat and serve.
Cheese Tray - Ask guests to bring an array of cheeses and make sure the cheese is sliced and cubed beforehand so all you have to do is put out the tray.
Mini Cucumber Sandwiches - These finger sandwiches will look fancy but they're so easy. Just mix together cream cheese and ranch dressing for the spread. Put that on top of rye bread with a cucumber slice.
---
Coordinate a church Christmas potluck brunch with a sign up. View an Example
---
Main Dishes
Chicken and Waffles - The ultimate soul food combines salty and sweet and will fill you up so you don't have to eat again until dinner. Make it easy and have a guest stop by their favorite fried chicken place and bring enough for the crowd. Ask another guest to bring topping options like peaches, syrup and whipped cream.
Omelet Station - The classic brunch choice is best when there are options. Ask people to sign up to bring things like mushrooms, ham, different cheeses, spinach and more.
Waffles - Everyone loves classic waffles, and they're even better when served with toppings like whipped cream, melted butter, fresh fruit and of course syrup.
Pancakes - Try the silver dollar kind so guests won't feel bad about loading up on carbs. Have small containers of chocolate chips, strawberries, banana slices, butter and syrup nearby.
Chicken Salad - Whether you make a classic chicken salad or one with a twist, this is perfect alone, scooped into a croissant, or on top of a bagel.
Avocado Toast - A simple addition, this trendy brunch food just takes bread, a toaster oven and a good avocado spread. Add salt, pepper and cumin seasonings.
---
Plan a baby shower brunch and ask people to bring items with a sign up. View an Example
---
Ham and Cheese Sliders - Not quite breakfast, not quite lunch, these mini sandwiches are easy to pull together and perfect for feeding a big crowd.
Breakfast Pizza Rolls - Roll out crescent roll dough so it's one long piece. Pile on scrambled eggs, bacon and cheese then roll into a log. Slice and bake until it's lightly golden and the cheese has melted.
Baked French Toast Muffins - Since you've got waffles and pancakes, make the "French toast" into a muffin – all you do is pour the batter into muffin trays. Make sure you have butter and maple syrup for serving!
Sausage Balls - Roll sausage meat into a one-inch ball then dip the balls in a mixture of grated cheddar cheese and Bisquick and bake until they are golden brown.
Cereal/Granola - It's always nice to include what we all ate as kids, back when breakfast was a simple meal. Ask people to sign up to bring a few different options and create a cereal bar. (Don't forget the milk!)  
Yogurt - Assign this to the person who absolutely doesn't want to cook! Ask them to round up a few different flavors in the single-person containers. All you need are spoons and it's ready to go. If you have guests who do not consume dairy, offer a soy, almond or coconut milk yogurt.
Side Dishes
Hash Browns - Shred the potatoes, mix in a chopped onion and cook in a skillet until golden brown. Make extra since they're sure to be a hit.
Potato Casserole - There are so many ways to make this savory brunch dish — and you can make it ahead so it's perfect for a brunch potluck.
---
Run a Mother's Day brunch for single moms in your community with a sign up. View an Example
---
Pastries
Bagels - It isn't brunch if you don't have these crowd-pleasers. Have people sign up to bring different flavors (plain, everything, sesame seed, poppy and more) and of course it's nice to offer different flavored cream cheese options as well.
Biscuits - These fluffy southern pastries are great alone, topped with butter, gravy, jellies or jams.
Scones - They sound more complicated than they are! You can make or buy delicious scones and offer them to your crowd.
Muffins - Get the baker in the crowd to bring some different options. You can offer everything from blueberry to bran and add some chocolate chip for a more dessert feeling option. Make them mini so they're easy to grab.
Croissants - Ask guests to sign up to bring a variety of these buttery, flaky and delicious morning pastries. You can have chocolate, fruit-filled, and of course, some plain ones.
Cinnamon Rolls - This was a special treat when you were a kid and as an adult, it's still fun for brunch. The best part? You can simply buy them at the store.
Don't forget coffee, tea or maybe even a fruity punch to top off what should be a fun, easy meal with a little something for everyone.
Michelle Boudin is an investigative reporter for WCNC TV and a freelance writer.