50 Thanksgiving Side Dishes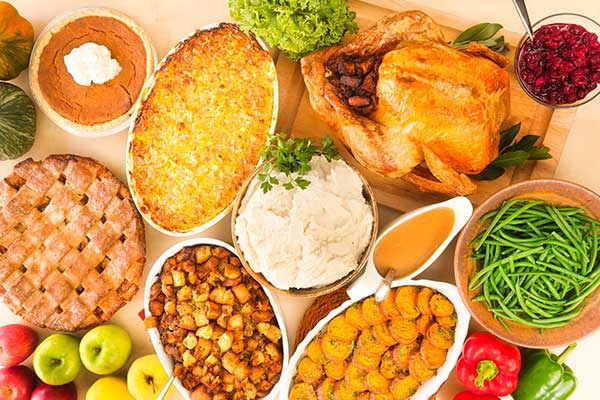 Looking for fresh ideas for your Thanksgiving side dishes this year? Add a small twist on an old favorite to make all your traditional flavors pop. Check out our list of ideas to get your imagination brewing. Just a word of caution as you begin reading… you might get hungry.
Super Spuds 
Parmesan Potatoes - Make your standard mashed potato recipe with the potato skins on and add freshly grated Parmesan cheese and cream cheese to turn an ordinary dish into a Thanksgiving special.
Colorful Concoctions - Roast small red, purple and gold potatoes with olive oil, rosemary, garlic, Italian dressing, coarse salt and pepper for a beautiful and tasty side. Garnish with lemon or orange slices.
Scalloped Potatoes Extraordinaire - Braise the fennel and onions, then add the potatoes and simmer in half-and-half before assembling to bake.
Mashed Potato Croquettes - Basically, rolled balls of mashed potatoes fried in a crispy flour and egg batter. What's not to love?
Loaded Baked Potato Casserole - Combine all your favorite baked potato toppings such as sour cream, green onions, butter, bacon crumbles and more with potato slices or cubes and bake.
---
Host a Thanksgiving dinner potluck with a sign up. View an Example
---
Cranberry Creations 
Cranberry Cocktail Meatballs - Try adding cranberry jelly mixed with chipotle peppers to your favorite mini meatball recipe.
Apricot Cranberry Sauce - After boiling fresh cranberries in orange juice and honey, add diced dried apricots, a handful of chopped crystallized ginger and orange zest for a tangy treat.
Punched up Cranberry Relish - Add a splash of an orange liqueur (Cointreau works well) and grated orange zest to your favorite cranberry recipe.
Wild Rice with Cranberries - Mix dried cranberries, cinnamon and toasted almonds into a prepared rice medley for extra Thanksgiving appeal.
Cran-cherry Sauce - Using a small saucepan, combine one package of fresh cranberries, dried cherries, orange juice, brown sugar and cinnamon; boil until the cranberries pop and cherries are nice and plump (about 15 minutes). Best when made ahead and all the flavors settle in overnight in the fridge.
Better with Bacon 
Creamy Corn with Bacon - Add chopped, crisp bacon to a sautéed mixture of corn (fresh or frozen), onion and red bell pepper. Mix in the creaminess with a package of cream cheese, a tablespoon of milk, salt and pepper. Top with any remaining bacon you haven't snacked on already.
Brussels Wrapped with Bacon - Even your picky eaters will be surprised at how the salty, crispy bacon makes brussels sprouts roasted in the oven oh so much better.
Cheesy Cauliflower with Bacon Crumbles - Cauliflower florets are smothered in a cheese sauce (if you're in a rush, try canned cheese soup or a jar of queso) then topped with a breadcrumb, butter and salt mixture with bacon crumbles on top. Bake until golden brown and irresistible.
Bacon and Balsamic Glazed Sugar Snap Peas - Crisp minced bacon in a large skillet, then add the sugar snap peas, balsamic vinegar and sugar until the balsamic has reduced and the sugar is dissolved.
Maple Bacon Roasted Butternut Squash - Cook the bacon, then bake cubed butternut squash, maple syrup and cinnamon in 2 tablespoons of rendered bacon fat for 40 minutes. Sprinkle bacon crumbles on top.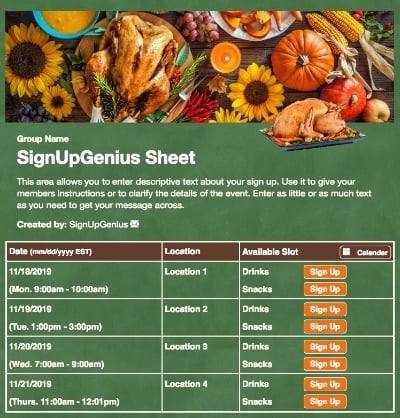 Sweet Potato Pizzazz 
Sweet Potato Streusel - Top your traditional baked sweet potatoes with a crunchy streusel made with butter, cinnamon, brown sugar, pecans and melted marshmallows.
Bourbon-Glaze - Add a fourth of a cup of your favorite bourbon to a mixture of baked sweet potatoes, apples and golden raisins.
Tarter Taters - Add dried apricots, orange juice, orange zest, honey and cinnamon to roasted sweet potatoes.
Baked Twice - Prepare just as you would with white potatoes, but top with a crunchy brown sugar and pecan mixture.
Sweet Potato Skins - Bake your sweet potatoes in the oven, then scoop out the creamy insides and mix with olive oil, cream cheese and cinnamon and reinsert after toasting the skins a little longer in the oven. These also make great game-watching food.
Roll On 
Cornbread Muffins Plus Some - Give store-bought corn muffin mix an upgrade by adding your own flavors such as jalapeños, cheddar cheese, dried onions or tomatoes.
Give Thanks Focaccia - Top your best focaccia recipe with golden raisins, walnuts and sesame seeds and roast until lightly browned.
Pumpkin Gingerbread - With the spicy smells of allspice, cloves and cinnamon filling the kitchen, you're sure to draw everyone in.
Rosemary Rolls - Just brush the tops of your usual yeast rolls with melted butter, fresh rosemary and sea salt before baking.
Parmesan Biscuits - Add Parmesan cheese and heavy cream into your favorite biscuit batter for a tasty twist.
Going Green for Green Beans 
Not Your Mother's Green Bean Casserole - Enjoy all of the creamy minus the cans. Mix together half-and-half, fresh sautéed mushrooms and green beans, then top with roasted pumpkin seeds.
Fried Green Beans - Tempura-battered and fried green beans topped with a rich, creamy gravy are just decadent enough for the holiday.
Brown Butter Beans - Sauté roasted hazelnuts in brown butter to serve over green beans with a pinch of lemon zest.
Crunchy Green Beans - Toasted coconut and half a teaspoon each of curry powder, salt, cumin and coriander give these beans a delightful crunchiness.
Green Bean Salad with Cranberries - Cook your green beans until slightly tender, but still crisp, then immerse them in an ice bath. Sauté shallots together with hazelnuts (or almonds), cranberries (dried or fresh), honey, apple cider vinegar, salt and pepper. Cool and add to beans for a great make-ahead dish.
---
Plan Friendsgiving and gather volunteers with a sign up. View an Example
---
Voracious Veggies 
Spiced Root Vegetables with Pumpkin Seeds - Peel and cut carrots, parsnips, red onions and celery root and season with cumin and coriander seeds, coarse salt and fresh cilantro. Bake with olive oil and top with crispy toasted pumpkin seeds.
Roasted Brussel Sprouts - Balsamic vinegar and onions create sweet, caramelized flavors.
Sautéed Carrots - Cook carrots with a little butter and chopped fresh dill for an easy, colorful and tasty dish.
Butternut Squash Mac and Cheese - Add sharp cheddar and Parmigiano-Reggiano cheeses to softened squash, along with a dash of cinnamon and ginger to al dente pasta noodles.
Roasted Cauliflower - Roast cauliflower florets sprinkled with Parmesan cheese, salt and pepper for 20 minutes until it's golden brown, tender and tempting.
Vegan Made Easy 
Lemon Maple Squash - Dip thick pieces of butternut squash into maple syrup and lemon juice and roast in the oven.
Mushroom Quinoa - Cook quartered button mushrooms, cubed sweet potatoes, garlic and kale in olive oil and white wine, then add to cooked quinoa.
Grilled Lemon Zucchini with Scallions - Brush zucchini wedges with a mixture of lemon juice, sliced scallions, crushed red pepper and olive oil, then grill.
Kale and White Bean Soup - Start this hearty soup by cooking celery, onion, garlic, rosemary, salt and pepper in olive oil, then adding cannellini beans, lemon juice, orzo, kale and vegetable broth to simmer.
Spiralized Zucchini and Carrot Salad - Whisk together lime juice, soy sauce, brown sugar, grated ginger and toasted peanut oil and toss in cilantro, peanuts, spiralized zucchini and carrots for a delicious and colorful side salad.
Instant Pot or Pressure Cooker Dishes
Pumpkin Risotto - Total time 30 minutes with Arborio rice, olive oil, sage, shallots, garlic, vegetable broth, canned pumpkin puree, butter, salt and pepper.
Butternut Squash Soup with Curry - Total time 20 minutes with cubed butternut squash, onion, garlic, curry powder, olive oil, coconut milk, salt, pepper and vegetable stock.
Homestyle Applesauce - Total time 30 minutes with apples, cinnamon, nutmeg, salt, honey and water.
Cauliflower Potato Soup - Total time 40 minutes with cauliflower florets, small red potatoes, chicken stock, garlic, chopped bacon, onions, heavy cream, bay leaves, green onions and grated Parmesan.
Sweet Carrot Puree - Total time 10 minutes with carrots, butter, honey, brown sugar, sea salt and water.
---
Collect Thanksgiving RSVPs and coordinate dishes with a sign up. View an Example
---
Gluten Free Goodness 
Nutty Rice Pilaf - Sauté rice, onion, garlic, dried cranberries, chopped walnuts and slivered almonds in olive oil. Add vegetable broth and cover to soften.
Gluten-free Green Bean Mushroom Casserole - Find that familiar taste using gluten-free panko-style fried onion rings. Also watch for the hidden gluten in your standard cream of mushroom soup and opt for the g-free kind instead.
Roasted Asparagus - Try kalamata olives, parsley, red wine vinegar, olive oil, salt and pepper drizzled over trimmed asparagus and bake for 10 minutes.
Potato Buttermilk Buns - Look for a gluten-free flour blend and gluten-free yeast to bake soft buttermilk buns perfect for delicious dipping in turkey gravy.
Baked Apples - Cover fresh apples in a yummy concoction of brown sugar, cinnamon, cardamom and rum, then bake until soft.
Of course, the best part of Thanksgiving is taking time to enjoy and give thanks for our beloved family and friends, but taking time to linger over our favorite foods never hurts either. Enjoy!
Laura Jackson is a freelance writer based in Hilton Head, S.C. with her husband and two teenagers.