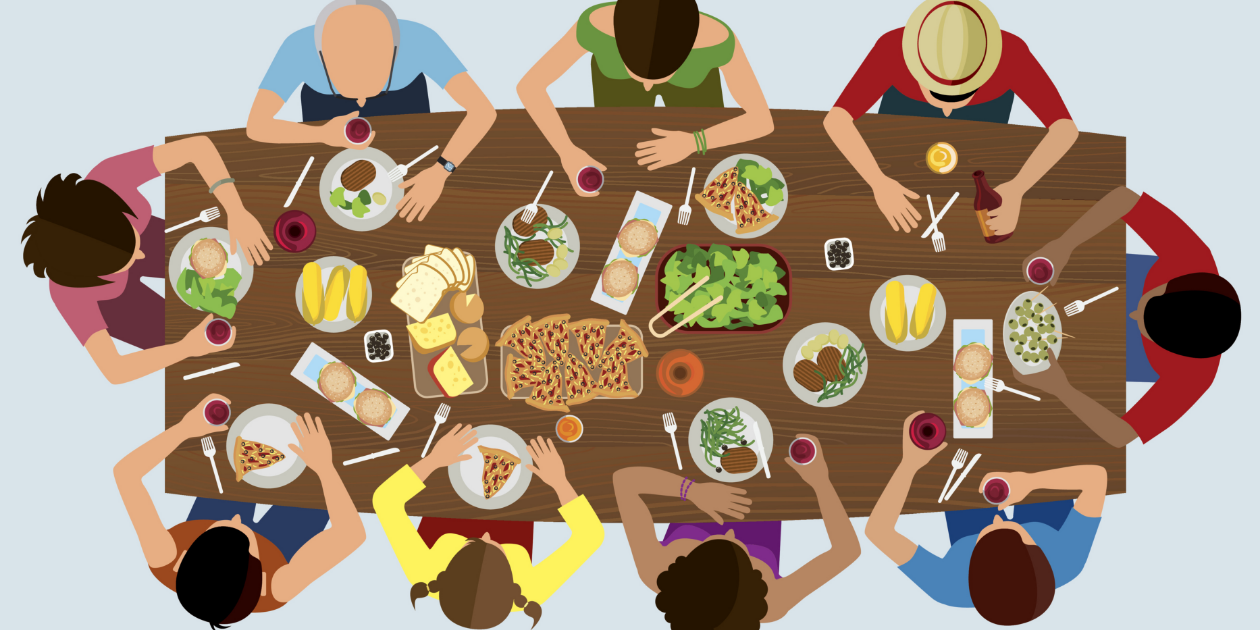 Potlucks are the perfect way to bring people together to share a meal and enjoy each other's company.  Making the menu a group effort puts less pressure on the host and gives everyone a chance to bring a favorite recipe.   
Organizing all the dishes can become more of a chore than expected, unless you use a sign up to simplify your efforts! Try these tips for planning a potluck that will be fun for all, even those in charge of coordinating it!  
Set parameters 
Make sure you think through all aspects of the
potluck planning process
. Consider the number of people each dish will need to serve, where the meal will be held, specific dietary restrictions guests will need to be aware of and more. Collect
RSVPs
ahead of time to ensure you plan for the correct amount of people and get an accurate headcount.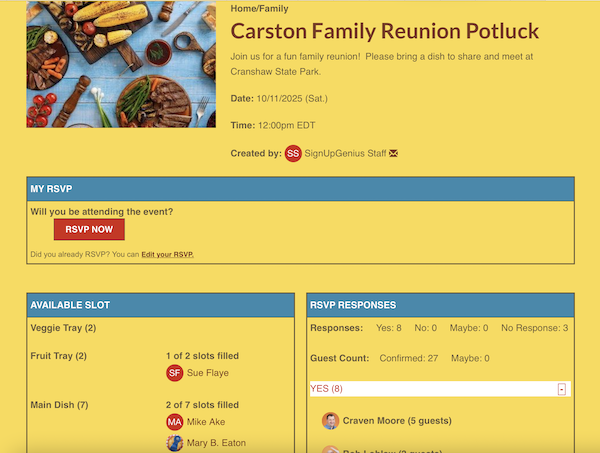 A good way to begin your planning is to assign categories such as appetizers, entrees, sides, drinks and desserts, instead of specific dishes. This allows your guests the freedom to pick the recipes they are most comfortable making; check out these 35 easy ideas we recommend. You can have participants specify the items they plan on bringing in the comment field when they sign up for a slot.  
You also want to make sure you're accounting for the utensils needed for the event. This can be added as a sign up slot for others to bring and trust us, those who are not great in the kitchen will appreciate having the option to bring something other than food! Plus, adding slots for the plates, bowls or cups needed will take the pressure off the host to provide everything.  
To make sure you know what food you will have by a certain date, lock your sign up slots so that no one in your group can drop their commitment or opt to bring something too close to the start of your potluck.  

Choose a theme 
Having a
theme for your potluck
can take your gathering to the next level. It elevates your time together and makes for a fun and memorable experience for all who are involved.  
Selecting a theme for your potluck can also help with the direction of the types of food your group brings. This will simplify the selection process and help coordinate the main courses with the sides.  
Picking a potluck theme can be as simple as choosing the current season like fall, keeping it oriented around a holiday like Christmas or centering it around your favorite sport! Once you've decided the direction of your event, make sure it's reflected in your sign up! You can choose from our many design options or customize your own to fit the potluck you're hosting.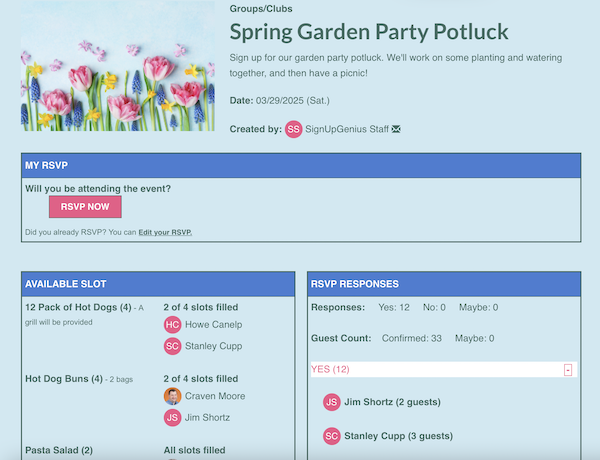 Send reminders 
Reminding your group of their commitments will ensure you have all the food necessary to make your potluck a hit! You can
create custom messages
with our
premium plans
 to relay all the event details to your group through an email or text message.  
You can also share your sign up link in a newsletter or on social media to remind those who haven't selected an item to bring to do so ASAP! 
Create conversation 
Once it's time for your group to gather, don't let the dinner talk fizzle. Prepare ice breakers and conversation starters ahead of time to keep your participants engaged with one another. Having some questions ready will help the conversation flow and help guests feel at ease. 
If you're looking for ideas or need inspiration when planning, try some of our helpful resources:  
You can always make your guests part of the process by asking them to come prepared with a question or game, or collect responses with a
custom question
on your sign up.  
Now that you have a plan ready for your group's potluck, you'll have a table full of friends and a full belly in no time!