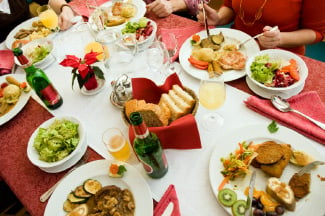 Whether you are hosting a potluck or attending one, there are ways to lessen the burden and make certain the meal comes together without a hitch. You are sure to create the perfect potluck by following these helpful tips.
Hosting a Potluck 
So you want to throw a potluck? Be the Hostess with the Mostest!
1. "What can I bring?" Make it easy for guests by prepping a list of what you will need. Create an online sign up with SignUpGenius to make potluck organizing a breeze! See how it works.

2. Signature dish, you say? If a guest has a signature dish you'd like them to bring, don't hesitate to ask! With online Sign Ups you can even sign them up before you send out the list so the item is noted and you eliminate duplicates.

3. Assign dishes. If you have a large group, it may make sense to assign dishes. Divide up your needs alphabetically and have people bring a dish that is assigned by the first letter of their last name. (For example, letters A-H bring a main dish and letters I-N bring a side and drink, etc.).

4. Be specific. If you ask for "salad," you could end up with three pasta salads. Suggest fruit salad, pasta salad, or green salad and eliminate duplicates right off the bat.
5. Set a theme. Create excitement by setting a theme for your potluck. Send out a unique online invitation with SignUpGenius.com - just one tool can help you collect your RSVP's and food items at once. See theme examples.

6. Picky eaters can be found in any group of kids. If guests are bringing children, think ahead and have easy, no-fuss foods that kids will enjoy.

7. Consider dietary needs and allergies. Have a guest that is gluten-free or vegetarian? Are there allergies to nuts, dairy, soy, etc? Make sure your final menu has many options so no one is put out by the fare.

8. Plan for variety. Make sure you have a wide range of choices to select from to appeal to different tastes and budgets!
---
View a Sample Potluck sign up HERE
---
9.
Cover the basics.
As the host, plan to provide one of the main dishes. Also make sure you have plenty of the essentials like serving utensils, non-alcoholic drinks, paper products and ice.
10. Send reminders. SignUpGenius makes it easy to remind guests of what they have signed up to bring! The system will do the reminder work – one less thing you'll have to worry about!
11. No show? Have some emergency items on hand in case of a no show.

12. Set up. Decide on the location and how you will set up and serve food prior to the event. Place plates at the beginning of the buffet line and napkins and flatware at the end of the line.
13. Seating Needs. Make sure you have enough seating areas so that everyone will be comfortable while eating.
14. Make room. Clear out your refrigerator prior to the party.
15.
Be the oven-operator.
Review your food list ahead of time and take into account what dishes will need to be heated upon arrival. Pay careful attention to times and temps so dishes come out the way you want.
16.
Delegate.
Ask for help! The size of your group will determine if you need one or two friends, or possibly a small army, to assist you.
17. All about presentation. Provide pretty serving dishes and stress presentation so that guests feel pampered. Condiments should be served in pretty containers next to the appropriate dish or item.
18. Prioritize and strategize. Organize food items that you have more of (or that are less expensive) at the front of the line.
19. Set up a separate children's line. If there are many children attending, you may even want to assign someone to be in charge of the kids' food and set up.
20. Accommodate littlest guests first. Ask that parents be allowed to fix children's plates before the overall group begins so that parents can relax and enjoy the meal.
21. Line leaders. Acknowledge any special guests and establish the order of the serving line.  When adults are served, it is proper to have the oldest members of the group go first out of respect.
22. Speak up. Guests may wait for their host to announce when it is time to eat. If you will be saying grace or doing a toast before a meal, do it early.

23. Refill, anyone? Pay attention to serving dishes that are empty or of items that may need refilled. If you want guests to get their own drinks, make sure they know where to do so.
---
If some guests can't bring food items allow them to contribute financial towards the meal costs with SignUpGenius Payments!
---
24.
After dinner coffee.
Have coffee available and ready to brew. All coffee necessities should be at a drink station before the party begins. For large groups, brew before the party and use a thermal coffee container.
25. Something sweet. Set up desserts separately and have separate dishes and flatware available.
26. Trash. Provide trash receptacles in several locations if it will be a large party with paper products.
27. Doggy bag time. Be prepared with take away containers or plastic bags if you want to share the leftovers.
28. Cleaning up. Don't want to spend the last half of your get-together standing at the sink cleaning dishes and packing up food? Provide take home containers for your guests or have foil on hand so you aren't left with the extra hassle of cleaning and returning dishes long after your guests have left.
29. Share! Your guests are bound to say, "I need to get that recipe!" Why not encourage everyone to bring a print out of their recipe and supply blank recipe cards so your guests can trade them easily?
30. Thanks for coming. Provide a pretty envelope that your guests can slide recipes into with a little note that says, "Thanks for coming!" It's a simple-but-nice touch and a fun memento of the evening.
Page 1 of 2 /  Page 2