Page 1 / Page 2 of 2
Attending a Potluck
So, you're invited as a guest? Don't get too lazy and skimp on planning! Be there with bells on... and a dish ready to serve in hand!
31. Commit, and commit early. You know how frustrating it is when a guest won't give a firm answer. RSVP as soon as possible so the host isn't left guessing.
32. Be flexible. If there is a signature dessert you'd like to bring, but there are already four desserts committed, try something new this time around!
33. Stick to the theme. Even if you aren't wild about the Mexican theme, be respectful of your host and bring a dish that is fit for a fiesta. You can rebel by leaving the sombrero at home.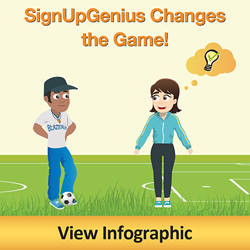 34. Take note of the size of the group. When deciding what to bring, think about the group size, estimated portion size, and the other meal options that will be available.
35. Beat the heat. If the dish you are bringing needs to be heated, make sure to tell the hostess prior to the event. If the oven is full when you get there, your dish will have to wait.
36. Mind your temperature. If your dish is meant to be served hot, make sure it is kept hot until it is placed on the table. Likewise, if it is meant to be served cold, keep it cold.
37. Don't take a chance. Bring a proper serving utensil for your dish. The host may not have enough for everyone.
38. Label your dish. While you're at it, label your serving utensil too.
39. Get comfortable. When in doubt, make comfort foods! They are always a hit.
40. What to share? Bring a dish that has a broad appeal for guests. (Liver n' onions may not be ideal.)
---
Need a theme for your potluck? Select a sign up image and template that goes with it! Check out all of the unique themes that SignUpGenius offers HERE.
---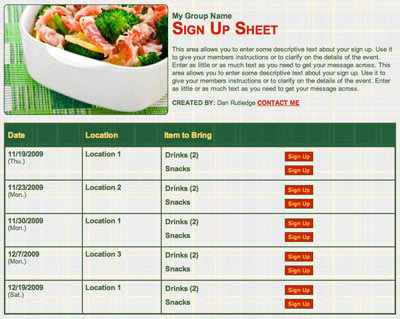 41.
Dietary needs?
If you have dietary needs or food aversions, don't complicate it by telling others what you can and can't eat. Make a dish you will enjoy, and bring extra to share.
42. Put time and effort into what you bring. Plan ahead so your know what you are making days in advance.
43. Table tent. Bring a table tent to label your dish at the potluck.
44. Transportation. Prepare dishes that are easy to transport and have travel-safe containers on hand.
45. Safety, safety. To get your dish to its destination safely, consider your transportation options. Clear the car so you have plenty of room, and secure items around the dish if you feel it's in danger of slip-sliding around.
46. GPS it. Know where you are going. The host will have a million other things to worry about the day-of without having to guide you in at the last minute, so call ahead or map it out.
47. Be on time. The hostess will need every moment up until the potluck to prep, but you do not want to hold up the meal by being late with your dish.
48. Assist with set up. Does your host need an extra set of hands? Why not yours? Call ahead to see how you can help!
49. Bring something. Even if you're not handy in the kitchen, offer to bring something you can pick up on the way. All adults attending should help out in some way at a potluck.
---
When planning a potluck sign up, make sure you have a variation of items so that all invitees can bring something, whether handy in the kithcen or not! Example.
---
50.
Dip, baby, dip.
But don't double dip. Big no-no.
51. Help yourself. Keep portions small when going through the line so that everyone will get to try all of the dishes available.
52. Keep moving. Take your food and move along. Others are waiting.
53. Second helpings. Only take a second helping once you are sure everyone has gotten enough.
54. Be polite. Don't take leftovers or ask for leftovers unless the host offers.
55. Mind your manners. Don't bring up controversial topics that can cause awkwardness amongst guests.
56. Drink responsibly. Both for the safety of others once you leave the potluck and the enjoyment of those attending, it is wise to know your limit and stick to it.
57. Don't overstay your welcome. Just as you arrived at a reasonable time, leave at one too. If the host is yawning and asks if you need a pillow, you've overstayed your welcome.
58. Clean up. If everyone pitches in, clean up is a snap and your host will be oh-so-thankful. Help clear tables and put refrigerate left overs.
59. Take it with you. Clean up and take home your own dishes that you brought.
60. Show appreciation. Make sure your host knows how thankful you are for a lovely time! Bring a small gift for your hostess.

With thoughtful planning, your potluck is sure to be a success! Try SignUpGenius to organize your next potluck, and be sure to let us know what you think! Get started HERE.