30 Sports Potluck Themes and Ideas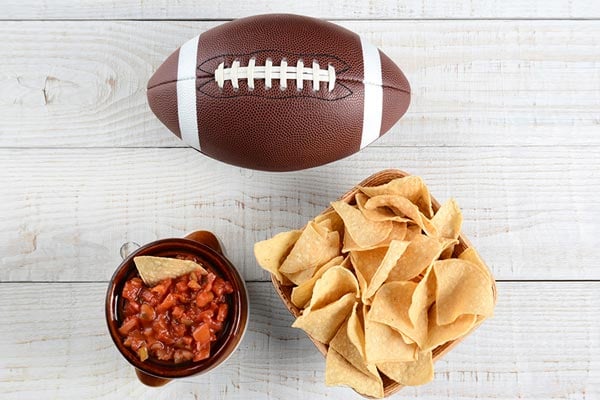 If you are excited to host the big game or have the team over for a meal but are unsure about the food or the budget, hosting a potluck may be the perfect answer. Everyone brings a dish to share — which helps with food costs — and no one leaves hungry! Who knows, you may even find a new family favorite dish. Dig in! 
Athlete Celebration Ideas
Planning a get-together for the team? Whether you're grubbing out with T-ball rookies or the varsity football team, these dinner ideas will kick off the fun.
Team Bonding - Yeah! Your kids made the team! Why not host a potluck so team members can get to know one another and spark some comradery? A potluck event with a finger food theme makes it easy to circulate the room and not be tied down to a specific spot at the kitchen table. Genius Tip: Break out these getting to know you questions to connect with teammates.
First Game Carb Load - The night before the first game of the season, get the team and parents together to carb-up with hefty salads. Forget the lettuce and instead bring the macaroni salad, chicken salad, ham salad, pasta salad or any other salad. It's one-bowl goodness.
On the Road Again - If your team has an upcoming tournament a few hours from home, be prepared to feed the troops and keep spirits high by organizing an on-the-go potluck event. Ask each team family or team member to bring a dish that can easily be ready to serve throughout the day. Genius Tip: Use these team building activities on the road to make the most of team bonding time.
Congrats on a Great Season - Coming together to celebrate a winning (or not-so-winning) season calls for a commemorative feast. Send out a SignUpGenius invite and ask everyone bring their favorite main dish, side or salad to share.
Thanks to Coach and Staff - They gave their all to make the team great, now it's time to treat them with a fancy night and yummy food. Host a black tie "Gratitude Gala" where players serve coaches, team parents and athletic staff. Decorate with inspiring coaching quotes and put together gifts for the guests of honor to take home.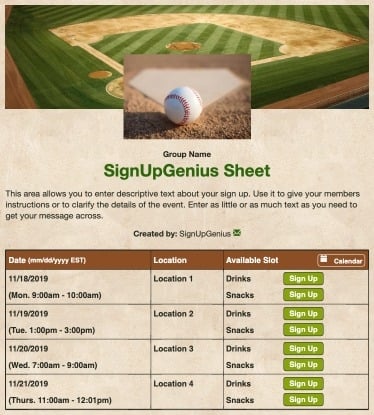 Gatherings for Any Team
You don't have to sweat it out on the field to celebrate sports. Whether your team is made up of friends, coworkers or neighbors, get started with these ideas.
Chili Out for the Big Game - Break out the crockpot and host a chili potluck. Ask two people to bring a big pot of chili (one with meat, one without) then have guests sign up to bring the fixings. From cheese and onions to bread and chips, you can pile your bowl all the way to the final buzzer.
Show Your School Spirit - This is potluck idea invites guests to up the creativity factor. Ask friends to bring a potluck dish representing their alma mater. It could be a dish that shows off their school colors, food their school is known for or just make it work. Duke dip? State sandwiches? It all sounds good to us.
Board Game Day - You're going to need one hand to make the winning play and the other to gobble down delicious food. This strategy calls for sandwiches. Instead of one dish, have your favorite players bring ingredients to make the ultimate sub and you supply the rolls. Ham, turkey, cheese, pickles, olives — your sandwich will be piled high as you shut out the competition.
Fantasy Sports Draft - Selecting just the right players to dominate the fantasy league is tough work and one that calls for a big meal. And let's face it: fantasy sports season is its own holiday, so why not get festive with a holiday potluck? Start with a traditional ham or turkey and ask your buds to bring a side to share. Mashed potatoes? Yes. Green bean casserole? Yes.
Olympic Celebration - The Olympics happen every two years, but you can plan a potluck of Olympic proportions any time! Assign each guest a country or have them decide what international dish they would like to contribute to the meal.
---
Coordinate a booster club BBQ fundraiser with a sign up. SAMPLE
---
Potluck Themes and Food
Step one in organizing the perfect potluck is telling your guests what to contribute to the spread. Go beyond the usual and create fun themes everyone can get into. Below are some ideas to get you started.
Sandwich Wraps - The wrap might be one of the best things to happen to the sandwich. Make it a party and ask guests to bring wraps to share with their favorite filling. This is the perfect time to let everyone know your tuna salad or beef and cheddar wrap is the best!
Sports Tip: Have toothpicks and colored paper on hand and ask guests to name their wraps with a sporty theme. We suggest "Touchdown Tuna" or "Winning Ham and Cheddar."
Taco Bar - You just can't beat a taco bar with all the toppings, where you can fill up again and again. Use SignUpGenius and create slots for friends to bring beef, chicken, tofu, hard and soft tacos, toppings, chips, cheesy dip and more. Ole!
Breakfast - Let's face it, breakfast is awesome any time of the day, and when you rise and shine with this potluck event, you'll be serving up all smiles. Go beyond the casserole and bring eggs Benedict, muffins, scones, bacon, etc.
Sports Tip: This is a welcome evening potluck meal, especially if your sports team had to rise and shine to make the early game. Everyone will be ready to chow down on the most important meal of the day when they return. Have plenty of OJ and coffee ready!
Sports Bar Food - Got a favorite sports bar? Share the love when you bring your go-to bar food favorite to the party. Fill up on wings, sliders, buffalo dip and other delights.
Sports Tip: Asks guests to print out a sign to go with the food that identifies where the inspiration came from!
Salad Bar - Perfect for warmer weather or when the team needs a break from gut-busting dishes. Encourage people to bring their favorite salad toppings and dressings. You provide the lettuce and get ready to dig in.
Desserts - Need more sweetness in your life? Become the hit of the party with a dessert potluck. Perfect as a progressive dinner or the final stop after a night out, the treats are only limited to your imagination. Pies, cookies, brownies, ice cream and candy bars, yes, please!
Sports Tip: Challenge the crew to bring a dessert that shows off their alma mater's colors. Red = cherry pie, yellow = pineapple upside down cake and more.
Championship Chow - As your favorite team heads to the playoffs, host a potluck that represents the cities of the Final Four teams or the teams that made it to the championship. Whip up some Cincinnati chili, Philadelphia cheesesteaks, po'boys from New Orleans or crab cakes representing Maryland.
Sports Tip: This is the perfect time to fill out those brackets and see who can pick a winner!
Featured Ingredient - Throw a little inspiration their way and host a featured ingredient potluck party. Pick a veggie, meat or unusual ingredient (popcorn, cereal, marshmallows) and let the fun begin.
Sports Tip: If you are getting ready for the big game, let the event inspire you. Hot dogs or peanuts for baseball, beer and brats for football, etc.
Three Ingredient Potluck - Guests can bring whatever they want to share, but there's a catch — they can only make it with three ingredients. Decide if butter, oil or other simple starter foods will count in the three ingredients.
Sports Tip: Throw in a little friendly competition and have everyone vote on the best dish.
Appetizers - Let the start of the meal steal the show with this creative appetizer potluck. We're talking meatballs, wings, veggie trays, egg rolls and other lite bites to make your party shine.
---
Collect RSVPs for a team potluck with a sign up. SAMPLE
---
Delicious Dips - Crackers and chips are the unsung heroes of good food spread. Give them their glory with a dip galore potluck. Fill the table with addictive artichoke and spinach dips, pimento cheese spreads and more. Watch people come to the table again and again.
Restaurant Recreations - Do you crave that bruschetta from your favorite Italian place or the hot cheesy bread from the diner down the street? Recreate it and bring it to share in this restaurant recreation potluck.
Hometown Food - Where you are from definitely plays a part in what you crave. Share what your hometown or state is famous for and bring a dish that shows your pride. Chicago hot beef sandwiches? Virginia ham? Maine blueberries? This is also a great conversation starter.
Sports Tip: Ask guests to complete a card guessing which food represents what city or state and have a prize ready for the winner.
Childhood Favorites - What were your favorite foods as a kid? Chicken nuggets, hot dogs, sloppy joes? Bring them to share with the group and nosh on some edible nostalgia.
Indoor Picnic - Enjoy the food and fun of a picnic without the chance of rain, sunburn or ants. Host a picnic potluck and pile on the burgers, dogs, potato salad and watermelon.
Cocktails/Mocktails - Who says a potluck is limited to sharing only food? Find the game no one wants to miss and serve up the fun with cocktails and mocktails. Ask guests to bring a card listing the ingredients of their drink and be sure to have a few finger foods on hand.
Sports Tip: Let the season dictate what cocktails and mocktails to bring. Mint juleps for the summer, cranberry martinis for the winter, etc.
Potato Bar - This is a great potluck idea that stays on budget and is easy to make ahead of time. Cook potatoes in the oven or crockpot and ask guests to bring toppings. Go beyond the sour cream and cheese and don't forget the pineapple, ham, chives and bacon!
Vegetarian - Discover new dishes and up your weeknight meal repertoire when you ask guests to share a vegetarian dish. Bring on the creativity with appetizers, main dishes, soups, salads and desserts.
Soup - This is a great potluck idea for a smaller crowd. Make sure you have enough outlets for the crockpots to keep the soups warm and don't forget to serve muffins or bread as a side. Three or four soup dishes will efficiently serve a dozen or more guests.
Cookbook - This is a fun potluck event for a book club! Select a cookbook (you can start with a classic like Joy of Cooking or try something trendy like InstaPot recipes), classic Italian dishes or health foods. After you purchase the book, ask everyone to select a recipe to bring to an upcoming event. This is a great evening of sharing the cooking experience and tasting the delicious results.
Sports Tip: Award the top-dish and the top chef with a copy of the cookbook. Be sure to have all the members sign it!
Whether it's a weeknight or game day, time with friends or making the team, a potluck is a fantastic way to bring everyone together!
Courtney McLaughlin
 is a freelance writer in Charlotte, N.C. She gratefully shares her life, home and heart with her daughter and their dog.