35 Easy Potluck Dishes for Work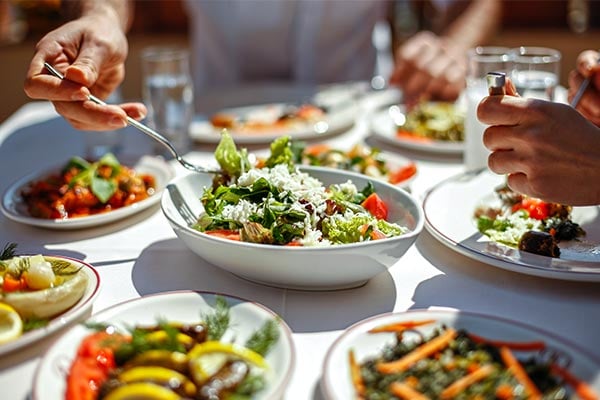 Whether it is a birthday, a significant work accomplishment or a fun holiday, there's almost always a reason to celebrate at work. A potluck can be an easy and fun way to get everyone involved. It's all about finding something that you can make ahead that just about everyone will enjoy and making sure people sign up in advance, so you get just the right mix of dishes! 
Appetizers 
Bruschetta - This is an easy hors d'oeuvre that pretty much goes with any main dish. Just slice a loaf of French bread into one-inch slices and top with a blend of olive oil, balsamic vinegar, mozzarella cheese and chunks (or slices) of tomatoes.
Baked Brie - If you have access to an oven at work, this dish will have to be assembled at the office just before you're ready to eat. Top a wheel of brie with apricot preserve and walnuts and wrap in pie crust. Bake and serve.
Spinach Dip - Use a slow cooker and thawed spinach to make this as potluck-friendly as possible. You can make it up to three days ahead and refrigerate it until the big day.
Pigs in a Blanket - Buy these pre-made or impress your co-workers by making your own. Simply cut down crescent rolls to size and wrap around mini sausage links. (Don't forget a few different mustard options for dipping!)
Sweet and Sour Meatballs - Mix grape jelly and ketchup to make a sauce that will make sure everyone knows your contribution to the potluck is homemade. The best part? You can make these well in advance and freeze them until the party. Make sure to bring along toothpicks to make the meatballs easy to serve and eat.
Buffalo Cheese Dip - This is a hit at everything from tailgating parties to baby showers and will no doubt be a crowd pleaser with your co-workers. Layer cream cheese, cooked (and shredded) chicken breast, Buffalo wing sauce and blue cheese salad dressing in a baking dish and heat! Don't forget to bring something for dipping!
Deviled Eggs - This southern classic will add some color to the table. Simply boil the eggs and once cool, scoop out the yolk, mix with mayonnaise, salt and pepper and top with paprika then put everything back into the white of the egg to serve.
---
Throw a March Madness potluck at work with a sign up. View a Sample
---
Side Dishes 
Salad - It's nice to offer something for co-workers who may be watching what they eat, and it can be as simple as grabbing a few of the pre-mixed salads in a bag from the grocery store. Don't forget to bring a few "on the side" dressing options.
"Fruit" Salad - This salad works with almost any kind of lettuce (spinach, arugula, kale) and is usually a crowd pleaser. Add sliced apples, dried cranberries, parmesan cheese and toasted almonds or pecans and offer a vinaigrette dressing.
Broccoli Salad - Make this a day ahead and refrigerate and keep the salad and the vegetables separate until you're ready to serve. Toss bacon, broccoli, raisins and sunflower seeds.
Mac and Cheese - This favorite comfort food can also be really easy to make ahead. Kick it up a notch by using multiple kinds of cheese and breadcrumbs.
Asian Coleslaw - This dish will look like it took you hours, but it's so simple and delicious. Combine a package of coleslaw mix, green onions, chicken flavored ramen noodles, sunflower seeds, toasted almonds and mix. Wait until just before serving to add salad dressing.
Hash Brown Casserole - So easy and so good! Mix potatoes, soup mix, sour cream, cheese, onion and bake. Add crushed corn flakes on top for a crunchy twist.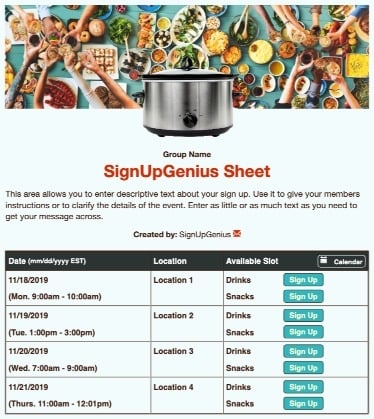 Green Bean Casserole - Mix cream of mushroom soup, French fried onion rings and of course, frozen or canned French green beans and bake. Leave some onion rings out to sprinkle on top once it's ready.
Baked Beans - This dish is perfect for the person who is running short on time. Simply empty a can of beans in a saucepan and heat. You can even use a casserole dish in the microwave if you don't have access to an oven.
Mashed Potato Casserole - Make your regular mashed potatoes using sweet butter and sour cream and a little bit of milk. Add in cheese, bacon and some breadcrumbs and you've got a make-ahead dish that will no doubt be wiped clean.
Zucchini Chips - This healthier option is great for anyone who loves a good crunch. Simply slice zucchini, coat with a mixture of parmesan cheese and breadcrumbs and bake.
Fruit and Cheese Kabob - This is a fresh take on the kabob and works great to add some color (and healthy food) to your table. Alternate fruit and cheese when you stack them.
Macaroni Salad - Store it in a sealed Tupperware, and you can make it a few days ahead – add toppings to make it your own.
Potato Salad - This is so easy to make, you can do it in just a few minutes the night before the scheduled potluck.
---
Coordinate team events throughout the year with a sign up. View a Sample
---
Main Dishes 
BBQ Chicken or Pork Sliders - You'll be a big hit with coworkers if you offer them not one, but two great barbecue sandwich options.
Chicken Salad Sliders - Make your favorite chicken salad ahead of time and when you get to work, put a scoop inside mini hamburger buns.
Pastrami Roll-Ups - Combine cream cheese, crumbled blue cheese and pickle spears on the inside and wrap with a slice of pastrami.
Vegetarian Black Bean Chili - Combine black beans, corn and chili in one pot. You can make ahead and reheat at the office. Go the extra mile and let your coworkers pick and choose from an arrangement of fixings like bright-red cherry tomatoes, grated cheese, or a dollop of sour cream.
Crockpot Stew - This is a no-brainer because not only does it take almost no work, you can make this ahead of time and serve your entire crew.
Chicken Casserole - Buy pre-cut strips of chicken to make this as easy as possible. Combine chicken with cream of mushroom soup, sour cream and top with crushed Ritz crackers for a crunchy finish.
Baked Penne Pasta with Chicken - Prep ahead of time by cooking the pasta, sautéing the chicken and then putting it together topped with mozzarella for a bake in the oven. Store it away to reheat at the office.
Pizza Rolls - Use pre-made biscuit dough, stuff it with mozzarella and parmesan cheese (add pepperoni if you like), then bake in the oven.
---
Organize office perks like Fun Friday snacks with a sign up. View a Sample
---
Desserts 
Kitchen Sink Brownies - The name pretty much says it all. Take everything salty and sweet thing you can find in your pantry and throw it in the brownie batter mix. Start with Oreos, chocolate chips, pretzels, potato chips and peanut butter cups.
A Tray of Cookies - Sure this may look like the easy way out, but it will still be a crowd favorite. Combine some of your favorite cookies and arrange on a platter.
Make Your Own S'mores - You don't need a campfire to enjoy this treat — just the breakroom microwave. Make sure you bring the essentials like graham crackers, marshmallows, and of course, chocolate.
Ice Cream Sundae Bar - Help your co-workers feel like kids again with this easy and fun dessert. Offer vanilla and chocolate ice cream and an array of toppings like rainbow sprinkles, whipped cream and hot fudge to do the trick!
Strawberry Kiwi Fruit Pizza - This (slightly) healthier dessert option is made with a sugar cookie crust, a cream cheese filling and topped with colorful fruit.
Light Chocolate Mousse - Mix milk, pudding mix and cool whip and refrigerate. The result is a light treat that will still satisfy a sweet tooth.
Candy Buffet - Buy packs of different candies and easily display in bowls. Sometimes just a little piece of candy is all you can handle for dessert after piling a plate high at an office potluck.
A potluck is more about a chance to catch up with co-workers away from your desk than it is about food, but it can also be an opportunity to impress them with your kitchen skills (or your ability to pick exactly the right pre-made dish to buy at the grocery store)! 
Michelle Boudin is an investigative reporter for WCNC TV and a freelance writer.