50 Fall Potluck Ideas and Themes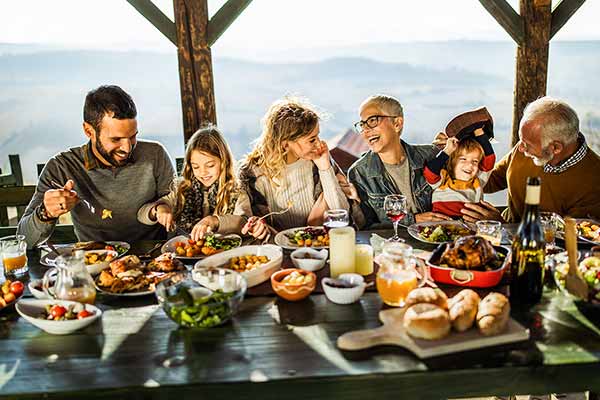 With cooler weather and lots of fun sporting events, fall is the perfect time to get together for a potluck. SignUpGenius makes it easy for your guests to let you know which dish they're bringing — no more parties with five different desserts and no sides. Whether you're throwing the party or coming as a guest, here are 50 fun fall potluck themes and ideas. 
Party Themes
Chili Cook-Off - Practically everyone has their own famous chili recipe. Tell your friends to fire up the slow cookers and bring a batch to share. Your guests who aren't cooking inclined can bring the fixin's like cheese, sour cream and corn chips.
Wine and Cheese - Have everyone bring a bottle of their favorite wine and a block of their favorite cheese (or sliceable meat) for the ultimate charcuterie spread.
Tailgate - Serve your favorite tailgating foods like pigs in a blanket or opt for football-shaped fare like chocolate brownies with cream cheese laces. Decorate with green tablecloths adorned with white goal line markers.
Soup Supper - Warm up on a chilly evening by having guests bring their favorite soups to share. Even dessert can be a soup of sorts: chocolate fondue with strawberries and other yummy dippers.
Pumpkin Party - Jump headfirst into the ubiquitous fall flavor by telling guests everything they cook must have pumpkin as an ingredient — bonus points if it's served out of an actual pumpkin.
Casseroles - Nothing says fall like a hot casserole. Ask your guests to bring their favorites (and leave the oven preheated for any last-minute warm-ups).
Friendsgiving - Host a Thanksgiving-themed potluck with your best friends. Assign everyone a traditional Thanksgiving dish to bring like turkey, stuffing, candied yams or macaroni and cheese.
Fiesta Night - Decorate with sombreros, piñatas and bright colors so your guests will feel right at home eating tacos, chips, salsa and other Mexican fare.
Finger Foods - No forks allowed at this potluck. Tell guests to cook up their favorite finger foods like pigs in a blanket and mozzarella sticks. They're easy to transport and even easier to eat.
Southern BBQ - Break out the gingham tablecloths and serve up some pulled pork, brisket, ribs and all the fixin's. Fall's temperate climate will even allow you to have this messy food outside. Decorate with mason jars, twine, burlap and other rustic textures.
Pie in the Sky - Tell guests every food item they bring must be a pie. Dessert pies are obvious, but they can also cook chicken pot pie, quiche and more.
Spooky Soiree - Make your potluck Halloween-themed with fun finger foods like crescent roll-wrapped hotdog mummies and spider sandwich cookies with pretzel legs sticking out.
Breakfast for Dinner - This simple theme will allow guests to cook their favorite morning meals in the afternoon. Think waffles, pancakes and even an omelet bar if you're feeling fancy.
Grill Out - Perhaps the most classic potluck theme — everyone loves hamburgers and hot dogs. Ask guests to bring sides like potato chips and salad.
Southern Supper - You don't have to be from the Deep South to appreciate Southern fare. Have everyone bring a favorite southern dish like fried chicken, macaroni and cheese or collard greens.
---
Bring your neighborhood together with a potluck. View an Example
---
Main Courses
Chicken Pot Pie - Bring from a box or make it from scratch.
Smoked Meat - No smoker? No problem. The internet is full of tutorials for smoking meat on the grill or even in the oven. You'll likely need some wood chips and a roll of aluminum foil.
Baked Ziti - Use ground beef, ground turkey or even Italian sausage to give your pasta some heartiness, then top with cheese and bake until bubbly.
Chicken and Rice Casserole - This all-in-one dish is simple and delicious. Add almonds for extra crunch.
Jambalaya - Pay homage to Cajun culture for this dish. You can also make a less spicy version for those who might not appreciate the extra heat.
Lasagna - Go simple with ground beef or get creative with spinach and low- or no-carb recipes.
Mini-Sliders - Stick to bite-sized burgers or expand your palette to include buffalo chicken, crab cakes and more.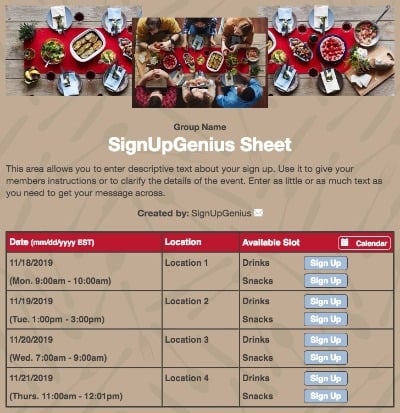 Slow Cooker
Chili or White Chicken Chili - Easy to throw together and fun to eat, chili is a fall staple for a good reason. Bring your sour cream and shredded cheese so guests can customize their dish.
Chicken Noodle Soup - Pro tip: add the noodles near the end so they don't get too soggy.
Roast Beef for French Dips - Pick a thick, crusty bread to hold up a hearty serving of roast beef. Top with provolone cheese and bring cups for other guests to serve their own au jus.
Meatballs - You can serve these with toothpicks or leave in the slow cooker for guests to spoon out over noodles. For a more Eastern flair, make them with teriyaki sauce and serve over rice.
Chicken Tortilla Soup - Bring tortilla chips or strips along with cheese and sour cream to serve this warm fall treat.
Sloppy Joes - This childhood favorite will be the hit of the potluck. Don't forget the buns!
---
Plan a cycling club potluck with a sign up. View an Example
---
Sides
Apple Walnut Coleslaw - Fall flavors add a twist to this summer staple.
Bacon Brussels Sprouts - Slow-roast your Brussels with bacon and a drizzle of olive oil and maple syrup for a fall-flavored treat.
Mashed Potatoes - The ultimate comfort food. Add a twist by mixing in a unique ingredient like garlic or gouda cheese.
Stuffing - Whether you call it stuffing or dressing this carb-a-licious side is a fall favorite and shouldn't be limited to just the Thanksgiving table. Add a twist by making it with cornbread or cranberries.
Collard Greens - Make them southern-style by cooking with bacon or ham — or keep it healthy by sautéing in olive oil and finishing with a squeeze of lemon juice.
Macaroni and Cheese - Whether you reach for the blue box or make a huge pan from scratch, everyone loves this side dish.
Dips
Seven-Layer Dip - Layer salsa, refried beans, cheese, guacamole and sour cream for a simple but yummy treat everyone will love.
Cheese Dip - Pop it in your slow cooker with salsa or cook it on the stovetop and serve with tortilla chips as well as unexpected dippers like broccoli.
Baked Jalapeño Popper Dip - Cream cheese mixed with mozzarella and jalapeños and topped with crumbled butter crackers is so delicious, and it likely won't last past the first 20 minutes of the party.
Crab Dip - Seafood lovers will be obsessed with a dip made from cream cheese and crab. For bonus points, make wonton chips to use as dippers.
Loaded Baked Potato Dip - Sour cream, cream cheese, bacon and green onions mixed together and baked make the perfect dip for potato chips or crinkle-cut fries.
Buffalo Chicken Dip - This spicy orange dip would be perfect for a tailgate party. Use your favorite buffalo wing sauce and bleu cheese dressing to give it a special touch.
Spinach Artichoke Dip - This classic dip can be made hot or cold depending on the weather and what you're craving. For a twist, serve in a sweet Hawaiian bread bowl with bread pieces for dipping.
---
Coordinate a family reunion potluck with a sign up. View an Example
---
Desserts
Banana Bread - Save those brown bananas and bake them into a delicious bread that can work for breakfast or dessert.
Caramel-Glazed Monkey Bread - Swimsuit season is over, so bring on the carbs. This bread is simple to make with canned biscuit dough as the base. Add pecans for even more of a fall flavor.
Carrot Cake - Dig up grandma's recipe or find a new one online. If it has vegetables in it, it must be healthy, right?
Cranberry Bars - The perfect fruit for fall and winter flavors, cranberries are easy to find and cook with. Top your bars with a drizzle of condensed milk for extra sweetness.
Pecan Pie - Whether you buy pre-made pie crusts or do it yourself, this delicious fall pie is sure to be a crowd-pleaser.
Apple Pie - Don't forget the vanilla ice cream!
Caramel Apples - You can serve them whole or nacho-style — with the apples pre-sliced and drizzled with caramel, chocolate and nuts.
Pumpkin Pie Dip - A combo of cream cheese, canned pumpkin and a little sugar make a perfect dip for graham crackers or wafer cookies.
S'mores - Throw it back to your camping days with this treat that can be made over a fire pit (or in the microwave).
No matter what you serve or bring to your potluck, you're sure to have a great time sampling others' recipes and catching up with family and friends. 
Sarah Pryor is a journalist, wife, mom and Auburn football fan living in Charlotte, N.C.