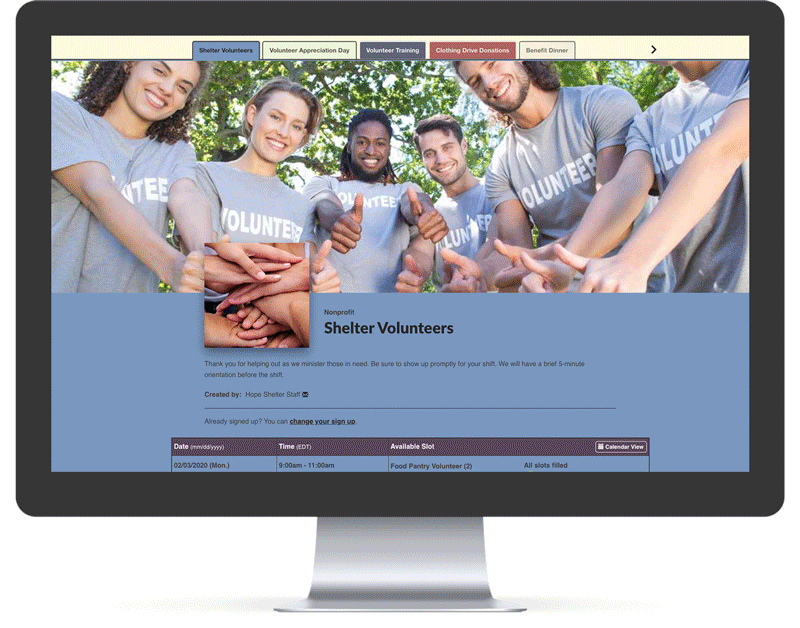 RECRUITING MADE EASY
Recruit and Coordinate Volunteers
It's easy to create sign up invites and forms for coordinating volunteer roles, opportunities and events. Free automated reminder and confirmation emails help participants keep up with their responsibilities, saving you time and money.
Combine multiple event sign ups into selectable tabs for participants to view in one location
LEARN MORE
INFORMATION MADE EASY
Collect Volunteer Information
Build your volunteer database by collecting participant information on sign ups with custom questions. Create custom reports, tally volunteer hours and export volunteer data to Excel or integrate with other applications.
Integrate online sign up forms with your website for a seamless sign up experience.
LEARN MORE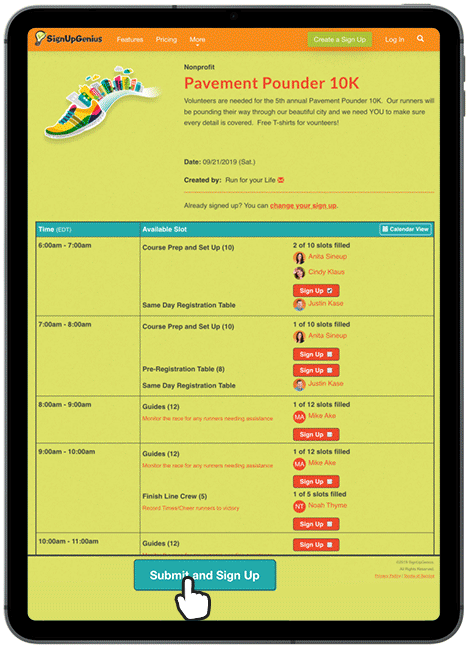 COMMUNICATION MADE EASY
Streamline Volunteer Processes
Make custom sign up forms for your nonprofit's volunteer coordination, fundraising events or donation collection drives. Easy to create and link to your website without involving the time and cost of a developer.
Amp up engagement and communication with our text messaging feature! Communicate quickly and efficiently with sign up participants.
LEARN MORE
FUNDRAISING MADE EASY
Organize Fundraising Campaigns
Recruit and coordinate volunteers to assist in your fundraising event or campaign. Create an event registration form for your gala, concert or event and collect money on the sign up.
Increase fundraising with online giving opportunities and email invites.
LEARN MORE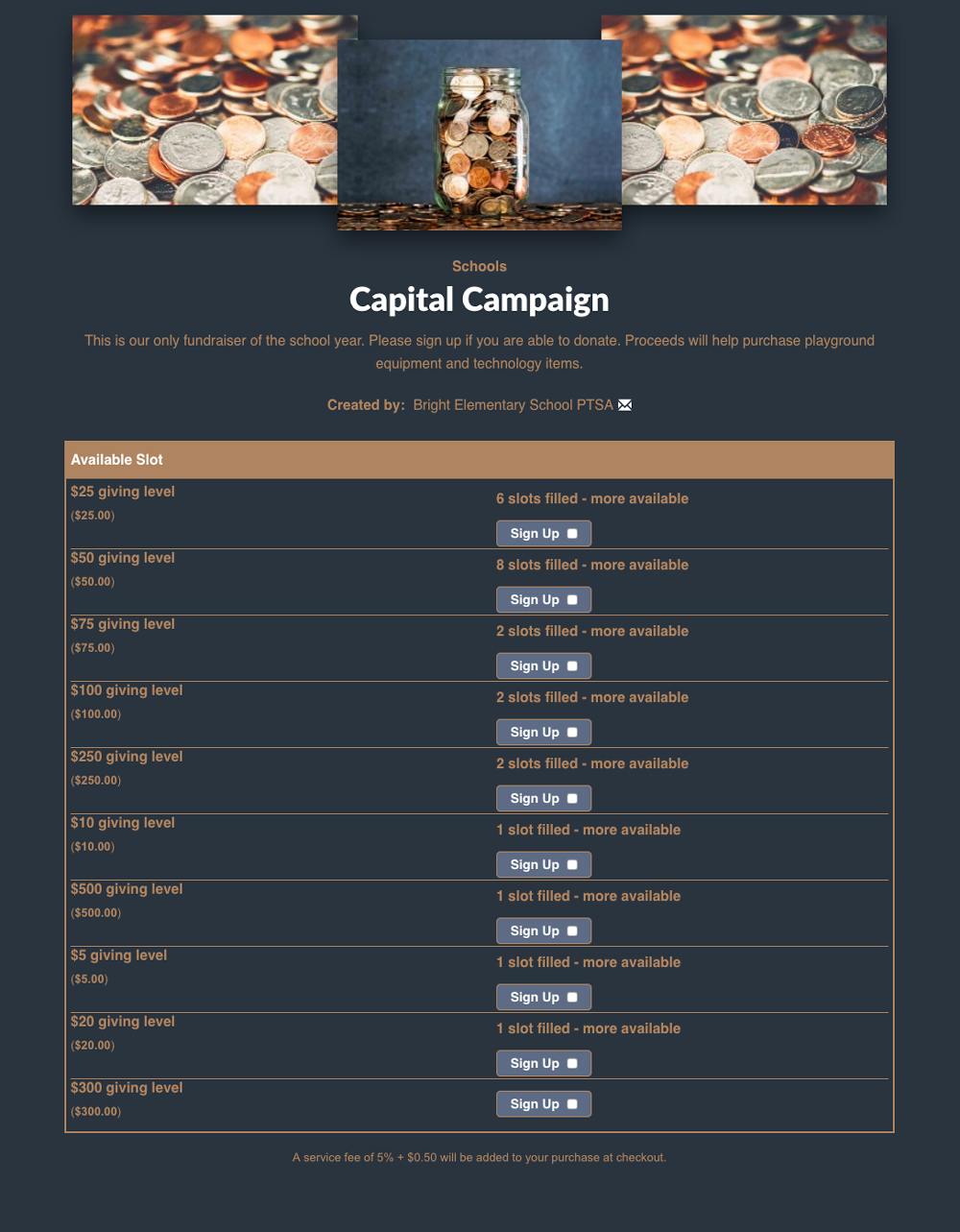 DELEGATION MADE EASY
Manage Admin Access for
Delegating Tasks
Nonprofit groups thrive with collaboration. Use the multiple admin feature to delegate and share sign up event management responsibilities.
Assign administrative roles to other people for help managing sign up forms and reporting. Create custom levels of access for each admin.
LEARN MORE
Need an Enterprise-level organizing solution?
Get unlimited access to high-level features including a dedicated account manager, the removal of SignUpGenius branding, P.O. purchasing options and more.
What People are Saying About SignUpGenius
"I'm a huge fan of SignUpGenius and have been able to accomplish so much with it. It's always quick to load and easy to use. I have used SignUpGenius to coordinate hundreds of volunteers, and it's always easy and reliable. ... Thank you for your wonderful product!"
Heidi Carson
Cupertino, CA
MORE REASONS WHY NONPROFITS USE SIGNUPGENIUS
Recruit and manage more volunteers.
Track and export volunteer hour reports.
Fundraise for events and capital campaigns.
Collect volunteer information.
Increase team communication.
Integrate with MailChimp, Constant Contact and more.