Planning a successful event requires easy registration for your attendees. With SignUpGenius, it's simple to integrate an event registration with your website or email newsletter.
Integrate Registration Sign Up Forms when:
Step 1: Create an Online Registration
You can easily
create an event registration form
without a developer. Use our
premium tool
to
add custom questions
and gather specific information from your audience. Additionally, you can
design the layout
to match your organization's branding and even
collect money
for registration fees.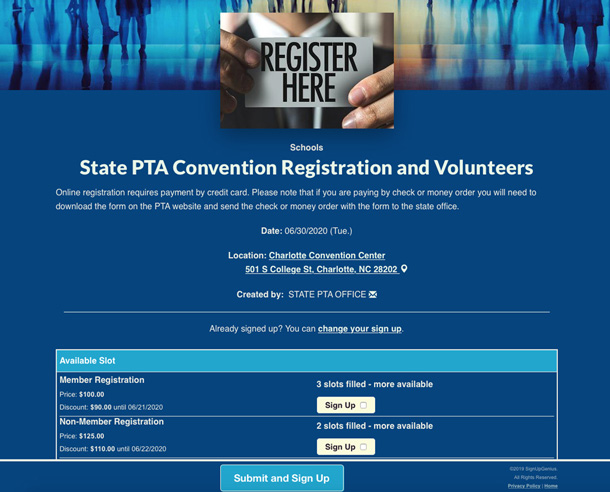 Step 2: Link an Online Registration Form to Your Website
Once you have created an online registration for your event, link it to your website by using our Web Button Builder to create a custom button for your website. Simply log in to your account and click the
Tools
 icon on the left side of the page. Select the
Web Button Builder
 option and follow the steps.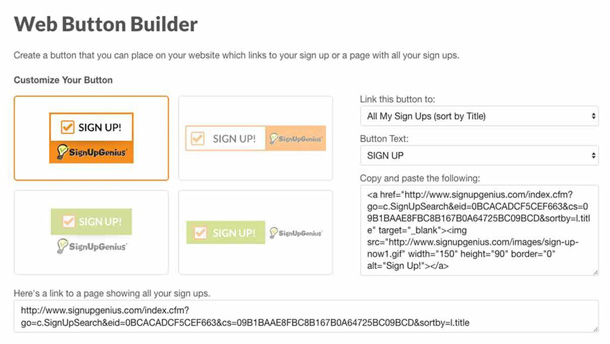 Additionally, you can share the sign up by placing the link on social media or in an email. You can even customize the name of the link to make it easier to share on printed materials.
Bonus: Want to embed the entire sign up into your website? With our Enterprise plans you can remove all branding and ads and embed the sign up into your website to use as your own custom registration tool.
Step 3: Directing Registrants Back to Your Website
Create a Back to Website Button that will direct your audience to any webpage after they register. 
Under the Settings tab, click Integrations to reveal the Back to Website function. You can then customize the text for the button and enter any website that you wish participants to visit after they sign up.  
Keep in mind that this button can be used to direct your audience back to your website or any other webpage that serves as an additional call-to-action. You can customize the wording for the button to best serve your purpose.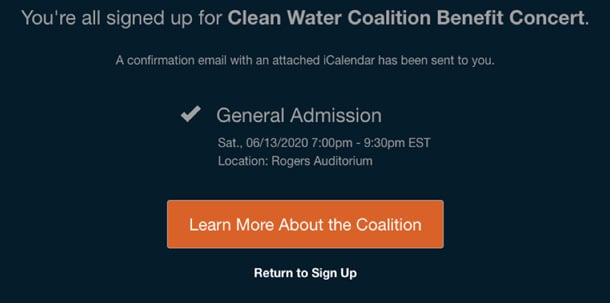 Way to go, genius! You've created a seamless registration experience for your audience. Keep in mind that you can also customize the confirmation emails that people receive upon registering and attach documents or other helpful information. Visit our event registrations page to learn more about planning and organizing an event.