Want to embed sign ups on your website? With portal pages, you can! When you paste an embeddable code snippet into your source code, participants won't need to leave your site in order to interact with your sign ups.
With an Enterprise plan, you can create a seamless sign up experience for participants. Perfect for coordinating registration or fundraising events, this feature saves time and money by providing a sign up experience that works as an extension of your website instead of having to develop your own custom application.
How Does It Work for Sign Ups?
To embed a sign up, first
create a sign up
and go through the steps in the builder. After publishing, navigate to the Share step and select the 
Embed in Website
 tab.
This tab will explain how to embed the code with the following steps:
Step 1: Copy the provided Javascript SDK code that will appear under the Embed in Website tab and paste it in your site's code. This will allow you to embed sign ups on your site. Be sure your webpage can be loaded securely as an https page.

Step 2: Then, copy and paste the snippet of sign up code that we provide onto your website. You can choose where you'd like the sign up to appear on the page. After you've pushed your code, voila! You can see the sign up directly on your website.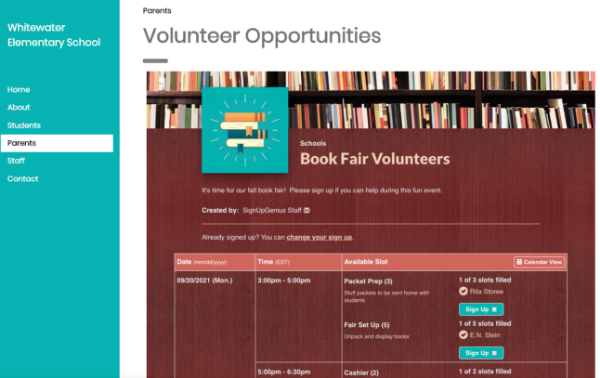 How Does It Work for Portal Pages?
To embed a
portal page
, go to the Tools area in your account, select
Portal Pages
and edit the portal you want to embed. At the top of the page, you'll see an
Embed
button.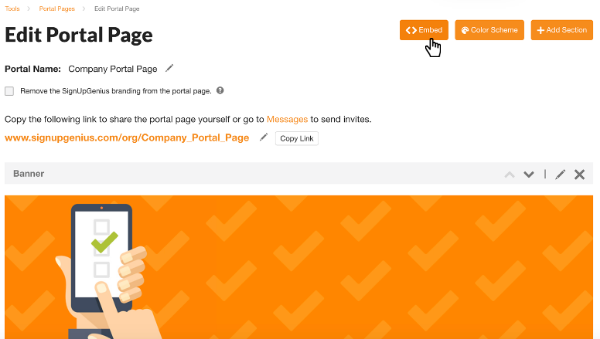 From there, you'll follow similar steps as with the sign ups, first pasting the JavaScript SDK code on your page once, and then placing the unique code snippet wherever you'd like the portal page to appear.
What Else Do I Get with Enterprise?
We're glad you asked! Here's a list of the supercharged features you'll get along with embeddable sign ups and portal pages: 
Unlimited administrators
Extensive email/text capabilities
Unlimited custom questions
Dedicated account manager
Remove SignUpGenius branding
API and integrations
Data security/vendor agreements
Payment via purchase order or invoice
Want to learn more? Contact us to get started with an Enterprise plan today!