Top 10 Elements of a Great Corporate Culture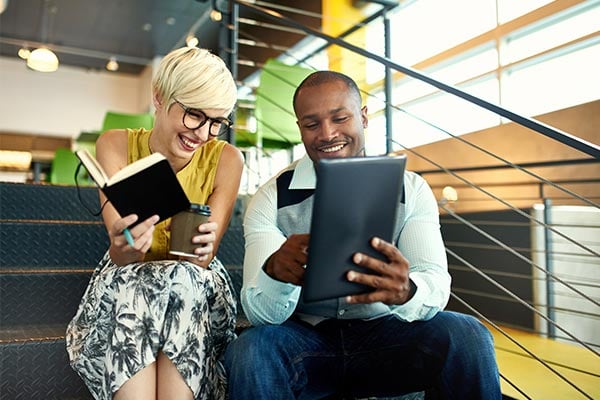 These days, it's a must to attract — and keep — a talented workforce. Building a great company is just as important as building a great product. Whether you're starting a new business or running a department in a large corporation, these top corporate culture tips will help you build a great place to work, paying dividends for years to come.
Define Your Company Culture - And stick to it! Establish the things that matter to your company. What are your company's core values? Outline the mindset and behaviors you see as guiding principles and make sure everyone from the top down knows them — and incorporates them in their work. If you reinforce these ideals consistently, you'll be surprised how quickly employees incorporate them into their everyday tasks. Genius Tip: Develop a culture code that employees can easily reference.
Tell Your Story - How did your company start? What are the everyday aspects in your company that solve the problems your founders wanted to change? Be authentic about incorporating your story into the company culture. Everyone loves a good story. Once you frame it to best represent your company, let that story help guide important decisions, company messaging and branding.   
Communicate Well and Often - When employees feel like they are in the know, they are more likely to feel good about where they work and the job they are doing. Give regular updates on the state of your business, and hold in-person "Q&A" sessions where employees can learn more about how their role affects the broader scale of the company. If you're part of a large company, make sure managers are good communicators as well.
Hire People Who Fit the Company Culture - The interview process is not an exact science, but it's helpful to bring in employees on all levels to meet a potential hire. It will be easy to see how prospective coworkers interact, and if the interviewee's work ethic and attitude are compatible with your company culture. Introducing online personality screening and testing also can help uncover this information.
---
Recruit prospective employees with a sign up. SAMPLE
---
Promote Internally - When employees know that there is room for their position to advance and they have opportunity for professional growth, they are more likely to do their best on a daily basis. Create chances for training and learning on the job, so that employees can gain new skills that help them progress to the next level.
Empower Your Employees - Have an open-door policy and encourage employees to speak their minds — whether behind closed doors, in brainstorming sessions or in more formal meetings. When your employees give feedback, listen. Continue to mold the way you run your business by responding to concerns and questions.
Build a Team - Encourage employees to get to know each other on both a professional and personal level. The occasional working lunch is not enough. Build in regular activities meant to get people mingling and talking about more than just the next big project. You can even designate a "Team Building Team" tasked with organizing regular activities. Genius Tip: Start with these 20 team building activities.
---
Throw an office potluck with a sign up! SAMPLE
---
Build a Cool Space - Google may have been one of the first big companies to get a lot of attention for its office space, but many businesses have followed suit. The whole office doesn't have to be "cool," but it's nice to have a funky "brainstorming" room or a place where employees can just relax and hang out. Open spaces inspire collaboration.
Celebrate the Good Stuff - Recognize and reward achievements — big and small. People appreciate when their hard work is noticed. Sometimes a simple shout out is enough. An unexpected reward is even better! Genius Tip: Try to implement these top corporate perks to increase your employees' quality of work experience — and attract great new hires!
Be Open to Change - From technology to policy changes, outside influences can have an impact — some good, some bad — on the way you do business. A flexible attitude allows you to roll with the punches and can lead to even bigger and better things for your business. Learn to experiment and when you fail, to fail quickly.
Start creating the corporate culture you want one step at a time. Remember that while corporate perks and benefits are nice, it's often the intangibles that help you recruit and retain a talented workforce.
Michelle Boudin is a reporter at NBC Charlotte and a freelance writer.