20 Team Building Activities For Work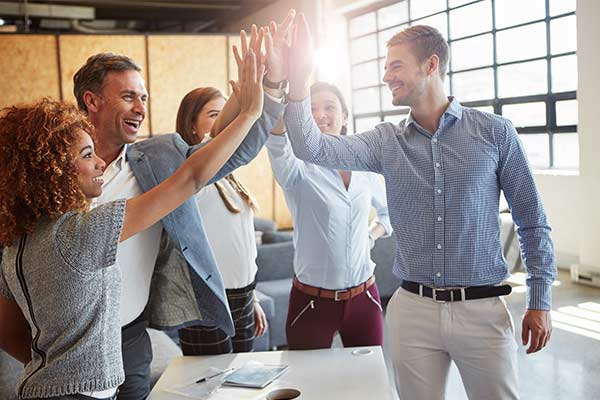 Catching up at the water cooler or gathering in the breakroom to celebrate a coworker's birthday is OK, but these days corporate culture means having a whole lot more fun with your colleagues — both in and out of the office. We've done the hard work – coming up with the ideas – now you just have to get everyone to sign up.
25 Things About Me - It may feel like work (at work) at first, but it's a great way to get to know each other. Have everyone write down 25 fun facts about themselves. For example, "I make a mean martini" or "I've been on a camel in three countries," and see if you can figure out who wrote what. Post lists in the company lounge, and people can write guesses on Post-it notes.
SING! - Almost everyone has a go-to karaoke song, but will stage fright kick in with the boss in the audience? Go off-campus or bring in a professional DJ for a competition inspired by reality shows like American Idol and The Voice.
Costume Contests - Sure, you might dress up for Halloween, but what about other occasions? Some fun ideas: founders day to dress up like the company's creator, hometown day to don your favorite team's colors or decade day to dress in the attire of your favorite era.
Oh Baby - Have your mother dig through the attic to find some funny childhood pictures, then have colleagues try to figure out who's who. Vote on superlatives such as "cutest kid," "weirdest childhood obsession" and more.
---
Assign teams for a company competition with an online sign up. SAMPLE
---
Trivia Night - There's nothing like a heated game of trivia to bring a team together. You might be surprised by Mike's knowledge of history and Julie's obsession with '80s pop bands. Throw in questions about your company — and make them worth a little extra.
Scavenger Hunt - It's all about the journey, not the destination. Plan a scavenger hunt around the office (or if you're really ambitious, around town) and help co-workers get to know their home away from home — and each other.
Paper Plate Awards - All you need are paper plates, some magic markers and a good sense of humor. Remember the senior superlatives from your high school yearbook? Get creative. Think best dressed, messiest desk, most interesting lunches, etc. Use the paper plates as actual "awards" to lighten a company meeting.
Field Day - Go old school and set up a field day like you competed in as a kid. We're talking potato sack races, tug-of-war and everyone's favorite — the dizzy bat race. Genius Tip: Make sure people sign up for specific races ahead of time.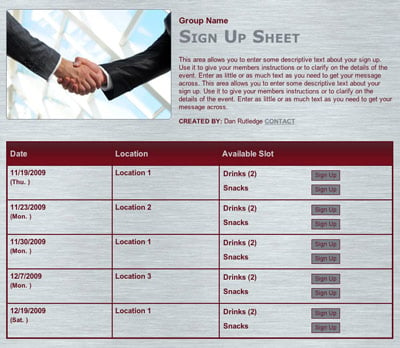 Cooking Class - Put on an apron, and make sure you come hungry! A cooking class is the perfect way to see who can follow directions, who likes to take the lead and who should be in charge at the next office potluck. Many local restaurants and upscale grocery stores offer private classes that your company can book.
What Would You Do - Divide into groups, and give two to three scenarios with a problem that needs a solution. An example: Your group is stranded in the middle of a forest with no cell phones and only a pocketknife and string. What do you do to survive a night before rescue?
Ropes Course - The ultimate team-building activity, a ropes course requires you to rely on and root for each other. If your office has a competitive spirit, split into teams and give awards once completed. Think: most improved, most daring and fastest.
---
Collect RSVPs for a ropes course outing with an online sign up. SAMPLE
---
Volunteer - Whether you're building a house for Habitat for Humanity or caring for shelter pets at The Humane Society, volunteering together can be a real bonding experience — and you may even come away with a new furry company mascot. Genius Tip: Send out a sign up with different volunteer shift options.
Give a "Presentation" - PowerPoint presentations may make you break into a sweat, but put a fun twist on this one. Assign teams to fun topics such as "how to convince the boss to give you his primo parking spot" or "how to create a healthy lunch based solely on what's in the office pantry."
Run a 5K - Lace up your tennis shoes and sign up as a group to run a 5K for a cause your company can get behind. Make sure runners — and walkers — feel welcome and everyone sticks around at the finish line to cheer for each other. Genius Tip: Register race participants with an online sign up.
Be Tourists Together - When you live in NYC you rarely make it to the Statue of Liberty. Same goes for the duck boats in Boston. Organize a trip to one of the city's landmarks — the cheesier the better.
---
Gather participants for team-building games with an online sign up. SAMPLE
---
Put on a Comedy Show - There's nothing like laughter to bring people together. Have some PG fun in the office by organizing a standup competition where people can bring some smiles and stress relief to coworkers.
Two Truths and a Lie – This is exactly as it sounds! Ask employees to write down two cool things about themselves that people may not know (throw in one lie to throw people off) and get to guessing about who authored each list.
Host a Cook-Off (or Bake-Off) - Give everyone a chance to show off their cooking skills in whatever kind of cook-off you want. Chili cook-offs are popular but don't discount themes like casseroles, side dishes and sweet treats. Those who can't — judge! Genius Tip: Let people enter to compete with an online sign up.
Organize an Office Talent Show - You probably don't know that your receptionist sings in her church choir or that the head of sales can juggle and the CFO can tap dance. Hold a talent show, and you get to see all of those unknown gifts.
Escape Room - It's what all the cool kids are doing these days. A real-life interactive adventure, you get locked in a room with your colleagues and have no choice but to work together to solve a puzzle to "escape" from the room.
Try a few or try them all. Just remember to laugh about all the fun you had when you meet up at the water cooler.
Michelle Boudin is a reporter at NBC Charlotte, a People magazine contributor and a freelance writer. She just started her own production company where employees will no doubt be trying a few things from this list!