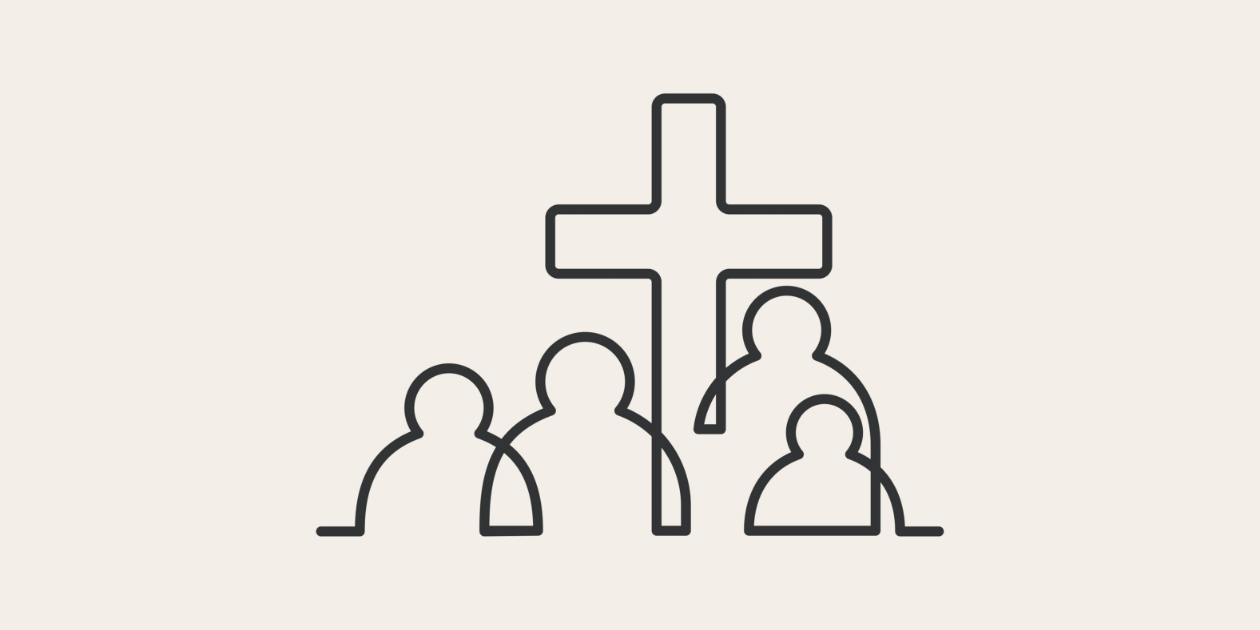 Churches plan many events that take place on a regular basis from worship services to volunteer training. If you are an administrator or volunteer at your church, you know it takes a community to make these events happen.
An online scheduling solution is vital to help churches coordinate participants and volunteers. Scheduling should not take time away from your efforts to serve and lead your church, so here are 5 tips to help you simplify the process.
Auto-generate time slots
Auto-generating time slots
 is a simple way to schedule recurring events. This allows you to plan far in advance in a quick and easy way.  
You can choose how often you want an event to repeat whether it occurs weekly, monthly or on a certain date. Churches often schedule volunteers for Sunday services multiple weeks or months in advance, and this feature will save you time when creating those sign ups. With our hide dates feature, you can select date parameters so that your sign up automatically displays current dates.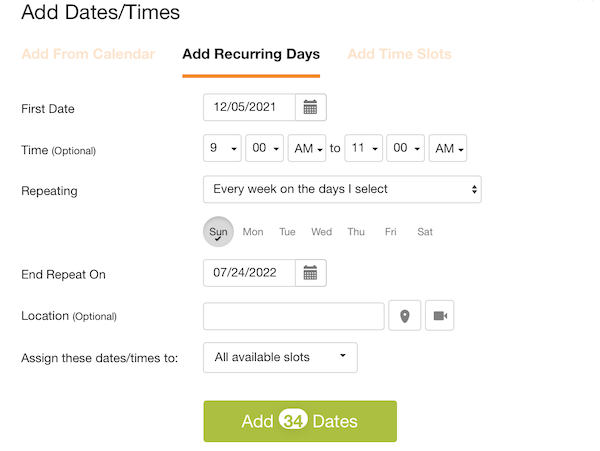 Lock slots 
When you are counting on volunteers to help with your events, it's important to prevent last-minute cancellations that leave you stranded and in need of more help. By 
locking sign up slots
, you can select time frames that prevent volunteers from signing up too late or dropping out of their scheduled commitment time.
Another tool that can save you time, and will benefit your volunteers, is our slot swapping feature. This allows participants to swap any shift with another volunteer, without getting the admin involved. Giving your group members the ability to change time slots for specific shifts reduces confusion and saves time. For example, church nursery workers can easily swap with others on the sign up — giving everyone the freedom to make scheduling changes without stressing out the children's nursery coordinator.

Enable multiple admins 
Church leaders juggle a lot, and it's hard to have one person managing all the sign ups. Our 
multiple admin feature
 takes the pressure off one individual. You can grant access to others as admins within your account. This way, they can help with the creation and management of sign ups. However, you can still customize admin permissions giving them a customized level of control and visibility in the account.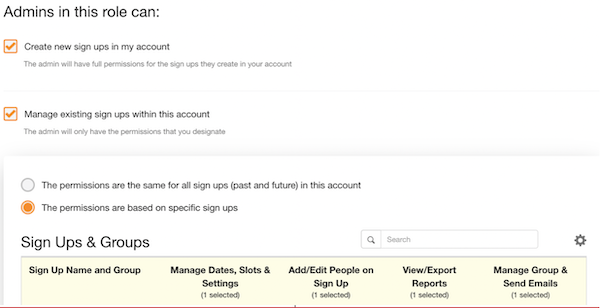 Utilize tabbing for multiple sign ups  
Churches usually have multiple events and opportunities for people to serve. There might be different sign ups for meal delivery, nursery workers and worship service volunteers. Wouldn't it be nice if those sign ups were consolidated into a single location and easy to find? With our 
Tabbing Feature
 your sign ups for church events and services are combined into selectable tabs. Locating sign ups will be so easy for your congregation! 

Using a portal page is another way to keep all your sign ups consolidated in one place on a custom landing page. This page acts as a website for your sign ups and displays them in an organized manner for your congregation. 
Create custom reminders for volunteers 
Volunteers can forget what they have signed up for and sometimes it's helpful to provide reminders. Our site automatically sends reminder notifications to those who signed up – so you don't have to worry about keeping track. Need to include additional information in your reminders? With our 
custom reminders
 you can customize the message sent to volunteers. This is helpful if you need to communicate follow up items or additional instructions to volunteers.
Text messages are another easy way to stay connected with your volunteers or participants. Send reminders or messages straight to their phone, especially if they include time sensitive information. This is especially helpful if you need to quickly send out a message to the group on Sunday morning. Volunteers are more likely to see a text message than a last-minute email sent.
Online sign ups offer a simple solution for all types of church scheduling. Organizing with a digital tool helps events run smoothly, so you can focus on your mission, and not the logistics. Use these and other helpful features to manage all your church planning needs.