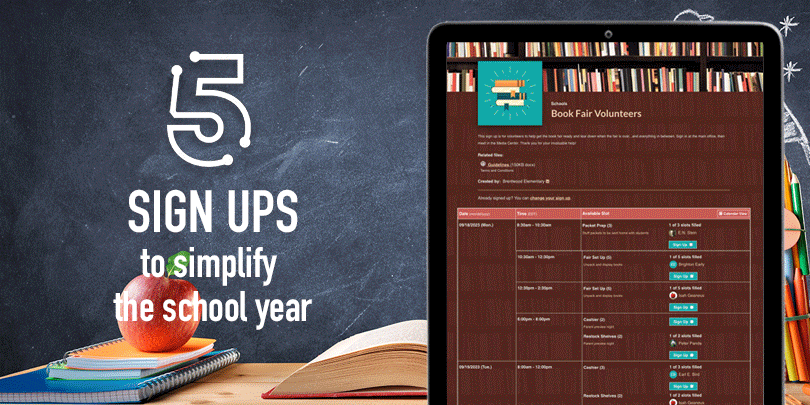 Once the school year is in full swing, it can feel overwhelming to plan for extra events, aside from the day-to-day lessons and activities that need to get done. Staying organized is a priority for teachers and PTA members alike. This is where online sign ups can help streamline your event planning for the entirety of the school year, and beyond!
There are so many ways that sign ups that can be useful for organizing your school year. This way, you can focus on the other tasks that also need your attention. Here are five common ways that sign ups can simplify your school year.
Planning class parties
Students look forward to class and
holiday parties
year-round. It's a time to celebrate as a class and enjoy the current season with fun treats and
activities
. Yet, it can be time consuming for teachers to coordinate and recruit parent helpers and party snacks.
Coordinating your party planning through an online sign up will simplify your organizing efforts. You can create slots for food donations from parents, volunteers for activities and even request decorations needed for the event. This streamlines communication and makes it easy for parents to get involved. And, it will save you so much time!
Try some of our Premium themes and remove ads from your sign up to give it an extra sparkle.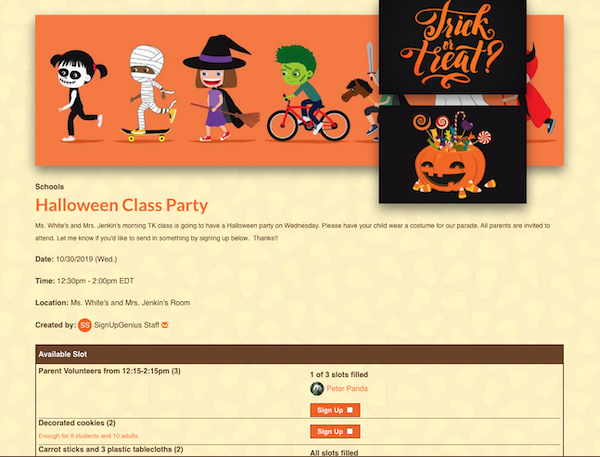 Scheduling parent-teacher conferences
Scheduling parent teacher conferences
can take a lot of coordination. If you're emailing all the parents to coordinate schedules, then you need to simplify the process. Fortunately, online sign ups do the work for you!
With automated time slots, you can automatically generate appointment time slots and save yourself time and stress. Parents can easily sign up at their convenience and you avoid manually setting up meetings with every parent in your classroom. You can even lock sign up slots to prevent participating parents from canceling their scheduled meeting time at the last minute or signing up too close to a meeting time, giving you no time to prepare.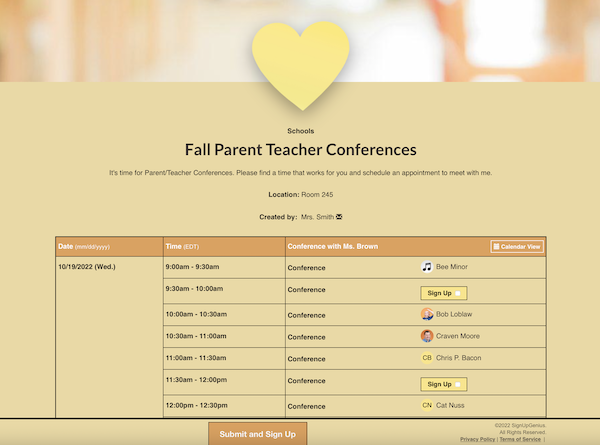 It's easy to offer a virtual option with an attached Zoom link integrated into your sign up, which may allow for more parents to attend and keep your meetings streamlined.
Another automation that can save you energy is allowing parents to swap slots on their own. So, if someone signs up for a time that no longer works with their schedule, they can proactively switch with another parent without having to involve you in the process at all! Easy peasy!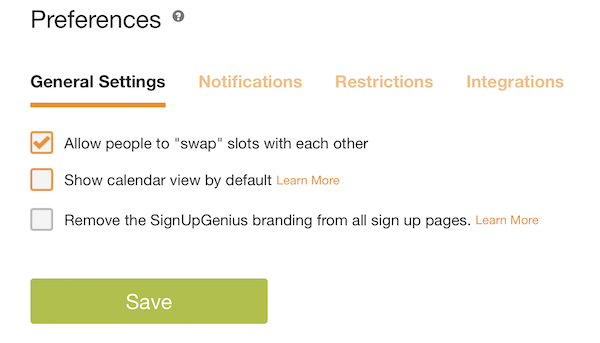 Hosting fundraisers
Fundraisers are a big undertaking, especially for school-wide efforts! You've got to choose the
type of fundraiser,
recruit volunteers and coordinate activities. Online sign ups help streamline fundraising coordination and communication.
If you know there will be multiple sign ups needed to make your event a success, you can consolidate all of them into one place. This can be achieved through tabbed sign ups or a portal page that hosts everything needed for your fundraiser in one spot. Having everything in an easily accessible place will make it easier for your participants to get involved and will help to minimize confusion for everyone.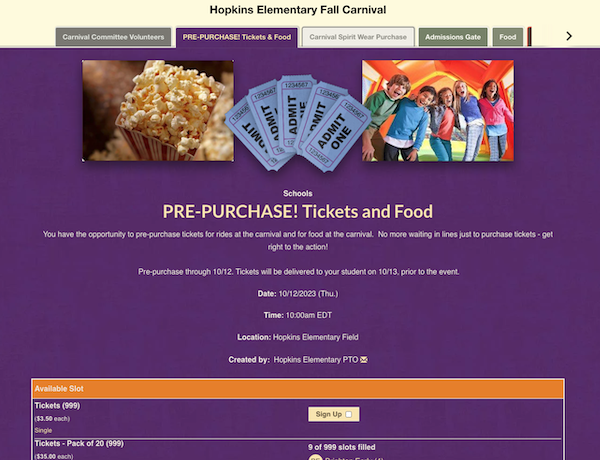 Collecting donations or selling tickets is a breeze with LumaPay, you can collect money directly on your sign up. Create a custom report once your fundraiser nears to see all the information you need in a spreadsheet, your brain will thank you later!
Organizing book fair volunteers
Book fair season is an exciting time. You have the opportunity build student interest in reading as they find books that fit their interest. However, bookfairs require a lot of coordination. Make it a success with these
tips for planning and executing
this major undertaking, with aid from a
book fair sign up guide
.
Communication is key when you are dealing with multiple volunteers, shifts and tasks for a book fair. These messaging features will help to streamline how you communicate while juggling multiple commitments. You'll also want to customize the look of sign ups with one of our many fun education themes that will get your volunteers and participants ready for books galore!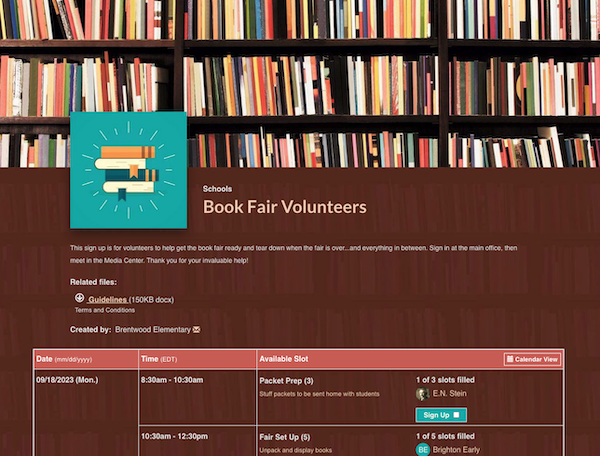 Recruiting school volunteers
Running a school requires the dedicated efforts of parent volunteers. Many parents would like to help, but often don't know about the available opportunities. You need a place to communicate all school volunteer opportunities to better consolidate communications.
With our portal page feature, you can post all related volunteer opportunities, and other school sign ups, on a single web page. This makes it easy for parents to locate these opportunities and it will boost your participation rates.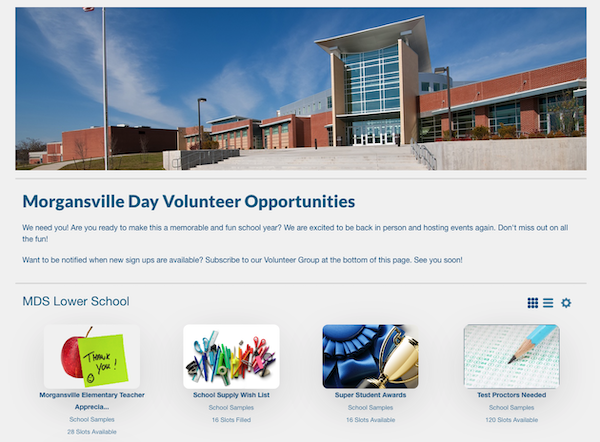 You may need room parents to help you make copies and decorate your bulletin boards, or maybe you'd prefer readers to come in once a month and work with your students. Online sign ups help you better recruit and manage volunteers.
Try these tips for boosting parent involvement and see if it makes a difference this school year!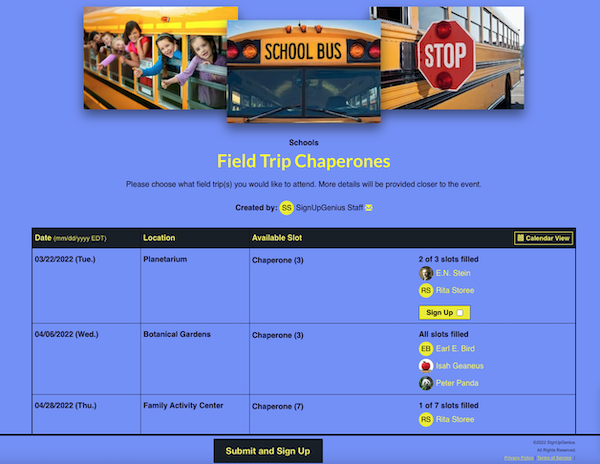 Sign up ideas don't stop here. There are so many ways to make sure your school year is a success. Our Enterprise Plan is a great option for schools that host multiple events and have a need for streamlining organization across the school or district.
Don't forget, you can always create your sign ups ahead of time so they are ready to send out and promote once the time for your event or volunteer need rolls around. Now that you've got the inspiration, get started creating your school sign ups!