15 Parent Involvement Tactics for Schools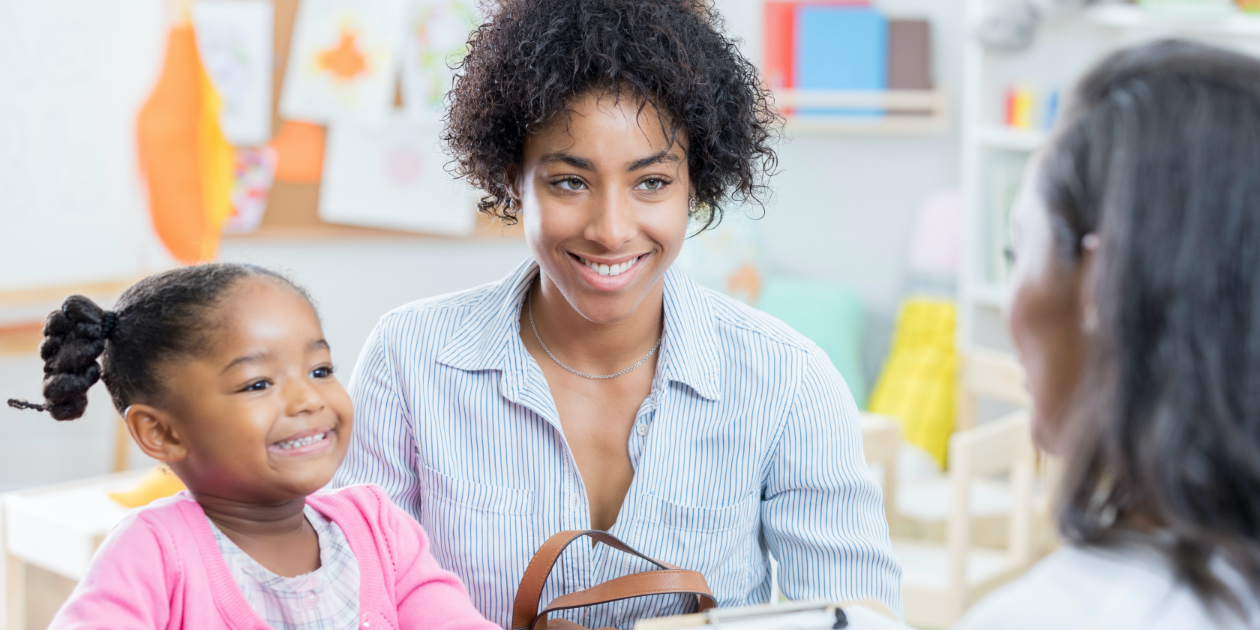 Parent and caregiver volunteers are key to making any school or education system better for everyone. Not only do volunteers bring great ideas, time and a variety of resources, they offer a unique perspective and can help staff and students thrive and face new challenges in creative ways. Ready to attract, recruit and retain top volunteers? Start with these helpful tips and ideas! 
Getting Started 
Open House - Open house events are one of the best opportunities to let parents and caregivers know about your volunteer program and how they can help. Create a flyer with information about upcoming events and a list of how they can contribute.
Host a Meet and Greet - Plan a fun and informal meet and greet event and invite current volunteers and new families to the school. Ask the PTO or PTA president to offer a welcome and talk about the importance of becoming involved. Let people mix, mingle and get to know each other.
Consider Parent Schedules - Working parents (and parents with young children) are eager to support their school but may not have a lot of weekday availability. Think about flexible opportunities that parents can assist with such as fundraising, grant writing, event planning, classroom support and more.
Questionnaire - Send an online questionnaire to parents asking about their areas of interests and talents they would be willing to share.
Website - Create a page on the school or education organization's website dedicated to your volunteer program. Include a letter from the PTO or PTA president, fillable interest form, contact emails and phone numbers and a step-by-step guide of how to get involved.
Use the tabs feature to display volunteer opportunities for all your school events. View an Example
Ready, Set, Go 
Schedule an Orientation - After the meet and greet, plan one to three volunteer orientation sessions. Discuss time expectations, specific duties, requirements and other pertinent information. Ask a few of your experienced volunteers to share their stories and experiences with the group.
Encourage Teamwork - Some volunteer roles like room parent and committee chairs require more time, so teaming up can be the key to success. Two or three volunteers can share the responsibilities, deciding what areas each of them can take on based on their schedules and interests.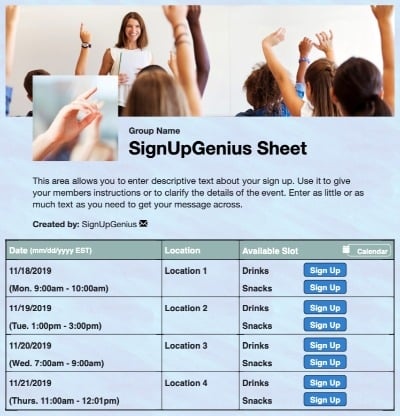 Constant Communication - Staying in touch with your hard-working volunteers is the key to keeping your group happy and motivated! Ask PTA board members to check in with new volunteers during their first month to thank them for being part of the team.
Set Clear Expectations - Let volunteers know from the very start what is expected. Discuss time and budget requirements and how they should communicate if they need help or experience a problem or setback.
Pair with a Mentor - For the first few weeks, pair a new volunteer with someone who knows the ropes. A little support will make for a smooth transition and give newbies lots of confidence.
Volunteer Appreciation - Before the holiday or summer break, show your stellar volunteer group how much you appreciate their efforts. Plan a celebration if you have the budget or just send a heartfelt thank you note to show your gratitude for their commitment to your school.
Ace class volunteer organizing with an online sign up. View an Example
Pro Tips 
Coordinate Volunteers Online - Use online sign ups to coordinate volunteer opportunities from book fair and fundraising to room parents and classroom wish lists. Volunteers can choose opportunities that work best for them and will receive automatic reminders about their commitments.
Organization - Make new volunteers feel welcome and ready for the job with the necessary forms including checklists, school rules and key contacts. Make sure to provide contacts to share feedback or ask questions.
Feedback - Consistent and helpful feedback goes a long way in keeping volunteers happy and motivated. Send cards or messages of thanks and appreciation after they have been on the job for a few weeks. Use the website to profile a Volunteer of the Month.
Ask for Recommendations - Chances are good your top volunteers know other people who would be fantastic assets to your program. Ask your volunteers for recommendations and personally reach out and invite them to an upcoming meet and greet or orientation.
A little planning will go a long way in finding great people who are ready to make a difference for your school. Start with these best practices then keep adding your own. 
Courtney McLaughlin is a freelance writer in Charlotte, N.C. She gratefully shares her life, home and heart with her daughter and their dog.