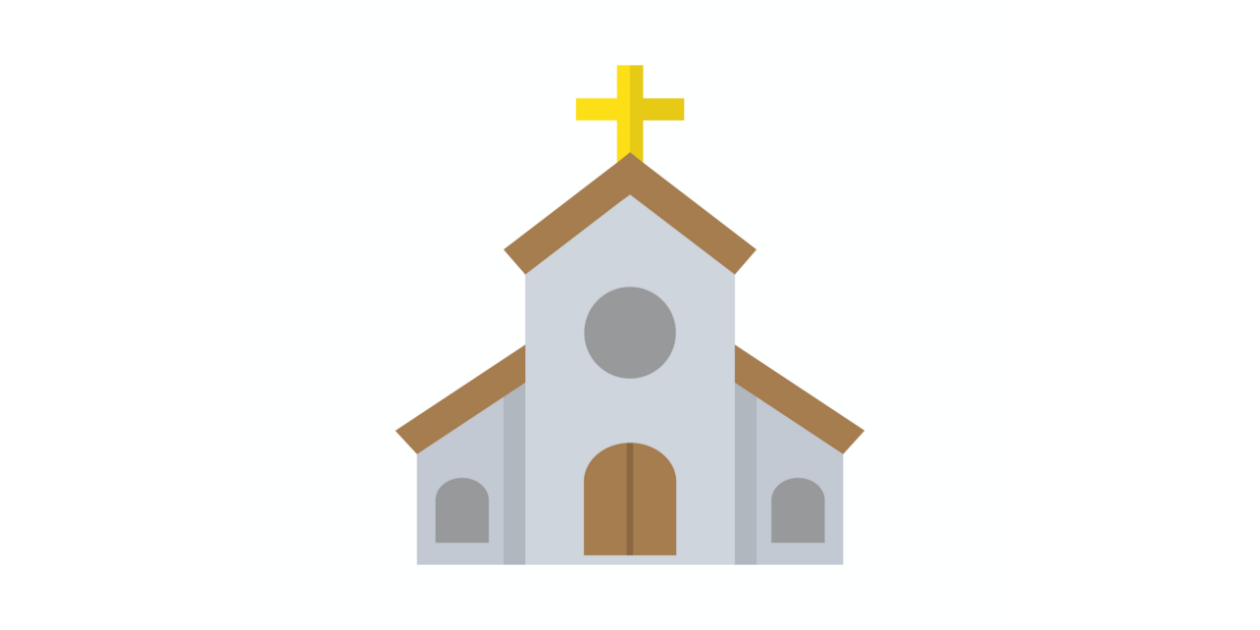 If you belong to a Catholic parish, you know there are a lot of events and services that require multiple people and moving parts. Sign ups help simplify church events and group organizing by allowing participants to easily sign up at their convenience.  
Many churches and parishes already rely on SignUpGenius for organizing congregants. To give you some inspiration, here are four common sign ups that your church should be using to organize groups and events.  
Mass Volunteers 
Mass is an essential service for the Catholic Church, and one that requires a lot of help from your parishioners. To boost participation, it's important to make signing up easy for volunteers.  
With an online sign up, you can simplify how you recruit and manage volunteer roles for each mass. You can even automatically generate those recurring times without having to manually enter them. With our hide past date feature, your sign up can keep dates current so you don't have to delete slots on a weekly basis. Our site will automatically send reminders so volunteers don't forget about their role.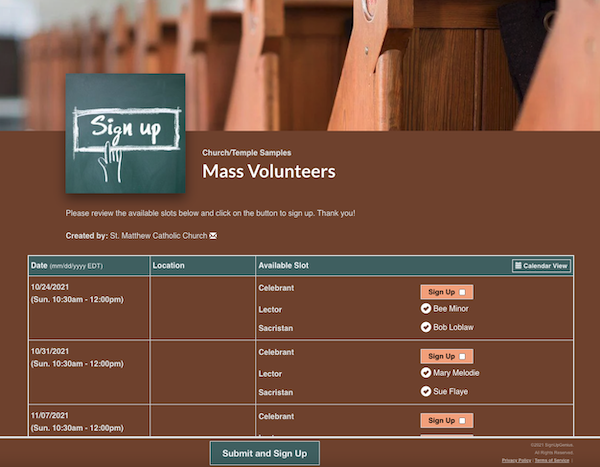 Confirmation Class Scheduling 
Simplify registration for confirmation and other classes offered in the church. Once you create a sign up, post the link on your website, include in a newsletter or 
embed it on your website
 so it's easy for parish members to register for your offered classes. Be sure to include 
custom questions
 or form fields on your sign up to get the information needed from registrants.   
Have a large number of classes and opportunities at your church? Create a custom landing page with our portal page feature to display sign ups. It will serve as the one stop location for viewing all your sign up opportunities. 
Service Opportunities 
Churches are often serving people in the community and it's important to spread the word about service opportunities so you can rally a group to help. With an online sign up, you can recruit volunteers to donate items or serve in various roles. You can easily 
share your sign up
 in a variety of ways to grow support for your cause.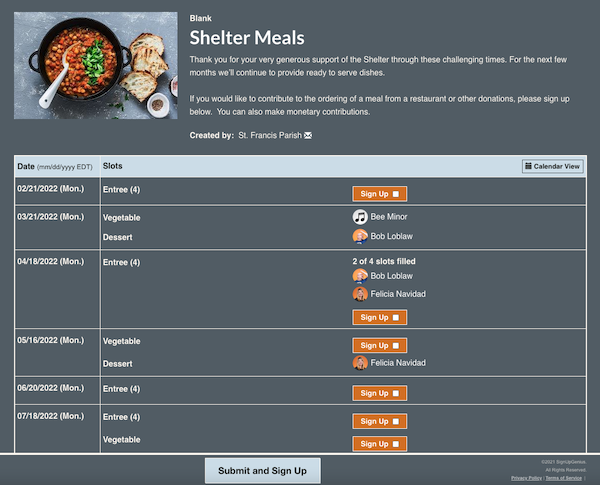 Do you have multiple service opportunities at your parish? With our tabbing feature, you can combine multiple sign ups into selectable tabs. This way, the congregation can select and view the volunteer opportunities within each tabbed sign up. 

Lent and Prayer Events 
Whether you are scheduling time slots for 24 hours of prayer or collecting RSVPs for a Lenten fish fry, it's easy to get shifts covered with a sign up. A sign up clearly illustrates shift coverage for Lent related events. Need to fill a few more of those middle of the night and early morning prayer time slots? Include the link to the sign up and email it to some of your most devoted prayer warriors to fill those final slots.  
Sign up participants can also easily send out a request to swap a slot with others on the sign up. This way, you don't have to actively manage scheduling changes.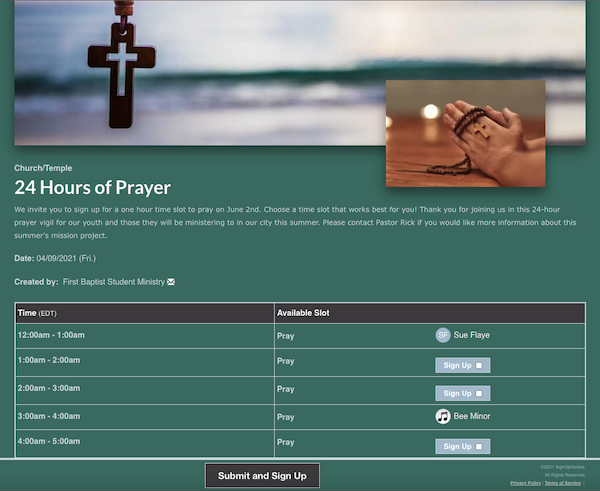 With the help of SignUpGenius, you can spend more time focusing on your ministry, and less time on the logistics of organizing. So, get started today!