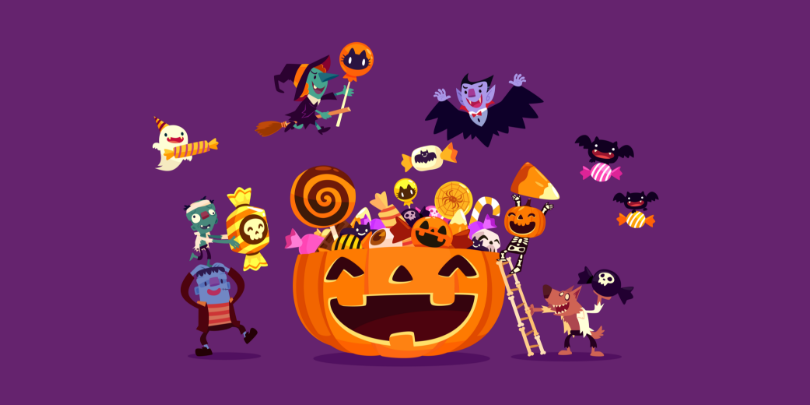 Whether you've been organizing your Halloween party for months or are thinking about a small get together, it's easy to plan a scary fun night. You can go all out with a house of horrors or keep it simple with a few themed elements like food and games. Check out these five tips to plan a Halloween party that will be a howling good time for you and your guests. 
Plan Some Crazy Fun Games 
Many of the Halloween games you loved as a kid are as much (or even more) fun for adults. Welcome guests with a jar of candy corn and have them guess how many are in the jar. You can announce the winner at the end of the night. Mix up classic games like donut on a string with ones that may be new to your group, like 
mummy wrap
, or a 
selfie scavenger hunt
. Try some of 
these Halloween games
 and let the cackles and competition begin. 
Contests are another crowd favorite and give everyone a chance to show off their Halloween spirit. Host a pumpkin carving contest and give prizes for categories like scariest, cutest and best overall. The costume contest is the ultimate Halloween competition, let guests vote for their favorites and award the winners some spooky swag.  
Serve More Than Sweets 
Halloween is all about sweet treats but offering savory snacks can help avoid the dreaded sugar crash. There are plenty of options that will be popular with your goblin guests like finger sandwiches cut into festive shapes and "mummy wrapped" mini hot dogs or sausages baked in crescent roll dough. Check out this list of 
healthy Halloween treats
 for ideas. 
Also remember to include some Halloween goodies for kids with allergies in your trick or treating stash – offering some fun non-candy surprises is a great way to make sure everyone is included. Create an online sign up for others to volunteer to bring snacks and treats.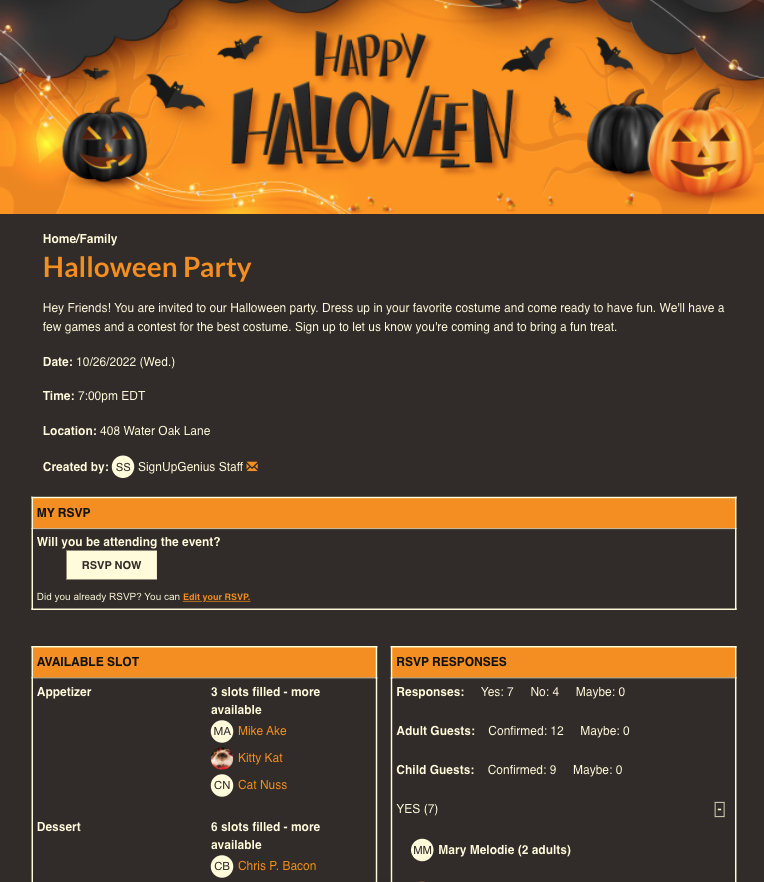 Create a Haunting Atmosphere 
People are deadly serious about decorating for Halloween. You can transform your event space into a haunted house or go with an understated scary chic theme. Check out 
these Halloween party ideas
 for decorating inspiration and more – you don't need to spend a lot of time or money to turn up the fright factor. 
Your guests will arrive ready for their close ups. Designate a few photo stations and encourage people to snap photos and selfies - a themed backdrop and a few props is all you need. You can even come up with a social media hashtag for your party. Ask guests for suggestions the week before and vote on a favorite hashtag. Genius Tip: Create a custom question on your sign up to easily tally the votes. 
Make the Most of Your Outdoor Space 
Halloween falls during sweater weather season in many places, making it the perfect holiday to celebrate outside. Gather your group around the firepit for ghost stories and set up a s'mores station with Halloween-themed toppings. Set up a movie projector and show a 
classic Halloween film
 like Hocus Pocus or Ghostbusters. 
Collect RSVPs
 for your backyard Halloween with a sign up and be sure to select one of our fun 
Halloween sign up designs
. 
If kids are on your guest list, planning a Halloween scavenger hunt or yard games will be a hit. Plus, parents will appreciate an activity that burn off some sugar!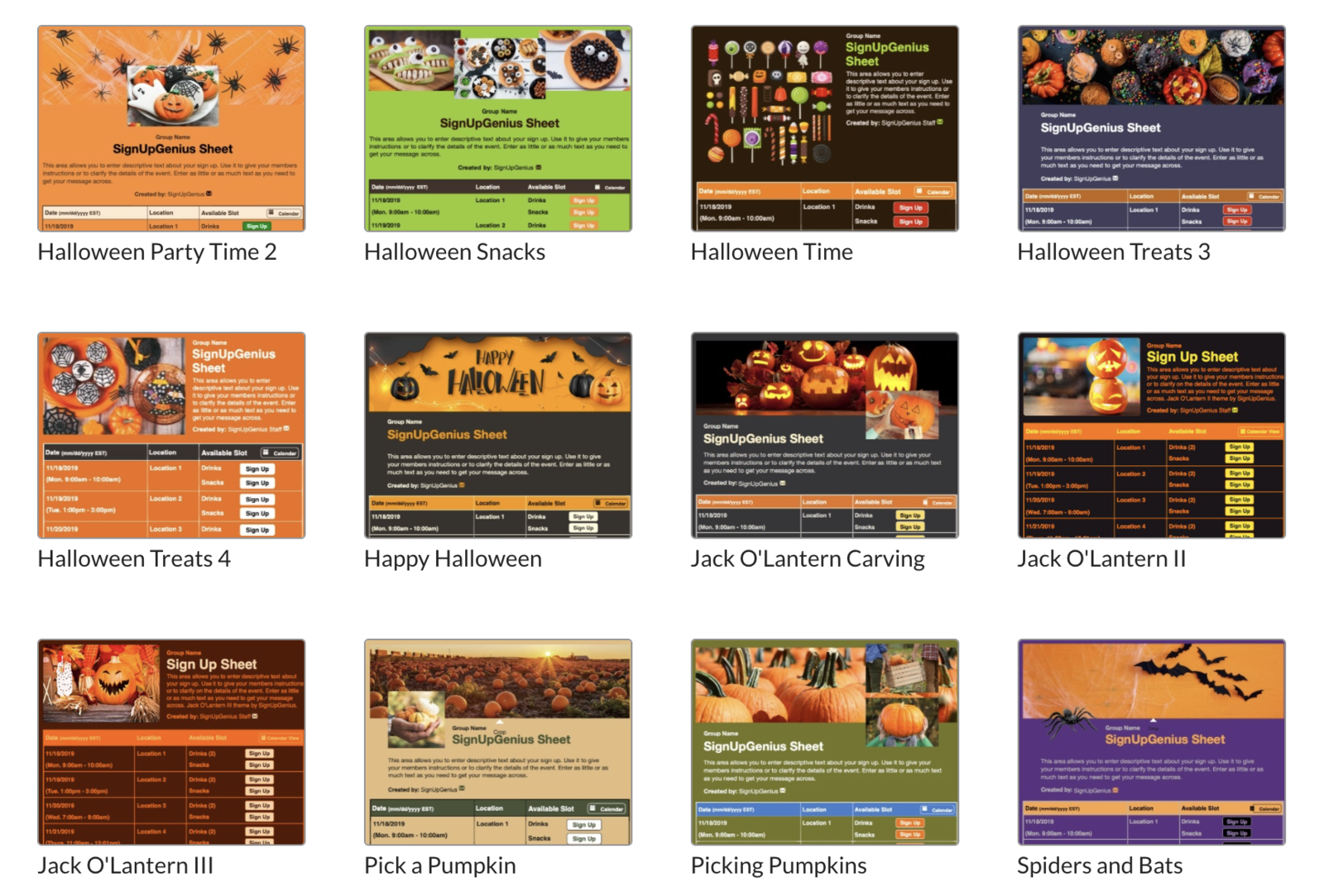 Recruit Volunteers to Help 
Planning a Halloween event doesn't mean you need to do all the work alone. Use an online sign up to recruit volunteers and participants for your Halloween party or event. Recruiting help with an online sign up makes hosting less scary, even if you're planning your event last minute. If you want to invite the neighborhood or community to your event, it's easy to 
share your sign up
 link on social media or in an email. Our site can also send a reminder so your crew will show up ready to celebrate!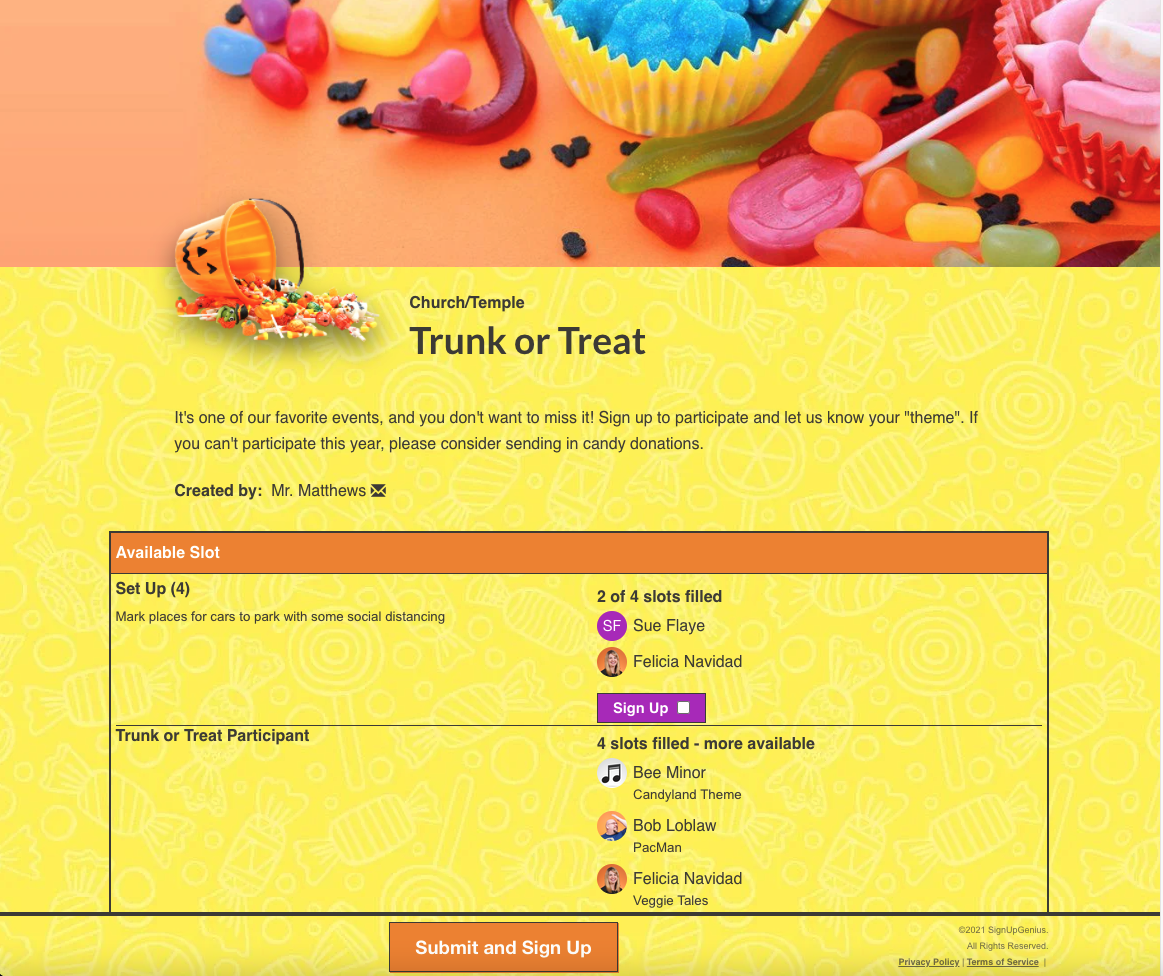 Everyone can feel like a kid sharing the magic of Halloween. With a little planning, you can enjoy the party with your guests!