30 Halloween Games and Activities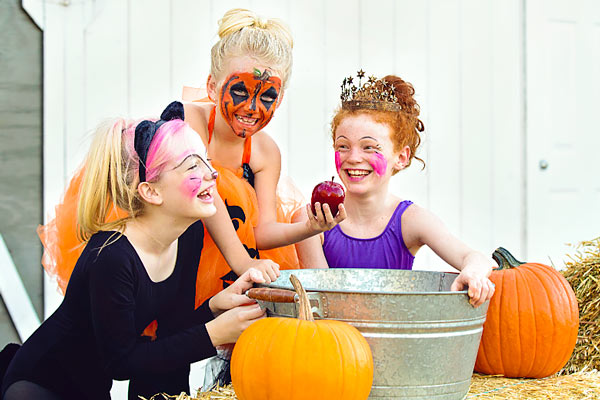 During the month of October, people everywhere find themselves gearing up for festive neighborhood events, class parties and church youth group functions. This year, SignUpGenius is here to help you add the perfect dose of fun with our list of family-friendly Halloween games. With variations for young children, teens and adults, you'll find a game for everyone!
Wind-Up Chomping Teeth Race — Fun for all ages, but little ones LOVE this one. Establish a start and finish line, station kids next to their wind-up chomping teeth and get racing! Test out the distance beforehand.
Spider Web Obstacle Course — Using a roll of white streamers, tape an obstacle course from wall-to-wall down a narrow hallway or small area. Tape plastic spiders to the streamers and add fake spider webbing to the space. The goal is to get through the course without ripping streamers! Set a time limit.
Spider in the Haystack — Load up a big solid-colored plastic tub or bin with hay, Easter grass or popcorn. Bury plastic spiders in there (alternative ideas include sticky eyeballs or plastic skeletons). Stick your hand in the hay and dig out the prize! Include candy as motivation.
Tootsie Roll Brain – Buy a container and fill it with pumpkin goop and seeds. Bury tootsie rolls, adding new ones frequently. Make sure to have baby wipes on hand for this one.
Name That Monster – A great icebreaker. Each person wears vampire teeth during the game. Tape famous monsters on each person's back. Ask yes or no questions to figure out the monster.
---
Plan a Spook-tacular Halloween Potluck with a Sign Up! SAMPLE
---
Pumpkin Hunt — Think Easter egg hunt. Hide tiny plastic pumpkins with a piece of candy in each one.
Teen Selfie Scavenger Hunt — Make a list of places or items for teens to find. Some ideas: spirit rock, a witch hat or green monster mask. Divide into teams and take selfies with each item to prove you found it. The first team that finishes gets the prize.
Sticky Skeleton Darts — Purchase sticky skeletons or hands. Throw them onto a target such as a dartboard. Specify prizes for each section, with the best prize for the bullseye.
Mummy Wrap — Distribute two rolls of toilet paper per team. Select one person to be wrapped up like a TP mummy. Race to see which team can use up both rolls the fastest, covering the entire body.
Pumpkin Relay — Set up an obstacle course and roll a pumpkin around it. Establish teams and time them. The team that finishes in the least amount of time wins.
Candy Sort/Trading Station — Celebrate the best part of Halloween by providing a space for sorting, trading and munching on the candy stash.
Halloween Candy Walk — Use Halloween pictures instead of numbers, Halloween-themed music and candy for prizes. Tape laminated pictures in a circle on the floor. Draw mini versions of each picture and put them in a bag. Players start out standing on a picture and then walk around the circle to spooky music. Stop the music and make sure each player is standing on a picture. Pull a picture from the bag and whoever is standing on the picture called gets the candy. Variation: Keep stopping/starting the music and drawing pictures from the hat. Give a prize to the last person called for that round.

Costume Contest – Sure the little ones love it, but don't overlook this option for older kids or adults — everyone can get in on the competition. Churches: host a themed costume contest like saints or historical figures. Boast on your event sign up that "costume prizes will be awarded." Select judges ahead of time or do a vote. Make decorative voting boxes out of old shoeboxes and assign older children to man the voting table. Provide categories by age group or costume type — scariest, funniest, most creative, best group. Buy prizes or ribbons to pin to the winning costumes. This is great for neighborhood parties if you provide pizza and do the contest before trick-or-treating. Make sure to get photos!
Pumpkin Decorating — Supply stencil sheets and colored sharpie pens. Select adult judges to give an award to the three best pumpkins. If you build drying time into the schedule, bring out the paint! Older kids can put clear glue or Mod Podge on the pumpkin and sprinkle glitter. Or put decorative scrapbook paper squares on the pumpkin and apply Mod Podge as you go.
Would You Rather — Teens love this one. Players stand in the center of the room and move to different sides as Halloween-related questions are called out. Ideas: "Would you rather watch a horror or action film? Would you rather eat pumpkin pie or pumpkin seeds? Would you rather wear a homemade costume or store-bought one?"
Candy Corn Bingo — Great for a classroom party. For younger kids, print copies of a blank, nine-space bingo board, similar to tic-tac-toe. Make printouts with nine Halloween clipart pictures on each page, making sure they are sized to fit in spaces of the bingo boards. More variation in clipart pictures will cut down on multiple winners. Kids cut and glue their own pictures onto the bingo board. Supply candy corns as the bingo chips. For older kids, go online and print out 25-space, Halloween-themed bingo boards.
---
Coordinate Party Food, Decor and Volunteers via a Sign Up! SAMPLE
---
Pumpkin Bowling — Decorate cans with Halloween pictures and use little gourds as the bowling balls. Arrange the cans in a triangle formation, placing a small prize inside each one. Players roll the gourd and get prizes out of the cans they knock over. Variation: Use toilet paper rolls and arrange in a stacked triangle formation. Knock them all over to get a prize.
Glow Stick Witch or Pumpkin Pitch — Buy three witch hats or three pumpkins with sturdy stems. Line the hats/pumpkins in a straight line, directly in front of each other but with space in between. Use glow stick necklaces or bracelets as the "rings" that you toss. Loop multiple necklaces/bracelets together to make the rings bigger (easier) or smaller (harder). Use tape to reinforce the bracelets or necklaces at the joints.
Lollipop Ghosts — Make these at a craft table or use them as prizes. Buy Tootsie Pops, pipe cleaners and white tissue paper. Cut the tissue paper into smaller squares and wrap it over the Tootsie Pop. Twist a pipe cleaner or twisty-tie around the base. Use a black marker to make a ghost face.
Glow Stick Hunt — Hide glow sticks in the yard and provide flashlights for this after-dark hunt. Find as many as you can!
Halloween Jenga — Paint blocks orange and use a black marker to label each block with age-appropriate tasks, questions or trivia. Ideas: "Jump up and down three times," "Who won the Super Bowl this year?" or "What's your favorite Halloween candy?" Players pull the blocks and do what they say. The winner gets a bigger piece of candy!
Candy Corn or Ping Pong Eyeball Toss — Put a plastic pumpkin, cauldron or bucket at an age-appropriate distance.  Give each player 10 candy corns. You get to eat what you throw in there.  Variation: draw eyeballs on ping pong balls and throw those instead.
Witches Brew — Fill identical plastic cauldrons with different items, both disgusting and yummy: green slime, pumpkin seeds, beans, sticky eyeballs, gummy worms or individually wrapped candy. Secure black felt to the top, with a hole just wide enough for a hand. Stick a hand in different bowls to find the treat! Move bowls around between players. Variation: Identify correctly what's in each bowl and you get a prize.
---
Combine your Holiday Bash with a Fundraiser = Genius! SAMPLE
---
Popcorn-Pumpkin Minute-to-Win-It — Fill a garbage bag with popcorn. Place a real or plastic pumpkin at the other end of the room. Using a cup, players have one minute to fill the pumpkin. Have a broom ready for this one.
Pumpkin Cookies/Cupcakes – Decorate cookies or cupcakes. Provide orange icing, candy corn for eyes, M&M's for noses, licorice string for the mouth and candy Nerds for teeth.
Vampire Teeth Doughnuts — Embed vampire teeth into the middle of a doughnut and place upside down chocolate chips in there as eyes. Provide a sample for them to follow.
Pumpkin Carving Contest (BYOP: Bring Your Own Pumpkin) — An adult game with no couples sharing and no pre-party pumpkin prep! Proper table set up is important for this to be a success. When everyone's done carving, light up the pumpkins on the table and vote for the best. Buy gift cards for prizes.
Best Halloween Treat/Appetizer/Dish — Host a potluck party, asking guests to bring Halloween-themed food. Put out a voting box and make it a contest for most creative dish. Create a sign up so everyone doesn't bring a dessert. SAMPLE 
Survivor, Pumpkin Island — Host a Survivor-style party with two teams and games, such as classics like bobbing for apples or a combination of games from this very list! Two final contestants play Jenga, cornhole or darts to determine a winner.
Murder Mystery Party — An adult game. Buy a kit online or do-it-yourself: pre arrange for one person to be the murderer and one person to be the dead body. The dead person should be in a place not readily seen but soon found. Place clues around that players have to find, unraveling the mystery.
Don't be afraid! With these games and activities, your Halloween event will be frightfully fun. Plus, use SignUpGenius to organize the supplies and guests, and your party will go off without a hitch. Have a fang-tastic time!   
Emily Mathias is a freelance writer living in Charlotte, NC.