100 Easy Halloween Costumes for Children, Groups and Adults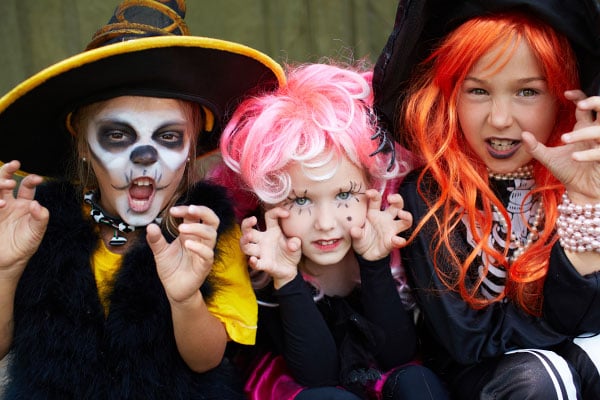 Want to dress up for Halloween but not spend a ton of money or time? Inspiration is closer than you'd think. Your only problem with this list of easy ideas will be deciding on which one to choose this Halloween. 
For Babies­­ 
Spider Web­­ - Planning to carry your baby in a sling as you supervise older children? Add white or silver webbing to create a spider ­­­­­­­­web over the carrier.
Just Add a Hat - Viking hat, lion hat or witch hat — simply add a hat to your baby then match with a color-coordinated sleeper.
Million Dollar Baby – Decorate a white pillowcase with money symbols or fake dollar bills. Place the baby partially into the pillowcase, and tie a black ribbon around the chest and under their arms. Accessorize with more fake money.
Pig in A Blanket - Place a pig hat on your baby and wrap up in a pink blanket.
Facebook Baby - Use black poster board and silver tape to create the outline of a smartphone. Make large enough to attach to stroller and your baby can be seen in the center where the profile picture should be.
Pumpkin - Dress your baby in a pumpkin onesie with matching cap and leggings.
Football - Use masking tape to make stitching like a football's on a brown onesie. Add a brown hat to complete the look.
Deviled Egg - Attach a yellow felt circle, representing the yolk, onto a white sleeper. Place a hat or headband with red devil horns on your baby's head.
R2D2 - Cover a white hat and onesie with felt cutout like the shapes of this famous Star Wars character.
Moo Cow- Use fabric glue to attach black felt on a white sweat suit. Glue ears on the hood. Don't forget a tail!
Friendly Ghost - Cut out a ghost face and attach to the middle of a white sleeper.
Pajama Characters - Simply purchase pajamas with a character like Cat in the Hat then add a red and white striped hat. Mouse ears will go great with Mickey Mouse pajamas.  
60s Baby - Tie-dye a long sleeve onesie and pair with brown-fringed pants. Add a flower headband to finish off this flower power look.
Garden Girl - Glue faux fabric flowers all over a green sweatshirt. Dress in green pants and put a butterfly clip in hair.
---
Plan a Halloween party with an online sign up! SAMPLE.
---
For Kids 
Emoji - Bring your kid's favorite emoji to life by creating it using poster boards and then attached to a paint stirrer. He or she can hold over their face and wear regular clothes.
Disney Tourist - Dig out that Mickey Mouse T-shirt and ears. Pair with jeans, cap and backpack or fanny pack.
A Bag of Jelly Beans - Get a clear trash bag and cut holes for arms and legs. Fill up the bag with different colored balloons for the jellybeans. Tie trash bag under arms with a ribbon.
Pirate – Black sweat pants, a white long-sleeve shirt (bonus if the sleeves fan out), a pirate hat, eye patch and fake parrot will top off this look.
Spider Kid - Dress your kid in all black. Wrap up in faux white spider webbing and attach plastic spiders.
Bubble Bath - Cut a hole in the bottom of an inflatable baby bathtub. Add white suspenders to hold up the bathtub and add white balloons as bubbles.
Race Car Driver - Add checkered duct tape accents on a red jacket, hat and pants. Hold a checkered flag.
Rainbow Kid - Dress your child from head to toe in rainbow-themed clothing, including shirts, pants, headbands and other accessories.
Cowboy - A vest, white shirt, jeans, bandana and boots make for an easy-to-assemble costume.
Chimney Sweep - Wear a smudged white shirt, black pants with black suspenders, a hat and a red bowtie while carrying a black duster. Bonus: no worries about getting dirty!
Raining Cats and Dogs - Cut out silhouettes of cats and dogs from black sticky felt. Add to a child-sized clear umbrella. Wear a colorful rain jacket while holding the umbrella.
Little Dragon - Cut green sponges into triangles. Hot glue them onto the back of a yellow sleeper. Hot glue some more of the triangles onto a wide ribbon then attach to create a tail.
Fairy Godmother – Add a tutu over a white leotard and tights. Cover a chopstick in aluminum foil and top with silver garland. Add silver garland to a headband for even more sparkle.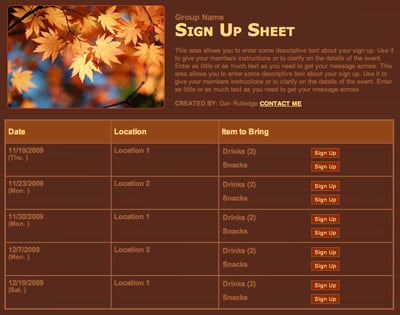 Shark – Attach black eyes on the hood of a gray hoodie and white teeth along the opening. Use simple stitching to attach a gray felt fin onto the back on the hoodie. Have your child wear matching gray sweatpants.
Wonder Woman - Wear a red Wonder Woman shirt with a blue tutu. Just attach silver stars to a blue tutu to complete the look.
Army Man - Use army camo clothing along with green and brown paint to make an army hero costume.
Rocker - Pair a mohawk wig (or style your kids hair in a real Mohawk) with ripped jeans, a jean jacket and cardboard guitar cutout.
Cotton Candy – Stack a couple of pink tutus over a pale pink leotard with white tights. Don't forget to fluff.
Chef - A white smock, printed pajama pants, Crocs and a chef's hat makes for a super easy way to go.
Mummy - Cut up an old white sheet into strips. Tear the edges of the strips to fray them. Sew or hot glue strips onto a long white-sleeved shirt and pants.
Lion - Search your child's closet for an old black shirt and pants. Attach brown faux fur around the neck, wrists and ankles on the old clothes. Create whiskers with eyeliner.
Animal Mask - Let your child choose his favorite animal. Purchase a mask and color-coordinate the outfit with clothes already in their closet.
Daisy - Cut out flower petals from poster board and then attach to a headband. Have your daughter wear a yellow leotard and green tights. Top with headband.
Clown - Let your child be goofy with a circus-inspired clown costume. Wear mismatched clothes and get creative with face paint.
Snowman - Add a scarf and top hat to white-footed pajamas. Attach black felt buttons to complete the look.
---
Plan a neighborhood block party with an online sign up! SAMPLE.
---
For Families and Groups 
101 Dalmatians - Everyone wears all white clothing, then add black felt spots and dog ears.
The Four Seasons - A group of four can easily pull this theme off. Each person chooses a season and dresses up in their own interpretation of that season.
Olympians - Track sets and gold medals make this theme a fun and easy way to go. Have group members pick their favorite Olympians.
Spice Girls - A party of five girls can pull off the 90s British pop group Spice Girls – Scary, Sporty, Baby, Ginger and Posh.
Dinosaur Trainers - The kids can dress up in dinosaur costumes while the parents can wear a white shirt, khaki pants and hats. Under the white shirt, parents should wear a red one. Create large rips in the white shirt to simulate a dinosaur scratch and to show hints of blood.
Space Family - Wear silver clothing, goggles, hats and gloves for a futuristic Halloween. If you have old clothing and gear, just spray paint in sparkling silver.
Trolls - Gel up your hair like it is flying in the wind. Spray hair with temporary hair color and add a plain shirt and colored shorts with suspenders to finish it off.
KISS Rock Band - Dress up like these classic rockers. Skillfully paint on their trademark makeup and wear all black leather.
Dominos – Each group member wears black and attaches white felt dots to create a domino on each person.
Disney Princesses - A group of girls can don their favorite princess costumes. Bonus: This gets extra use out of those dress up purchases.
Minions - These yellow creatures are a super easy way to unify a group. Everyone wears a yellow shirt and leggings with jean overalls, gloves and black glasses.
Super Heroes - Hit the costume store together and let everyone choose a favorite super hero to play for the evening. Go for more of a unified theme by choosing a group associated with each other such as the Fantastic Four or the Avengers.
Hocus Pocus Witches - Create your group with a redhead, blonde and brunette for the perfect trio of Hocus Pocus witches. Wear capes and makeup suited for your witch.
Men In Black - Everyone wears a black suit, black tie and white shirt. Don't forget a cool pair of sunglasses.
Rainbow Tribe - Each member of the group chooses a color of the rainbow and dresses only in their chosen color. Try to stay in ROYGBIV order!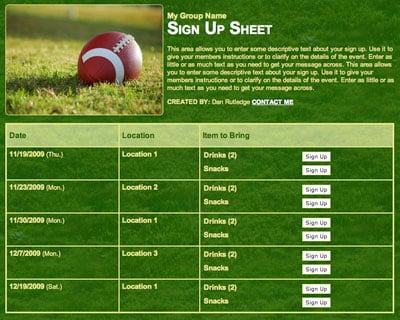 Scrubs - The television show Scrubs is a comfortable way to dress up. Each person dons a colorful pair of scrubs and a stethoscope around her neck.
The Great Gatsby - Bring back the Roaring 20s with simple flapper costumes and vintage suits and hats.
Alvin and The Chipmunks - These fun-loving animals are a great idea for a trio. Dress up in a red, blue or green hoodie. Top with chipmunk ears.
Harry Potter - Pull out school uniforms, striped scarfs and round glasses to get your Harry Potter style on. Bonus points for bringing out a pretend owl.
The Wizard of Oz - For a family of four, this classic movie has wonderful characters to mimic — Dorothy, Tin Man, Scarecrow and the Cowardly Lion. If you have a dog, help him stand out as Toto.
Star Wars - Let the force awaken! If your group loves this epic movie franchise, this one is a no-brainer. Han Solo, Luke Skywalker, Princess Leia and Obi-Wan Kenobi will be a perfect choice for a foursome. Just make sure to check trick-or-treating rules before bringing out a light saber.
Alice In Wonderland - Bring a fantasy world to life. Alice, White Rabbit, Tweedledee and Tweedledum are fun costumes to wear for a night.
Classic Halloween Characters - Think Frankenstein, The Wolfman, Bride of Frankenstein and Dracula — all truly classic creatures of this holiday.
Batman and Friends - This fictional comic book super hero is still widely popular. Dress your group as Batman, the Joker, Riddler, Batgirl and Robin.
Scooby Doo – Bonus points if someone you know has an actual Great Dane to join in the fun. This classic show is still popular and easy to put together. Jeans, T-shirts, sweaters and some retro hair styles will help pull this look together. No actual dog? Have someone dress in all brown and add some black patches and dog ears.
Vampires - When your group choses a vampire theme, each person can incorporate his own personal style. Just make sure some fake teeth and capes unify you.
Peter Pan and His Lost Boys - This fun-loving leader and his friends are an easy way to dress up. Don't forget to have a Captain Hook, Mr. Smee and Tinkerbell.
Football Team - Parents can be the referees, older kids can be the football players and the baby can be the football.
The Addams Family - The spooky family from the famous television series is the perfect Halloween theme. Black clothes and dreary makeup are all you need for this one.
Grease - Calling all T-Birds and Pink Ladies. This popular movie set in the 50s is an easy one to pull together. Throw on jeans, a white T-shirt and leather jacket. For the ladies, find (or make) poodle skirts.
Mario & Luigi - These video game characters are perfect for a pair. Put on overalls, fake mustaches white gloves and a train hat. Whoever is Mario wears a red shirt and Luigi dons a green one.
---
Coordinate fall festival volunteers with an online sign up! SAMPLE.
---
For Adults  
Sherlock Holmes - It's easy to become the world's greatest detective by donning a trench coat, detective hat, khaki pants, a droopy mustache and magnifying glass.
Rosie the Riveter - One of American's cultural icons can be put together with items you already own. Roll up the sleeves on a long-sleeve denim shirt. Pair with jeans. Tie a red bandana around your head and apply red lipstick.
Brawny Man - It's likely you can find most of the items from your closet — flannel shirt, jeans, brown boots and belt. You will just need to buy a Brawny Paper Towel Roll.
Fortune Teller - Rummage through your closet to find a headscarf, sparkly top and a shawl. Then load up the jewelry.
Nerd - Wear a large pair of glasses with tape in the middle. Wear suspenders, pull up your pants and fill a shirt pocket with pens.
Mime - Suit up with a striped shirt, black pants and a beret. Use white face paint to cover your face and then add black accents with black face paint.
Circus Performer - Start with huge faux eyelashes, stage makeup and a hairpiece full of feathers and rhinestones. Don a glamour dress.
Waldo - A red and white striped shirt and hat, black pants and black round-rimmed eyeglasses are all you will need for this costume.
Mary Poppins - This costume is all in the clothes: a white top, black skirt, red bowtie and a fancy hat. Don't forget an umbrella.
Mister Rogers - This famous television personality is an easy one to pull off. Wear a grandpa cardigan sweater, Oxford shirt, tie, trousers and sneakers. Carry a puppet.
Tooth Fairy - Gather all these white items — tutu, wings, headband and wand. Top the wand with a tooth cutout.
James Bond - It's likely you can pull together this costume with clothes you already own. Wear a black suit or tuxedo with a bow tie. Carry a plastic martini glass.
Athlete - Dress up in sports gear of your favorite sport. Bonus points if you can haul out that old jersey you've had forever.
Bat - Wear a black outfit and bat ears. Rip apart a cheap black umbrella and wear for your wings.
Error Code - Be an Error 404 page. Purchase a plain white T-shirt and write Error 404 – Costume Not Found.
Jewel Thief - Transform yourself into a burglar. Wear all black clothing with a black hat and mask. Carry a white bag with a dollar sign on it. You can add the dollar sign with wasabi tape or a permanent marker on a white canvas bag.
Medusa - Purchase small plastic snakes, a headband and gold paint to create Medusa's famous headgear. Dress head to toe in black.
Jelly Fish - Want to hide out a bit? Take a clear umbrella and use materials to create stingers using materials like ribbons, bubble wrap or fabric. Wear an all-white outfit.
Grumpy Cat - White face paint, tons of brown eye shadow, a sponge for blending and a touch of creativity to make this costume a fun one. Wear a brown outfit with cat ears.
Greek Goddess - A white sheet, a gold rope for a belt and gold jewelry will create this fun Halloween costume.
Wednesday Addams – Go solo with this famous member of the Addams family. A perfect fit for someone with long black or dark brown hair, but a wig could also do the trick. Wear a long black dress with a white collar. Braid your hair and pat your face with white face paint.
James Dean - This Hollywood icon is super easy to pull off. Wear a leather bomber or denim jacket, white T-shirt, jeans, boots and horn-rimmed glasses. Put a classic comb in your pocket.
Pippi Longstocking - A girl with red hair makes this choice a fun one. Use wire to create high-flying wacky braids. Add ribbon to the braids, and wear old clothes. If you don't have freckles, add them with makeup.
Skeleton - It's a classic choice for Halloween. Purchase a T-shirt that has an outline of a skeleton on it. Paint skull makeup on your face.
Red Riding Hood - Throw on a black dress, top with a red cape and carry a basket.
­Cruella De Vil - Spray paint half of your hair white and the other black using temporary hair paint. Don a long black dress, a faux white fur coat and carry a cigarette holder.
Charlie Brown - Become one of the Peanuts gang. Purchase a yellow T-shirt and add the zigzag design with black electrical tape or permanent marker. Wear black pants and brown shoes.
Carmen Sandiego - Get a red trench coat, red hat with a yellow band, black shoes and gloves to become this fictional villain.
Cap'n Crunch - Create this iconic cereal mascot by wearing a blue jacket with yellow buttons and gold tassels on the shoulders, a white mustache and an enormous captain's hat.
Cactus - Turn a green sweat suit into a life-size cactus. Cut up some straws and glue them on to create a prickly cactus. Cover the hood as well.
Pick the outfit that speaks to you — and the amount of money and effort you want to put in. You'll have inspiration stocked up for years to come. 
Sara Kendall is a freelance writer and mom of two daughters.