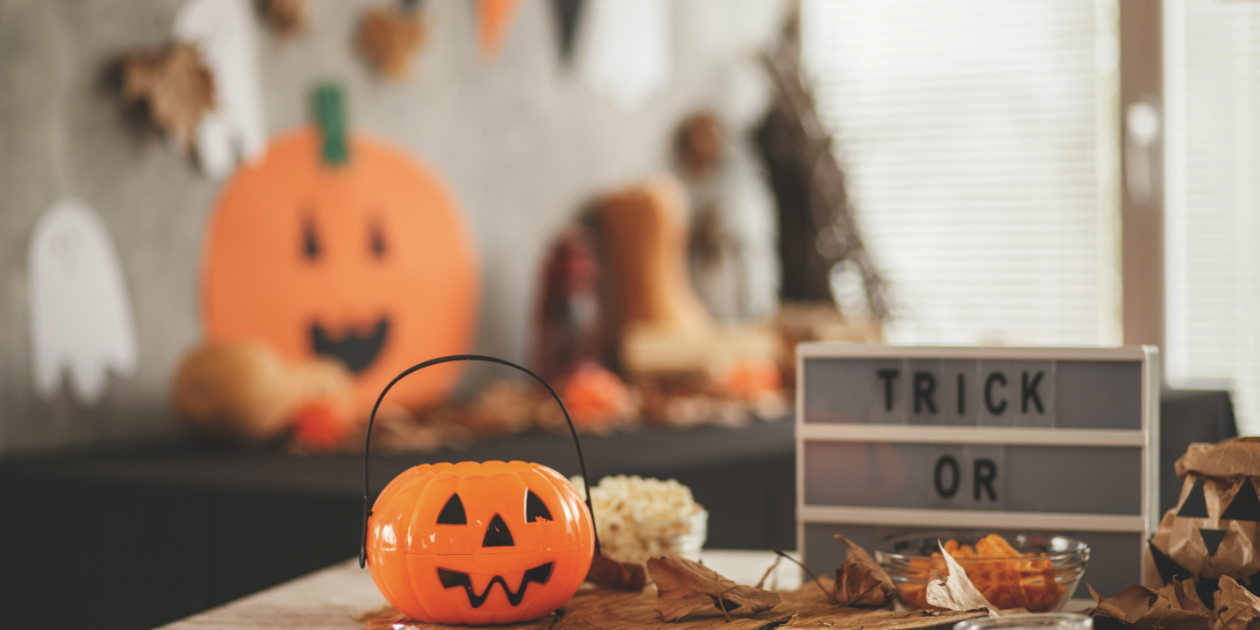 Halloween is one of the best holidays of the year, and not just for the kids! It's a night to let your imagination run wild, snack on sweets and look out for spooky surprises. Halloween parties are a great way to gather friends and neighbors for a fun fall evening. It's the perfect combination that brings food, games, costumes and decorative Halloween themes into one place.
Check out these 40 ways to scare up even more fun at your Halloween celebration with a mix of tricks and treats. It will make your party the place to be on Halloween night.
Set the Mood
Nothing kicks off your Halloween party like some good planning. Build anticipation for the event by picking themes and activities and inviting others to envision a night of fun or fright!  
Host a Theme Party - Halloween is a theme on its own, but you can give your guests even more inspiration. Ask guests to come as a dead movie star, their favorite superhero or villain, a zombie or even a member of The Addams Family.
Send a Sign Up - Make the party planning easy by inviting your group with an online sign up. You can choose a festive Halloween theme, request party items and use the RSVP format to track attendance on your sign up.
Be Your Own DJ - Create a playlist of everyone's favorite Halloween songs (i.e. Monster Mash, Thriller, I Put a Spell on You). Ask your guests to send in song requests before your event.
The Right Light - Set up fog machines to "light" the way to your house and use black and neon lights inside. Hand out neon or glow stick necklaces when guests arrive to up to spooky factor even more.
Photo Booth - Designate a photo station or two with a themed backdrop such as the haunting front entrance or a spider web decoration. Stock up on some Halloween photo props and set up signs inviting guests to capture memorable moments.
Plan a Halloween party everyone will be talking about with an online sign up. View an Example
Food and Drink
Take your party to the next level with some themed food and drinks. You can even create a contest for most creative or best-tasting treats in order to encourage participation. It'll also be another event to add some extra fun to the evening.
Witch's Brew - Turn your favorite punch into a witch's brew by serving it in a giant cauldron and place a witch's hat nearby for a finishing touch.
Witch Fingers - Dip pretzel rods in white chocolate and place black jelly beans (or blanched almonds dipped in black gel icing) at the top to serve as the fingernails.
Blood Splatter Cookie Platter - Put sugar cookies on a platter, add red food coloring to melted white chocolate and splatter the cookies.
Frankenstein Rice Krispie Treats - With a little green food coloring, you can turn this classic snack into a fun Halloween treat. Just add a dash of green coloring to the mix and save some white marshmallows for the eyes. Dip the top into chocolate (to make his "hair") and you've got Frankenstein treats.
Treats not Tricks - Set up a buffet-style arrangement of bowls filled with wrapped candy and Halloween-themed party favors. Give guests an (empty) goodie bag and let them choose how to fill it.
Mummy Hot Dogs - Make pigs in a blanket - mummy style. Wrap a crescent roll around a hot dog and add candy eyes. Don't forget the mustard for dipping.
Graveyard Parfait - Crush Oreos in the bottom of a small clear plastic cup, top with chocolate pudding and gummy worms.
Coordinate a Halloween class party with an online sign up. View an Example
Decorations
Nothing sets the mood and feel of the evening more than some good decorations. Certainly you can buy some decorations from the store, but nothing adds an extra touch like some good homemade decorative ideas.
Pumpkin Vase - Carve off the top of a pumpkin, clean out the guts and use to display a flower arrangement.  
Dry Ice - You can add ghostly effects to your party with dry ice in a variety of ways. Put a piece of dry ice inside a pumpkin and drop some water on it to activate the fog. You can use a nesting bowl to put dry ice inside a punch bowl, creating a smoky effect while keeping the dry ice separate. Make sure to follow safety guidelines for dry ice (it is not edible).  
Pumpkin Punch Bowl - Follow the same steps as #14 to hollow out a pumpkin and use it as a serving bowl for your favorite punch.
Stuff a Scarecrow - Take old jeans and a plaid shirt and stuff them with packing material or pine straw, throw on a straw hat and give it a name.
Personalize Headstones - Have the kids help you make homemade headstones out of foam board – you can use guests' names and funny quotes to get a good laugh.
Sample Sign Up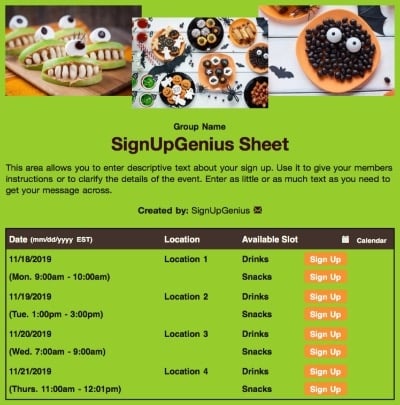 Floating Hand - Freeze rubber gloves (if the gloves have powdery residue, make sure to research how to rinse it off first) and place them in the punch bowl. Guests will be shocked to see hands floating in their drink!
Mood Lighting - Set an eerie welcome for guests with flickering lights. Paint wine bottles with matte-black spray paint then add a taper candle to each bottle.
BOO! - Casper and friends can make a visit to your party with a simple art project. Take white tissue paper bells, turn them upside down and glue on eyes and a mouth to each one.
Abandoned House - Drape white sheets over your furniture to give the appearance of a creepy abandoned house. Make sure to add cobwebs to mirrors and windows.
Creature Surprise - Shock your guests when you freeze plastic spiders in ice cube trays and then serve the cubes in their drinks.
Halloween Movie Marathon - Play classic Halloween or horror movies (depending on whether kids are on your guest list) on a TV so people can watch and chat about their favorite frightful films. Genius Tip: Screen one of these family-friendly Halloween movies for kids.
Organize a fun trunk or treat with an online sign up. View an Example
Games
A good game really adds some fun and laughter to any party. This is no different with a Halloween party. Games are a great way to get people interacting and is one of the best ways to ensure your group is having a great time at the party.
Pick your Poison - Line up samples of different drinks and see how many each guest can get right in a blind tasting (can be anything from lemonade to Coke to milk).
Name That Tune - Play clips of some favorite scary songs and have guests guess the song names.
Halloween Mad Libs - You can find Halloween Mab Libs online – ask your group to help fill in the blanks and share the wacky Halloween stories that ensue!
Pin the Bone on the Skeleton - Instead of pinning the tail on a donkey, grab a skeleton (or a printed version), blindfold guests and have them attempt to put a certain bone where it would be located on a body.
Donut Dangle - Attach donuts to a string and then tie the strings onto a pole. Have a race to see who can eat the donut off the string (hands free!) the fastest.
Pumpkin Carving Contest - Make sure to have carving tools on hand for this Halloween party classic contest. Set up tables and cover them in trash bags so the cleanup is easy. Guests can vote for their top pumpkin in categories like best overall, cutest, most creative and scariest. Genius Tip: Check out these pumpkin carving tips and ideas for inspiration.
Costume Contest - It's the moment everyone has been waiting for – who will win the biggest Halloween prize? Print out ballots or cut pieces of paper and ask guests to vote for their favorite costumes in categories like scariest, most original, best couple costume and more. Award the winners inexpensive prizes like trophies, necklaces or stickers.
Storytime - Gather your guests around the fire pit or fireplace and ask each to tell their best ghost story. Or choose a few haunting tales ahead of time (make them family-friendly if kids are attending) and read to your group in a spooky voice.
Guess the Body Part - Have kids reach into brown paper bags and guess the "body" part. Use grapes as eyeballs, spaghetti as "your insides" and mashed potatoes as a brain.
Mummy Wrap - Split up into teams and hand out rolls of toilet paper – each team races to wrap someone in toilet paper from head to toe. The fastest team to cover their mummy wins!
Scavenger Hunt - Give party attendees a list of Halloween-themed items to find and collect (or take photos with the items and show as proof). You can also write clues to make this more of a challenge and expand the game to the whole neighborhood.
Witch Hat Ring Toss - You can find sets of inflatable witch hats and rings online or make your own version with black poster board, foam board and your creativity. Decide how many points contestants receive for landing on each hat and let the game begin.
Guess How Many - Fill a jar with candy corn pieces and ask guests to guess the total count. The winner takes the jar home.
Pumpkin Seeds - Guess how many seeds are in the pumpkin (clean out the pumpkin, count the seeds and place back in the pumpkin ahead of time). Make sure to have a fun prize on hand for a winner. Genius Tip: bake the seeds, sprinkle with salt and serve them to guests.
Pumpkin Bowling - Line up soda bottles filled with beans or popcorn kernels as your bowling pins. Have guests pick a pumpkin and go for a strike.
Costume Relay Race - Divide guests into two teams. One member of each team runs down to where a suitcase full of costumes awaits. They must choose a costume, put it on and run back and tag out with their next team member. The team whose players are all decked out in costumes first wins!
Over/Under Relay Race - Divide guests into two teams and have them alternate passing a small pumpkin between their legs and passing it over their head to the next person. Repeat the pattern until you reach the end of the line and the last person runs with the pumpkin to the front of the line and starts over again. When the first person at the front receives the pumpkin at the back of the line, they run to present their pumpkin to the organizer. The first team to finish wins!
Halloween is a magical night for kids and kids at heart, and you don't have to spend a lot to plan an event your guests will never forget.
Michelle Boudin is an investigative reporter for WCNC TV and a freelance writer.