25 Favorite Halloween Movies to Watch with Kids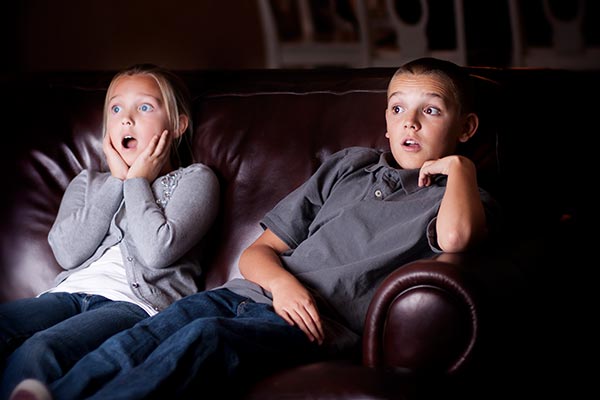 Nothing goes better with cooler evenings, pumpkins and creative costumes than the perfect Halloween-themed movie. With something for all ages, this list of 25 films is sure to get everyone in the mood for tricks, treats and fun family time!
It's the Great Pumpkin Charlie Brown (1966) - We can't think of a better way to kick off the fall season than with this popular classic. Charlie Brown and the gang head out to collect Halloween treats and tricks while Linus waits for the Great Pumpkin.
Toy Story of Terror (2014) - After checking into the Sleep Well motel, Woody's friends start disappearing. Woody gathers his courage and gets to the bottom of the mystery.
Curious George: A Halloween Boo Fest (2013) - Curious George teams up with his farm friend Allie to catch No Noggin, a scarecrow with an affinity for kicking off hats. Join George, the Man with the Yellow Hat and the rest of the gang for fall fun.   
Casper (1995) - All is going well for Casper the Friendly Ghost, who is spending his time haunting a mansion in Maine until a specialist arrives eager to communicate with him and his fellow spirits. Things get complicated when Casper falls for the daughter of the unwelcome guest.  
Halloween is Grinch Night (1977) - This award-winning film is the follow up to How the Grinch Stole Christmas! The menacing Grinch heads back to Whoville during a storm to disrupt Halloween. Leave it to one of the Whoville kids to show him the error of his ways.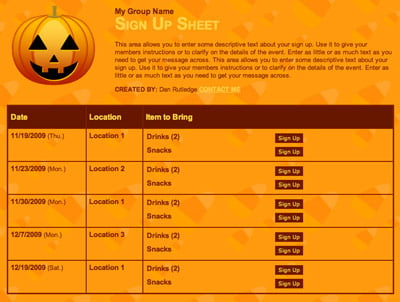 Ghost Busters (1984) - Don't miss this classic film about three parapsychology professors who start a spirit-catching business. The wacky ghosts and goblins steal the show! Who you gonna call? You know who.
Hocus Pocus (1993) - A young girl, two teenagers and a trusty feline are sent to Salem, Massachusetts, on Halloween night after three witch sisters are resurrected and try to doom the town. 
Monsters Inc. (2001) - Ever wonder how those creepy monsters who live under the bed get so good at scaring kids? They go to Monsters Inc., where they train only the best and creepiest. See what happens when two champion "scarers" encounter a precocious little girl.
The Haunted Mansion (2003) - An overly busy dad learns important lessons about haunted mansions and spending quality time with his family in this movie inspired by the popular ride at Walt Disney World.
---
Plan a neighborhood Halloween party with a sign up. SAMPLE
---
Pooh's Heffalump Halloween Movie (2005) - Roo and his new best buddy, Lumpy, head out to trick-or-treat and soon find themselves on an adventure to catch the Gobloon before it catches them. Perfect for the little ones!
Hotel Transylvania (2012) - Dracula loves his new gig as a hotel owner, and everything is going dandy until a man shows up who is interested in the property. Dracula goes full-on "dad mode" when the man's son and Dracula's daughter start falling for each other.
Spooky Buddies (2011) - If you thought adorable puppies couldn't get any cuter, you haven't seen curious puppies wearing Halloween costumes exploring a haunted mansion. The adorable factor is through the roof with this one.
Harry Potter (2001-2011) - The cooler fall season just seems to scream for every Harry Potter movie ever made. With spells, floating tables, sorting hats and tons of adventure, this is a great pick any time of the year. Friends, popcorn, a comfy couch and candy pair well with this popular movie marathon!
Monster House (2006) - What do you do when you find out the house next door is actually a living, breathing monster? Three teens find out the hard way.
---
Coordinate trunk or treat volunteers with a sign up. SAMPLE
---
Beetlejuice (1988) - A recently deceased couple is enjoying their new home until some very real and very obnoxious homeowners move in. The couple calls in the service of a rambunctious ghost to help fix the problem.
Teen Wolf (1985) - Being a teenager is hard, especially when you are part werewolf. Don't miss this movie with a young Michael. J. Fox, who plays a 17-year old basketball hot shot trying to embrace being different.
Frankenweenie (2012) - Frankenweenie tells the tale of a boy who tries a powerful science experiment to bring his beloved dog back from the dead.
Nightmare Before Christmas (1993) - Jack Skellington, the pumpkin king of Halloween Town, decides to mix things up with some inspiration and characters from Christmas Town. It doesn't go exactly as planned.
Halloweentown (1998) - After she learns she is really a witch, young Marnie and friends get some unexpected on the job training as she tries to save her mother, grandmother and the rest of the town from supernatural creatures.  
---
Organize a Halloween class party with a sign up. SAMPLE
---
Young Frankenstein (1974) - For those preteen and older, this movie is Mel Brooks at his best. This spoof about the grandson of Dr. Victor Von Frankenstein will really have you laughing.
Scared Shrekless (2010) - This 21-minute short film brings back Shrek and all his friends to compete in a Halloween storytelling contest. The problem? The gang must also spend the night in Lord Farquaad's haunted castle. May the best Ogre win.  
The Addams Family (1991) - If your family hasn't met the Addams family yet, this movie needs to top your list. See what this eccentric crew does when a con artist tries to get the best of them. Watch out! There are lots of tricks up their long, black sleeves.
Corpse Bride (2005) - Mistaken identity gets ghoulish when a nervous groom unknowingly recites his wedding vows in front of a corpse who comes to life ready to be his wife. Oops!
Witches Night Out (1978) - Not taking Halloween seriously? Witches Night Out is ready to teach you and the family a lesson by haunting houses and turning children into monsters.
Wallace & Gromit: The Curse of the Were-Rabbit (2005) - Claymation's best-loved duo Wallace and his dog Gromit go on an adventure to figure out why the vegetables are disappearing from the town and threatening the success of the annual Giant Vegetable Growing Contest.
Grab a blanket and pop some popcorn! We won't blame you if you have to cover your eyes a few times. 
Courtney McLaughlin is a freelance writer in Charlotte, N.C. She gratefully shares her life, home and heart with her daughter and their dog.