30 Halloween Treat Ideas for Kids with Food Allergies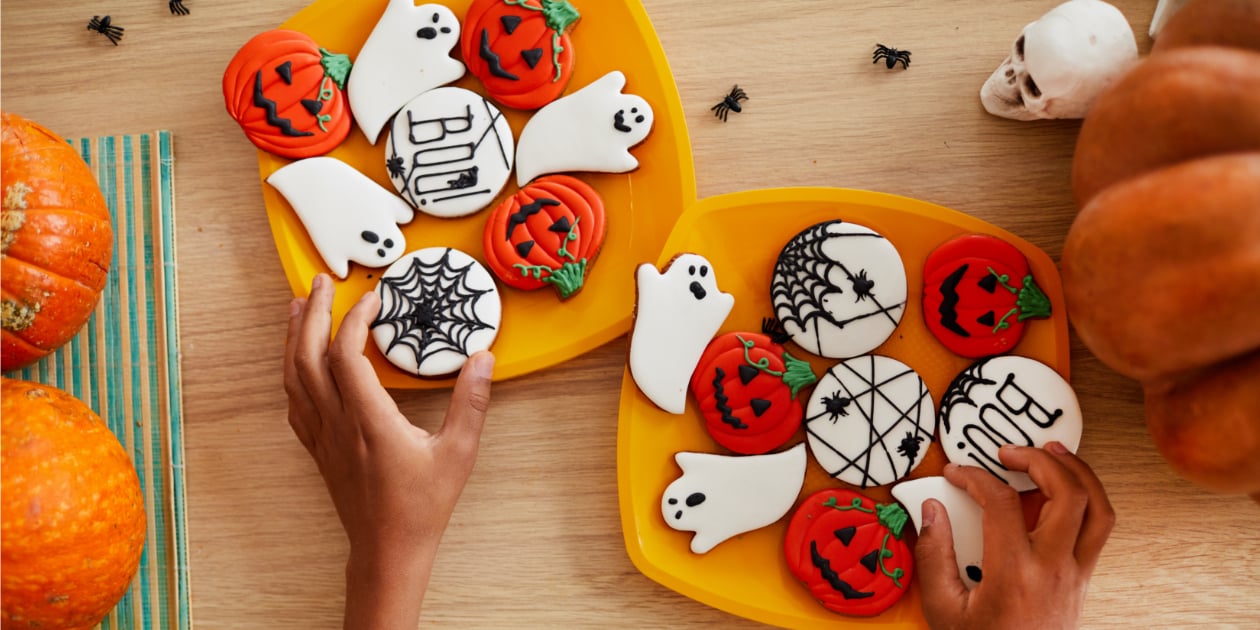 It's the beginning of a boo-tiful season! While ghosts and goblins are gearing up for the biggest candy collection night of the year, make sure you are ready with a variety of gluten-free, nut-free and dairy-free treats. Below is a list of candy ideas for kids with allergies (make sure to check nutrition labels to confirm treats are safe). Also included are suggestions of non-candy treats your trick-or-treaters will love.
Gluten-Free Candy
Heath and Skor Candy Bars - Toffee and chocolate go together like pumpkins and black cats. Eat this flavorful candy straight out of the package or crush it up and top your favorite (gluten-free) ice cream.
Hershey's Kisses and Nuggets - Kids will love digging into the shiny wrapper to find a solid piece of chocolate inside.
Milk Duds - The bright yellow boxes are almost as cute as the chocolate-covered candy inside! Milk Duds are a chewy, creamy treat perfect for giving and receiving.
Milk Chocolate Bars - Be the hero of the neighborhood when you fill their bags with full-size chocolate bars!
Mounds - If you like a little coconut with your dark chocolate, and dark chocolate with your coconut, Mounds is the way to go.
Reese's - Whether in cup or pieces Reese's treats always top the candy popularity list!
York Peppermint Pattie - Add this cool and delicious treat to their bags for the win.
Organize a neighborhood Halloween celebration with an online sign up. View an Example
Nut-Free Candy
Gummy Candy - A squishy and squirmy treat, you can find this nut-free candy in lots of cool shapes.
Lollipops - Let your trick-or-treaters choose their favorite color and flavor.
Smarties - Smarties date back to 1949 and are a top treat for good reason. The pastel colors and pure sugar rush make this the perfect nut-free candy choice.
Dots - Sort them by color or gobble them up all at once, these gumdrop-inspired candies are free from nuts, wheat and gluten!
Junior Mints - No need to pass on the chocolate when going nut-free, have plenty of Junior Mints on hand and serve up minty smiles.
Swedish Fish - Dive in with this soft and chewy crowd pleaser with the fun fish shape.
Skittles - Eat them one by one or gobble up two or three at a time for wild flavor combinations. Whichever way you choose to enjoy them, you can't go wrong.
Rolos - Satisfy your chocolate craving with this treat with a soft center oozing delicious caramel.
Starburst - These small chewy candies in the colorful wrappers pack a lot of flavor. Nut-free and delicious, win, win!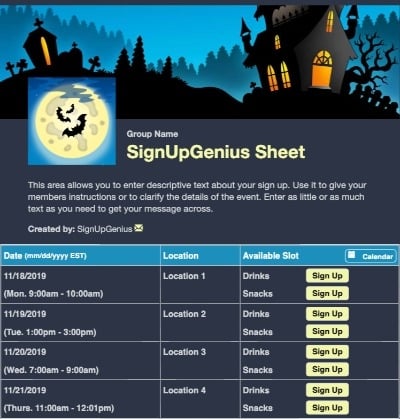 Dairy-Free
Airheads - Twist your taste buds in knots with this colorful and sour treat.
Atomic Fireball - See how long you can keep this candy in your mouth before it gets too hot to handle.
Blow Pops - Enjoy two treats in one with a yummy candy shell on the outside and piece of lip-smacking gum on the inside.
Candy Corn - Celebrate the spirit of the season with a classic maple flavored treat. Go for traditional corn with the iconic orange, yellow and white stripes or add some variety with the pumpkin mix.
Circus Peanuts - You'll be the hit of the big top when you treat visitors to this marshmallow candy shaped like a peanut.
Sour Patch Kids These sour treats are free of most common allergens and a Halloween favorite.
Recruit parent volunteers for the Halloween class party with an online sign up. View an Example
Non-Candy Ideas
Stickers - Give out Halloween or seasonal stickers your costumed friends will love.
Spider Ring - Style up the season with a black or orange spider ring that compliments any outfit.
Bubbles - Everything is made better with bubbles especially for the littlest trick or treaters.
Glow Sticks - Let kids light up the night with colorful glow sticks, necklaces or bracelets.
Playdough - The fun continues way past Halloween night when you give out colorful playdough packs.
Mini Notebooks - Kids will love a notebook all their own for coloring, practicing spelling words or writing notes.
Pencils - Keep them styling in school with Halloween themed pencils.
Squishy Toys/Stress Balls These come in so many cute designs and are always a hit.
Keep the candy bowl topped with treats everyone can enjoy. Happy haunting!
Courtney McLaughlin is a freelance writer in Charlotte, N.C. She gratefully shares her life, home and heart with her daughter and their dog.