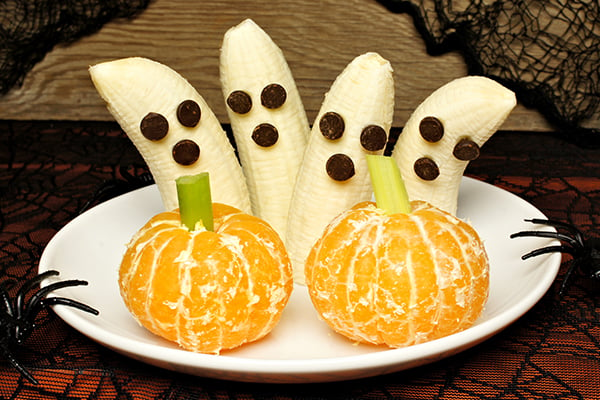 If you're looking to combat the sugar overload that typically comes with Halloween festivities, consider adding some creative items to the mix. The trick is finding treats that provide so much fun that no one even notices their healthiness factor. 
Healthy Treats for the Classroom
Fellow parents are sure to appreciate your efforts to provide more nutritious alternatives to the sugar crash.
Banana Ghosts - Cut a banana in half and press in two mini chocolate chips for the eyes and insert a craft stick in the bottom. They can also be dipped in coconut, flavored yogurt or graham cracker crumbs.
Yummy Spiders - Using your favorite round crackers topped with peanut or almond butter, place four small pretzel sticks on each side for the spider legs.  Top with another cracker and use two chocolate chips stuck on with a tiny dot of cream cheese for the eyes. Genius Tip: Check your school's policy on nuts and improvise as needed.
Monster Melon Mouth - Carve a monster-shaped mouth out of a watermelon and use toothpicks to stick in zucchini rounds with black olive pupils for the eyes. Arrange mixed fruit such as strawberries, pineapple and grapes to spew out of your creepy creature's mouth.
Mummy Raisin Boxes - For a fun snack that can also double as a craft, have students wrap a raisin box with masking tape in crisscross mummy fashion and apply googly eyes.
Monster Punch - Have students decorate their own scary monsters using clear plastic cups, and then fill them with healthy smoothies. Consider naming contests for fun flavors such as green apple ghoul or purple zombie passion. 
---
Coordinate your church's Trunk or Treat night with a sign up. SAMPLE
---
Fruity Eyeballs - Green grapes with blueberries held on top with a toothpick make great eyeballs and can be fun frozen and floating in punch.
Strawberry Ghosts - Dip strawberries in white chocolate and insert mini chocolate chips for the eyes and a Cheerio for the spooky mouth.
Clementine Pumpkins - Students will love decorating the peel of clementine cuties with a Sharpie for a festive Halloween decoration as well as a healthy snack.
Cheesy Designs - Get creative with Halloween-shaped cookie cutters to make all sorts of cheese shapes and cheese sandwich treats.
Popcorn Hands - Drop one candy corn into the tip of each finger of a clear plastic glove (the ones used to serve food can be ordered online or found in a restaurant supply store) and then fill the rest of the fingers and hand of the glove with popcorn. Secure the bottoms with orange and black twisty ties.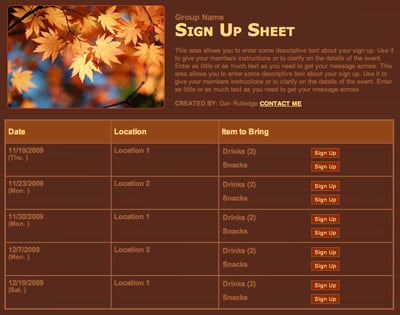 Healthy Treats for Your Neighborhood Party
Not many events bring neighbors together like an excuse to dress up and enjoy Halloween's fun.
Snake Dip - Great for slithering out of your hummus. Use black olives to weave a long snake design out of your dip. Carve beady eyes from string cheese and add a carrot tongue.
Spooky Spider Eggs - Deviled eggs topped with creepy crawlers are lots of fun. Cut black olives in half vertically and place one half in the center of each egg to form the spider body. Slice the remaining olives into four sections to create the legs.
Pumpkin Cupcakes - There are so many recipes online for healthy versions of this classic. Look for recipes such as pumpkin oat muffins with a low fat and low sugar cream cheese topping.
Veggie Skeleton - Let the kids help arrange a veggie skeleton shape with celery sticks for bones, baby carrots, sliced red and green peppers and any other favorites.
Scary Hand in the Veggie Dip - Stick five small carrot sticks carved to look like fingers complete with colored nails into your vegetable dip and wait for the "Ewww!"
Edible Eyeballs - Round slices of carrots topped with cream cheese and a halved black olive make fun and appetizing eyeballs. 
Jack-o-lantern Fruit Cups - Carve smiling jack-o-lantern faces into navel oranges and scoop out the insides, then fill with mixed berries, grapes or other fruit.
Candy Corn Pizza - There's no candy involved, but because of the natural shape of a pizza slice, it's easy to use cheddar on the outside rim and then mozzarella cheese inside to make a candy corn pizza design.
Bugs on a Log - Depending on which small plastic insects you can find (usually spiders or ants), use them to top celery sticks filled with peanut or almond butter.
Pumpkin Buddies – Use a melon scoop to carve out rounds of cantaloupe to look like mini pumpkins, then add raisin eyes, smiles and a stick.
---
Plan a neighborhood pumpkin carving contest with a sign up. SAMPLE
---
Healthy Options for Halloween Night
The kids are already getting enough candy during their door-to-door escapades, so why not offer something new? You can also take the opportunity to participate in the Teal Pumpkin Project — an initiative raising awareness of food allergies and promoting inclusion of all trick-or-treaters — with your healthy or nonfood alternatives.
Jack-o-lantern Orange Cups - Let the kids have fun decorating pre-packaged orange fruit cups with a black marker to create scary or silly pumpkin faces.
Ghostly Rice Crispy Treats - Use cookie cutters to make fun marshmallow treat shapes and package in plastic bags tied with orange and black ribbons. Save these homemade treats for kids who you know personally.
Local Honey Sticks - Although they are a still sweet treat, it's a healthier alternative to processed sugar. Look online to order early.
Mini Flashlights - They're practical and entertaining for kids walking around after dark. Order early to find the best bulk deals.
Temporary Tattoos and Scary Stickers – These are always fun and there are so many possibilities, from scary spiders and ghosts to pirates and favorite cartoon characters.
Terrifying Trail Mix - Load baggies with dried fruit, nuts and pretzels. You can even stick with Halloween colors by including yellow dried mangos and purple raisins.
Sugarless Chewing Gum - Hailed by dentists as a natural cavity fighter, sugarless chewing gum is the perfect offset to all the sweet treats going into little mouths on Halloween — the key word being sugarless!
Mummified Juice Boxes - Masking tape and googly eyes turn these into a fun treat. A refreshing organic juice box is often a welcomed surprise for thirsty trick-or-treaters.
Glow-in-the-Dark Items - From glow sticks to necklaces and bracelets, these are always a hit.
Ghostly Cheese Sticks - Let the kids have fun drawing ghost eyes and mouths on the plastic packaging.
---
Organize costume party treats and RSVPs with a sign up. SAMPLE
---
Happy Halloween Nourishment Before Trick or Treating 
Whether you're on your way to the neighborhood bash or counting down the moments before the kids can begin the door-to-door fun, you want to make sure they start with something other than candy in their stomachs.
Tombstone Sandwiches - Cut whole wheat bread in the shape of a tombstone using a round cookie cutter as your guide for the top. Write fun messages with ketchup, jelly or mustard depending on the sandwich type with headings such as R.I.P., R.U. Next and more.
Mummy Dogs - Wrap up hot dogs or sausages like pigs in a blanket using pastry or crescent roll dough, but leave a little space for the eyes and use some dough as a head wrap. Bake them and use dots of mustard to make the mummy's eyes.
Grilled Cheese Please - Using round sandwich thins, cut out jack-o-lantern faces on one side and place over the cheesy side. When the cheese melts, you have a smiling, golden Halloween face sure to please your favorite trick-or-treaters.
Eyeballs Floating in Your Soup - Try placing a bite-size mozzarella ball with a slice of pimento-stuffed green olive on top for the perfect floating eyeball.  Hot blood-red tomato soup only adds to the creepiness.
Veggie Monsters - Let kids get creative by building their own edible monsters made from cucumber rounds, tomatoes, carrots, olives, edamame, bell pepper slices or whatever you have on hand. Cream cheese and hummus make great glue to hold all the pieces together.
Stuffed Bell Pepper Heads - Carve fun faces into red, green or orange bell peppers, then steam and fill with spaghetti spilling over to look like slimy brains falling out.
Pumpkin Smoothies - Combine ½ cup canned pumpkin, 1 banana, ¾ cup milk or vanilla yogurt, ¼ teaspoon cinnamon, 1 tablespoon honey, four ice cubes and blend.
Mummy Open-faced Turkey Sandwiches - Cover one slice of whole wheat bread with cheddar cheese and then slice the turkey into one-inch strips.  Wrap the turkey slices over the cheese (mummy style) leaving spots for olive eyeballs. Put the open-faced sandwiches under the broiler for a few minutes to melt the cheese. Add the olives at the end.
Soup with a Spider Web Design - Black bean soup works well for this one. Fill a sandwich bag with ¼ cup of sour cream. Snip a small tip off the corner of the bag.  Squeeze the bag to form three target-like circles.  Using a knife, drag the circle from the middle outward to create the spider web design.
Tasty Green Slime with a Side of Eyeballs - Mix two tablespoons lime juice, one cup sparkling water and one scoop lime sorbet. Float peeled green grapes for the eyeballs.
When fat pumpkins have faces and white ghosts creep in spooky places, may Halloween hold its magic charms, keeping you safe and free from all harms. Happy Halloween!                                                                                                          
Laura Jackson is a freelance writer based in Hilton Head, S.C., with her husband and two teenagers.