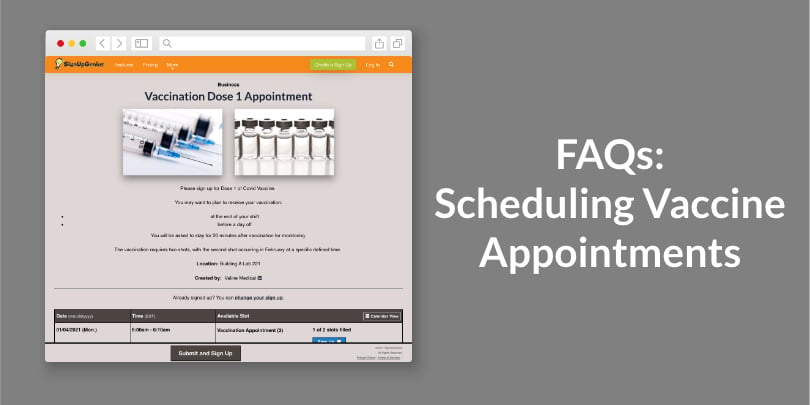 SignUpGenius is the leading online sign up software trusted by millions of sign up creators to schedule a variety of group and event organizing events. As a result, many health care facilities have turned to our site for creating fast and scalable appointment scheduling sign ups. In this guide, we'll cover the basic steps and features you'll want to consider when creating a vaccine scheduling sign up. 
Getting Started
First, you'll want to decide on the right plan level. See the bottom of this page to note our recommendations, learn more on our
vaccine software page
 or
contact us to start a conversation
. Once you have the right plan, get started
creating your first sign up
.
Along the way, you'll want to select a number of features that are available. See our list of common questions in order to learn about some of these. Additionally, you can check out some of these resources: 
How do I find a vaccine sign up?
Whoa! It sounds like you are a sign up participant looking to get vaccinated, and not someone who is trying to create a vaccine appointment scheduling sign up.
Are you trying to locate a specific vaccine sign up in order to schedule an appointment? If so, we might be able to help — if you have a few pieces of information. Since each sign up creator chooses how to publicize their sign ups, you may need to contact them to learn how to sign up for an appointment. Visit this FAQ to see how we might be able to assist you with finding your sign up.
Is your site HIPPA compliant?
While our site is not HIPAA compliant, we are a secure software that is trusted by millions. Each month, millions of people from schools, churches, business and other organizations sign up on our site. Also, the U.S. Department of Health and Human Services has said it will not penalize health care providers in connection with the good faith use of online or web-based scheduling applications to schedule COVID-19 vaccinations during this public health emergency.
Regardless, we have always cared about your sign up's security and keeping it limited to the correct recipients and participants. We provide additional security settings that sign up creators can use on their sign up to ensure sign up privacy. You can read more about those below, along with our privacy policy here.
If you need a HIPPA compliant software, we recommend TimeTap for healthcare organizations that need HIPAA and SOC2 compliance built in.
What support is available for SignUpGenius customers?
All customers get priority email support, and Platinum subscribers can call in for phone support. Enterprise customers receive dedicated account managers to help sign up administrators set up customized accounts with features to best fit their needs. You can find out more about
our plan subscriptions here
.
Can you handle a large number of sign ups?
Yes! Our site is the leading online sign up software and we already receive up to 20 million visitors each month — giving us the expertise at handling large-scale event and appointment scheduling.
We regularly have sign ups that schedule thousands of people and our sign up pages are capable of handling the load, giving you the reliance you need. We have also developed a number of custom features that are useful for conducting large scale and Enterprise-level sign up solutions.
If you're ever having trouble accessing the site, you can find our status page here and contact our support team through the Get in touch button on that page.
What features are available to keep sign ups limited to certain priority groups?
You can set
security settings
to restrict sign ups to certain email addresses. Anyone who attempts to sign up with an email address that is not in the group would have their sign up rejected. Additionally, you can require an access code so that only those with the code can access the sign up.
Want to make sure everyone gets a fair shot at signing up? With our start/stop dates feature, you can select a specific date and time when the sign up will open and allow people to sign up.
How quickly can I get a sign up online and ready for people?
You can
create a sign up
in an easy four-step process. Generally, it will take anywhere from 10-30 minutes based on complexity. The sign up creation process is very streamlined and you can select add-on features to fit your needs along the way.
Additionally, we've automized some of our features. So, you can automatically generate all your dates and times without having to enter them manually and you can elect to have our system generate appointment reminder emails to participants.
Are there certain features or tips I should consider?
Absolutely! While every scenario is a bit different, here is a list of a few features that you'll definitely want to consider on your vaccine scheduling sign up.  
The list goes on! We have many more features for customizing your sign up. We even offer the ability to
create your own landing page
to house your sign ups and attach forms or other information that you'd like to communicate on the page. Have questions about these and other features?
Contact us today
!
How do people find my sign up?
There are a number of ways that you can share or publicize your sign up. When you create a sign up, it generates a URL. You can copy and paste this URL on a website or social media page. The most common way that vaccine sign ups are promoted is by
placing the link on your organization's website
or
embedding the sign up
directly into your website.
Our Portal Page feature is also a very popular option for those creating multiple sign ups. This feature gives you a landing page that you can customize and display your sign ups, forms and other information — making it a centralized location for communicating appointment-related information to your audience. This page can also be embedded into your website, saving you time and money trying to build and customize your own landing page.
What is the right plan level for me?
Generally, you'll want to consider the
Platinum or Enterprise plans
. Our lower-level features are not designed to provide you with some of the solutions or support you'll likely need for vaccine scheduling sign ups.
With Enterprise, you'll have a dedicated representative who can assist you with questions and be available to support you through the process. Additionally, you'll get access to some pretty great features such as Portal Pages, Custom URLs and the ability to remove SignUpGenius branding from sign ups.
Platinum is another option to consider. You'll still get ads removed from all sign ups, the ability to create custom sign up designs and some other high level features. However, you won't have a dedicated representative, the ability to remove branding from sign ups, nor access to portal pages, as well as several other Enterprise level features.
Have additional questions or still not sure what plan might be right for you? Contact our support team and they'll be happy to answer your questions and guide you through the process!