FAQs
/
Signing Up
/ Find a COVID Vaccine Sign Up
Looking for a specific vaccine registration sign up?
SignUpGenius is an online sign up tool used by thousands of organizations for the purpose of administering vaccines. However, SignUpGenius is not a COVID-19 vaccine provider — only a scheduling tool used by organizations. 
Each organization chooses how to publicize their sign ups. Some organizations, like health departments, pharmacies or grocery stores, will post their sign ups on the company website. If so, you may be able to locate the sign up on those websites. At other times, they will email a sign up invitation to specific individuals. 
If vaccines are being offered by your employer, they will most likely post sign ups using the standard internal communication process. Note: In many of these cases, employers are often requiring that employees sign up with their work email address as a means for verification. If this is the case, our online sign up pages will not allow you to sign up unless you enter your employee email address. 
Still unsure how to locate the vaccine sign up?
We can offer some other suggestions. Since we have hundreds of thousands of sign ups on our site at any given time, we are only able to locate individual sign ups if you have one of the following: 
The email address of the sign up creator
If you know the email address for the person who created the sign up, go to
SignUpGenius.com
and click the magnifying glass icon in the upper right side of the homepage to search for the sign up.
Enter the sign up creator's email address on the next screen. Then, you will see all of the active sign ups associated with that email address. If there are no active sign ups listed for a person's email address, it's likely the creator used a different email address when creating sign ups.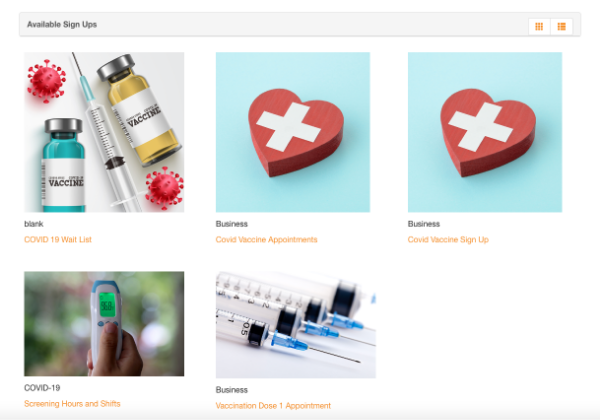 An invite to the sign up
If you receive an email invite to the sign up, you will see a sign up button in the email. Click that option to access the sign up. If you believe you should have received an invite email but do not see it, be sure to check your spam or junk mail folders to ensure that the email did not get sent there.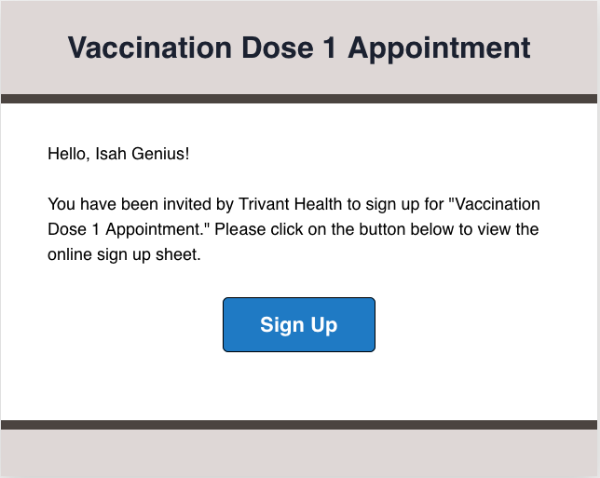 Still cannot locate the vaccine sign up?
If you do not have the creator's email address or an invite email and are unable to locate the sign up, please contact the organization who is distributing the vaccine to request more information on how to sign up.  
SignUpGenius is the leading online sign up software site used by millions to organize not only COVID-19 vaccine sign ups, but any event or occasion that requires people to sign up. Since each organization chooses how to publicize their sign up, it's generally best to contact them if you are unable to locate the sign up.