Press Releases
/ SignUpGenius Unveils New Integrations to Simplify School Organizing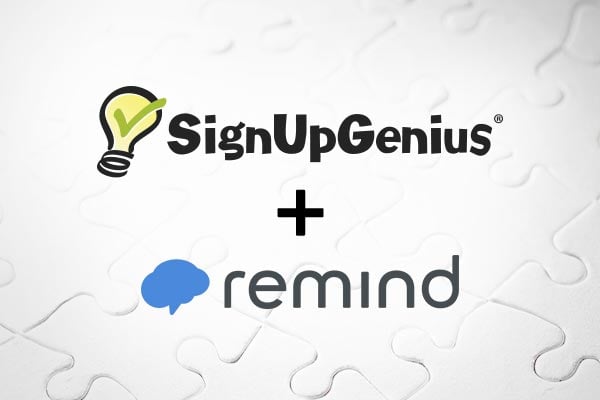 CHARLOTTE, N.C. — SignUpGenius announced new integrations with Remind and MySchoolAnywhere today that will simplify communication between educators, parents and students. The online sign up company's mission is to empower people to change the world by making it simple to organize groups, and school organizers make up the largest percentage of the website's client base. 
The new partnerships will bring higher levels of efficiency to the classroom, homework assignments, PTO events and afterschool activities.  
Remind is a school communication platform used in over 95% of U.S. school districts. With the new integration, Remind users now have access to all of their SignUpGenius sign up links within the app and can add them to group messages.
MySchoolAnywhere is a PTO management and directory software. The integration allows MySchoolAnywhere organizers to link to sign ups in their account. Group members can view links and sign ups in one spot.
"Our team is excited to partner with Remind and MySchoolAnywhere to make event planning even easier for parents and educators," says Jad Talbert, Vice President of Architecture at SignUpGenius. "The integrations give our users access to two powerful organizing tools in just a few clicks, saving valuable time and helping to boost their impact. That's what it is all about." 
SignUpGenius has introduced expanded features this year, including online payment tools, mobile email and text messaging and removing in-app ads for paid subscribers. SignUpGenius also launched an integration with Google Maps, giving sign up creators the ability to link maps to sign up pages to provide real-time directions.  
Fall is a busy time of year at SignUpGenius, as families, businesses, groups and nonprofits plan events and coordinate volunteers. The sign up site reached its highest traffic month ever in October 2018 with more than 18 million unique visitors. 
About SignUpGenius
SignUpGenius simplifies the process of coordinating events and people by providing online sign ups for nonprofits, schools, sports, churches, families, colleges, businesses and organizations.  
SignUpGenius on Facebook
SignUpGenius on Twitter
Contact SignUpGenius: [email protected]