Press Releases
/ SignUpGenius Adds New Features to Help Users Collect Online Payments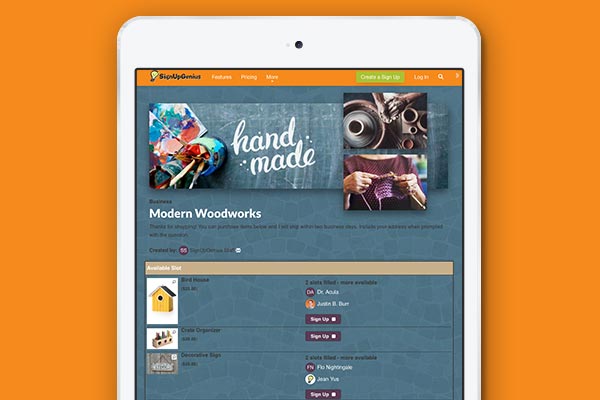 CHARLOTTE, N.C. — SignUpGenius has introduced new features to give people more options for collecting money through their online sign ups. The additions will allow sign up creators to include product images, offer discounts and provide flexible fees. 
The company relaunched its online payments feature in the fall, partnering with payments processor WePay to simplify the process of collecting money as SignUpGenius continues to diversify revenue. In 2017, online payments revenue increased 88.6% percent from the year before. The volume of payments processed topped $21.6 million in 2017, jumping 111% from 2016.  
Sign up creators can accept payments on sign ups for uses ranging from selling event tickets or school spirit wear to collecting money for charitable fundraisers or professional services. The new payment features introduce:
Product images: Sign up creators can display product images on sign ups to sell items such as school spirit wear, business merchandise and handmade goods.
Volume and date discounts: Organizers can offer a discount for people who register early for events or give a deal to those who buy a certain number of items, such as tickets.
Flexible fees: Sellers can now opt to absorb the payment fee from their earnings or let buyers pay the fee at checkout. The total fee collected is 5% of the purchase price plus $0.50 per transaction.
"Our latest additions to SignUpGenius' payments tool make it easy for everyone from professional photographers to PTA leaders to collect money with online sign ups," Chief Financial Officer Jeff Richek said. "We continue to add new features to provide people with an all-in-one tool for group organizing." 
SignUpGenius also recently introduced 40 new sign up designs for spring events. The professionally designed themes will help users plan events from Easter egg hunts to spring fundraisers.
Each month, 10 million to 14 million people use SignUpGenius to simplify group organizing. Users signed up for 62.6 million items in 2017, from class party treats to volunteer slots.  
About SignUpGenius
SignUpGenius simplifies the process of coordinating events and people by providing online sign ups for nonprofits, schools, sports, churches, families, colleges, businesses and organizations. By enabling up to 14 million unique visitors per month to sign up for tasks online, SignUpGenius has done away with the need for paper sign ups, "reply-all" emails and phone trees.
SignUpGenius on Facebook
SignUpGenius on Twitter
Contact SignUpGenius: [email protected]