30 Baseball and Softball Team Snack Ideas
Your turn to provide the team's game food means finding that snack that is both tempting and satisfying, yet provides enough fuel for their sport. Browse these tasty snack ideas for your baseball and softball athletes.
Refresh and Recharge with Fruit
A sweet treat packed with vitamins and hydration, fruit is nature's perfect snack.
Berry Cups - Fill colorful paper muffin cups with fresh fruit to provide a mixture of juicy berry options.
Frozen Grapes - Package frozen grapes in plastic baggies tied with the team color ribbon. They are both easy and delicious.
Fruit Kabobs - Food is more exciting when presented on a stick. Try alternating pineapple, strawberries, grapes and banana rounds on wooden skewers. For safety, cut the ends of the sticks to avoid sharp points and slide on paper cutouts of team mascots.
Popsicles with Frozen Fruit - Packaged or homemade, popsicles always provide delicious, hydrating refreshment.
Squeezable Applesauce - Freeze the pouches or tubes for hot days.
Chopped Fruit in a Waffle Cone - Watch fruit become more appealing with a crunchy twist.
Fruit Leathers - Easy, pre-packaged fruit leathers are an ideal add-on if you need more than one snack option.
---
Coordinate softball snack duty with a sign up. View a Sample
---
Fuel Up with Protein
Keep energy levels high and ward off the post-game "hangries."
String Cheese - These go great with bags of mini pretzels and a drink.
Tortilla Rollups - Consider spreads such as nut butters (check for allergies first) or spreadable cheeses.
Yogurt - Freeze the tubes to keep them cold or serve small bowls of yogurt with baggies of different toppings such as granola, dried fruit or marshmallows.
Hummus - Serve with pita pockets, crisps or wheat tortillas.
Mini Sandwiches - Use cookie cutters to create entertaining sandwich shapes as a fun surprise.
Cheese and Crackers - When you're looking for crunch, this classic is a great choice and can be gluten-free if needed.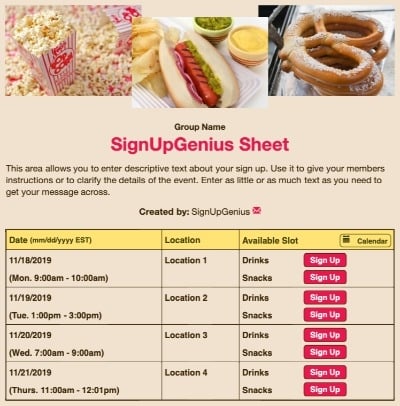 Veg Out
Make vegetables more snack-worthy by pairing them with a yummy dip or spread.
Veggie Dip Cups - Use short, clear plastic cups filled halfway with ranch dip and insert various colorful veggie sticks (carrots, celery, peppers) along with a team flag. (Make flags with straws and paper cutouts).
Mini Carrot Bags - Add a veggie dip, hummus or a bag of crackers.
Edamame - Great with a drizzle of soy sauce or a sprinkle of salt.
Cherry Tomatoes - Serve the bright yellow and red ones with a dip on the side.
Veggie Chips - These may vary in their level of nutrition, but they still win when compared to the average, greasy, high-fat version of chips.
---
Register your baseball team and collect fees with a sign up. View a Sample
---
Hydrate
Your young athletes need to replace lost fluids to deliver oxygen and nutrients to their hardworking muscles.
Water Works - No matter what, always have a water option available, even if you choose to bring another flavored drink.
Lemonade - So refreshing, and when made with the real stuff, it is loaded with vitamin C.
Sports Drinks - Be careful on the sugar content, but their replenishing electrolytes, especially on hot days, can be beneficial.
Chocolate Milk - This yummy energy booster has received new recognition as an excellent post-exercise recovery drink due to its high protein, carb and calcium content.
---
Organize concessions volunteers with a sign up. View a Sample
---
Restore Energy with Carbs
Help replenish and nourish tired bodies while providing a power boost.
Popcorn - There are lots of packaged varieties to choose from, and if you're making homemade, add some Parmesan cheese on top for added protein.
Trail Mix - Look for nut-free versions and package in colorful plastic treat bags (check your leftover birthday party stash).
Granola Bars - Always hearty and easy to buy in large, wrapped quantities.
Mini Bagels - Add flavored cream cheese for an extra treat.
Frozen Chocolate Milk Pops - Delicious, protein-packed and hydrating.
Oatmeal Energy Bites - There are so many no-cook recipes out there — it's a nut butter mixed with additions such as raisins, coconut and chocolate chips, then rolled into balls and chilled.
Graham Cracker Sandwiches - Fill them with cream cheese and fruit such as strawberries and bananas.
Muffins - From blueberry to banana to chocolate chip and more, these are a delicious treat whether homemade or store-bought. Depending on how close you are to dinnertime, you may want to stick to the mini size.
Be sure to recognize that the time of day and length of the game make a difference in choosing your best snack options. Sometimes a combination of food items becomes the best solution for your young players' changing tastes and needs. Keep swinging!
Laura Jackson is a freelance writer based in Hilton Head, S.C. with her husband and two teenagers.