50 Tips and Advice for College Freshmen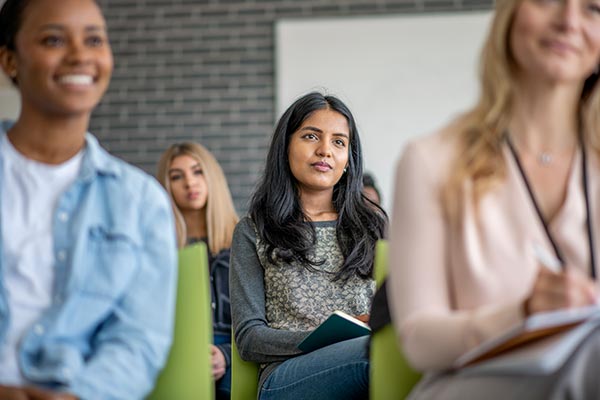 So you're headed off to college. Congrats! Of course, you're there to learn, grow and eventually graduate. And you also want to have fun and embrace the college experience. These helpful tips and words of advice for college freshmen will help you strike that balance.
Advice for Having Fun and Making Memories
Get Involved - Each university has countless campus clubs and organizations to join. Clubs are a great way to make new friends that share a common interest or passion. Genius Tip: Try these 50 get to know you questions to strike up a good conversation.
Live on Campus - While it might not be the most glamorous, it's a great way to get to know a lot of people and take advantage of on-campus events. Staying on campus with new friends will soon make it feel like a home away from home.
Try New Things - Campuses offer a variety of courses, classes and events that are fun and rewarding. Whether it's art, rock climbing or cultural events — now is the time to expose yourself to new and wonderful things you never knew existed.
Find the Best Local Coffee Shop - Get caffeinated while studying in a relaxing environment. Plus, coffee shops are a great place to connect with new friends.
Explore Your Campus - Campuses generally have the best landscaping and are perfect for walking around. Walking to class doesn't count. Take some time to get off the beaten path and explore some of the cultural, natural or artistic displays located on and around campus.
Attend College Sporting Events - Many students attend the football games, but going to a variety of sporting events throughout the year is a great way to meet people and feel the team spirit on your campus. It's always fun cheering on your school's team!
Find a Cheap Dinner - Knowing the best hole-in-the-wall restaurant in town is a huge bonus. It beats the ramen, it's cheap and someone else makes it for you.
Get a Journal - Journal your thoughts a few times a week. You'll enjoy seeing how you've changed over the course of your freshman year. Plus, it will be fun to look back at 20 years from now.
Be a Good Friend - If you have a friend who is struggling with school or life, they need someone to show up for them. Love your friends and be the voice of reason as you support them. You'll both have fond memories of being present in those important moments.
---
Coordinate study groups with a sign up. View an Example
---
Advice for Being a Good Student
Use a Planner - When you first start classes, get a calendar or download an app and list out all the assignment due dates. Professors generally place all assignment due dates on the syllabus before the semester begins.
Go to Class - Nothing will set you up for failure faster than not attending class. You're guaranteed to learn more if you simply attend. Plus, professors often lecture and emphasize topics that will be on exams.
Find a Good Place to Study - Efficient study sessions save a lot of time and allow you to focus. If you find the dorm has too many distractions, try the library or hang a hammock in a quiet spot and study outside.
Form a Study Group - Not everyone works well in groups, but working with others and exchanging information and memorization tips can be a useful way to learn the information.
Stop Procrastinating - Maybe you tried waiting until the last minute in high school, but this is college — with more reading, more writing and more deadlines. It's a lot harder to write a 15-page paper the night before it's due.
Sync Your Word Documents - You don't want to lose all your hard work because of a computer glitch. Cloud storage drives like Google Drive and Dropbox make it easy to auto sync your work to instantly auto saves files.
Meet with your Professors - Professors set office hours to meet with students. Take advantage of the time and it will serve you well. Professors can provide extra helpful tips — especially if you are struggling with the subject. Plus, they can be helpful for writing a recommendation or connecting you with future internships.
Take Breaks - The brain can only handle so much information at one time. If you feel like you're getting brain fog, take a 10-15-minute break. The break will actually give your brain a needed rest and will help you better concentrate and retain more information overall.
Do Difficult Tasks First - No one enjoys spending the last remnants of their energy on something difficult. Tackle those difficult subjects and assignments while you feel fresh. You'll learn more and accomplish those tasks more efficiently.
Don't Cram for Exams - Cramming is the least effective way to study, especially since college courses cover a lot of material. It's best to spread your studying out over a longer course of time that leads up to the exam. Genius Tip: Try some of these helpful study tips.
Sleep - Sleep is important because your brain needs time to consolidate the information you have learned. Additionally, good sleep makes you more attentive and focused for the next day of learning.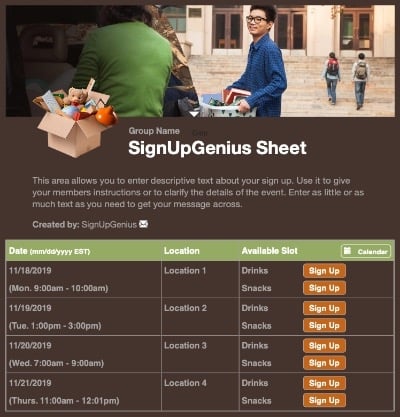 Advice for Balance Priorities
Exercise - Most colleges have fantastic fitness centers and often offer free workout classes. Hitting the gym and working out with a friend is a great way to have some fun and stay healthy.
Get a Work Study Job - Whether it's an official work-study job or one at a library or gym desk, finding a job that allows you to earn a little income while you study is big win, and having a set schedule separate from classes will help you learn to manage your time.
Establish a Routine - Balance your study time and your free time. Plan each day by scheduling out tasks such as studying, going to the gym and sleeping. Stick to the routine and it will cut down on idle time.
Don't Overcommit - There's always an event or an opportunity in college. It's necessary to learn to say "no" to some of those opportunities. Learn the balance so that you can use your limited free time doing the things you enjoy most.
Get Off Your Phone - Watching YouTube videos, texting and checking out social media can be fun, but it also uses a lot of your extra time. Plus, no professor wants to see you on your phone during class.
Eat Healthy - We all love a late-night snack, but munching on Cheetos at 1:00 A.M. is probably not a good idea. Be sure to eat a balanced diet that includes fruits and vegetables and drink water instead of sodas. Your body will thank you.
Call Your Parents - They did raise you and it's a good idea to call them occasionally to let them know that you're okay.
---
Recruit sorority rush volunteers with a sign up. View an Example
---
Advice for Dorm Life
Be Prompt with Laundry Machines - No one appreciates you leaving your clothes in the washer or dryer long after the cycle is done. Oftentimes, someone will need to use the machine and will likely remove your clothing and set it somewhere else.
Shower Shoes Required - Community bathrooms in the dorm are not the cleanest. It's best to shower with waterproof shoes to avoid those germs.
Keep a Snack Stash - You may get hungry in the evening after the cafeteria is closed or not feel like walking the distance. Having a stash of healthy snacks (such as granola bars) is a great way to satisfy your hunger. Genius Tip: Try some of these 30 healthy college snack ideas.
Draw a Roommate Agreement - Roommate issues are often a problem. Have a pre-emptive conversation about how you can build a spirit of respect between one another. Formalize things by drafting up a roommate agreement. Genius Tip: Find the best roommate match with this questionnaire.
Get a Safe - Your room is like your house — you have valuables in there that you need to protect. Having a safe is a simple way to have peace of mind about protecting your valuables.
Be Clean - Nobody likes living with a messy person. Dorm rooms are already small spaces and keeping things clean creates more space and will help prevent roommate conflict.
Expect Noise - Living with a bunch of peers who have discovered a new level of independence can bring noise and chaos. Learn to expect it and adapt to it.
Have a Basic First Aid Kit - A simple first aid kit with bandages and pain relievers can be handy to have — particularly if it's late at night and you just need something for your headache.
Use the Storage Area Under Your Bed - Dorm rooms are small, so you'll need to look for ways to creatively organize your stuff. Purchase organizational storage products and use them to store things under your bed. Try more ideas with the 50 dorm room tips and ideas.
Advice for Independence
Find a Mentor - Don't underestimate the usefulness of someone older and wiser than yourself. College can be tough and a mentor can offer advice, counsel or help — like when your car breaks down and you don't know a good mechanic.
Open a Bank Account - This will teach you more about managing your finances, and you'll need it if your parents transfer money to you. Even if they use an app, being able to move those funds to a bank account is helpful.
Develop a Budget - Managing your money is part of becoming an adult. Develop a plan to help you spend your money well over the course of the month. Don't rack up credit card debt as it makes for tough times later. It is best to learn to live off the money you have in your account.
Be Safe - If you find yourself in an uncomfortable situation, get out. Also, don't go out alone at night. Instead, walk with a friend or wait until daylight to run an errand.
Be Responsible - Now that you are an adult, some mistakes can get you into serious trouble and they may even stay permanently on your record. Show maturity by making good decisions and thinking ahead. Do the right thing.
Check the Weather - It's no fun when it begins raining in the middle of your walk to class and you're caught without rain gear. Check the weather and purchase an umbrella.
Ask for Help if You Need It - If you have a problem or are struggling, it's not wise to bear the burden alone. Find someone you can trust and talk to them about the problem. Whether it's your RA, campus health professional or professor — use the available resources to find help. Last but not least — call your family.
---
Organize advisor meetings with a sign up. View an Example
---
Advice to Be in the Know
Don't Get Lost - There's no bigger freshman mistake than wandering around campus not able to find your class and stumbling in 15 minutes late. Learn the campus and find the classrooms before the first day of class.
Register Early - Required classes fill up fast and you'll want to register for those classes as soon as registration begins. Find out the first day you can register and set a reminder on your phone. Be sure to plan the classes you'd like to take before registration begins.
Learn about Campus Resources - Many colleges offer free learning labs or tutoring to help you when you are struggling with a subject. For example, the campus library can help you navigate databases when writing a research paper.
Use that Student Discount - Student discounts abound in college towns. Keep your student ID handy and be sure to be aware of places that offer a discount.
Take Advantage of Free Things - Not only are you likely to stumble across free food and t-shirts, you're also likely to find free membership into professional organizations, museum admission and software.
Buy Used Instead of New Books - Textbooks can be expensive and you can often save some money purchasing used ones on your own. Sometimes you can even find free online versions of textbooks or used copies kept in the library.
Ask Questions - You don't look silly for asking questions. Questions are for gaining greater clarity. So, don't be afraid to speak up and ask questions, whether they are related to an assignment or your financial aid plan. You don't want to pay too much or submit the wrong kind of work. Speak up.
College can be a very enriching and memorable experience. Plan wisely and use these pieces of advice to ensure things go smoothly for a successful freshman year.
Contributors: Jen Burg, Steven Borders