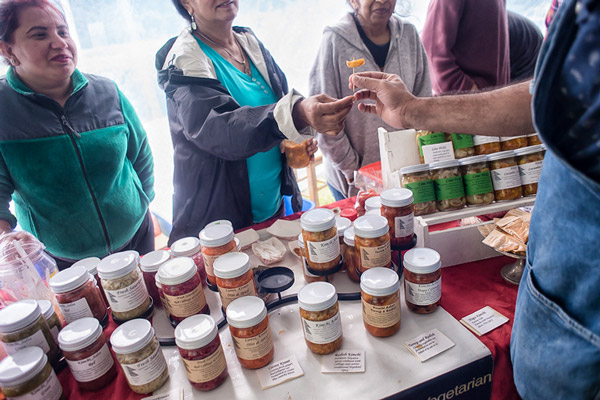 What do SignUpGenius, a sauerkraut mob and organic farmers in Texas have in common? They are all essential in executing the Austin Fermentation Festival, which highlights fermented food products, including everything from beer and wine to kimchi and you guessed it — sauerkraut. 
Austin, Texas, is known for its food culture, and the Texas Farmers Market is front and center to the movement, organizing events that educate people about their food's origins and the local farmers who grow it. We caught up with SignUpGenius user Nora Chovanec, marketing and events coordinator for the organization. 
"People know Austin as a great restaurant town. We also have a lot of really great local organic farmers who have built a strong connection with the culinary community," Chovanec says. "People here are really interested in where their food comes from." 
When the idea to create the Austin Fermentation Festival was born, one thing was clear — volunteer assistance would be essential. With a small professional staff of two to run the festival, Chovanec turned to SignUpGenius to help coordinate about 75 volunteers, who handled everything from taking tickets and setting up tents to running the "sauerkraut mob." 
"Having a crew of volunteers was crucial for everything to run smoothly," she says. "Instead of me having to go in and create a spreadsheet, we could just direct people to the website. It was a really great organizational tool. It made my life a lot easier as a volunteer coordinator." 
Email reminders were a particularly helpful feature to remind volunteers about their responsibilities, she says. The market also uses SignUpGenius to coordinate events throughout the year, including a sign up for photographers who post pictures on Instagram of the market.  
"The Texas Farmers Market is all about promoting healthy, local food and the Fermentation Festival plays right into that." 
The planning efforts helped the organization to raise more than $4,000 for the Texas Farmers Market and Rancher Emergency Fund, which helps farmers dealing with loss of crops or livestock because of floods, storms or other conditions.  
Thanks to the Texas Farmers Market for bringing community together in such a thoughtful way. Cheers to that! 
Photos Courtesy of Jo Ann Santangelo