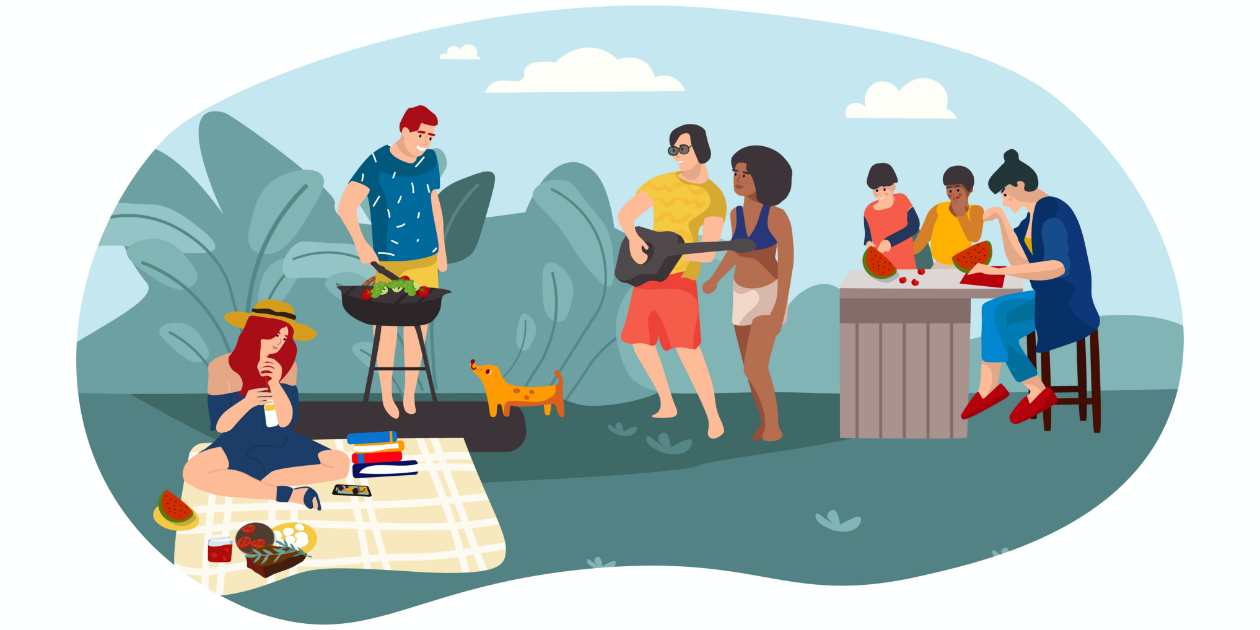 Picnics are a fun way to gather with friends or family and enjoy the outdoors, all with your favorite foods on hand!
While it's great to enjoy simple picnics in the backyard with a blanket, picnics are also a fun way to engage church members, gather employees together or celebrate with friends for special occasions. When you are planning a picnic for a larger group, sign ups can help to simplify the process.
Here are a few ways you can coordinate your next group picnic from sending out invites to sharing the food responsibilities:
Plan ahead
Planning is always the most important step in the process. Having a vision for the desired outcome will help you organize all the details ahead of time before relaying the information to your group.
Think through the key details when you are hosting a large picnic. Consider the location, how long the event will last and what types of food you want to provide or have guests bring - along with additional supplies like utensils, decorations and games.
You also need to plan out what type of sign up you want to use. If you plan to provide everything for the picnic, and just need a headcount, then an RSVP formatted sign up is the way to go. If you know that you need additional help with the preparation and supplies, consider using a sign up to recruit volunteers for delegating tasks.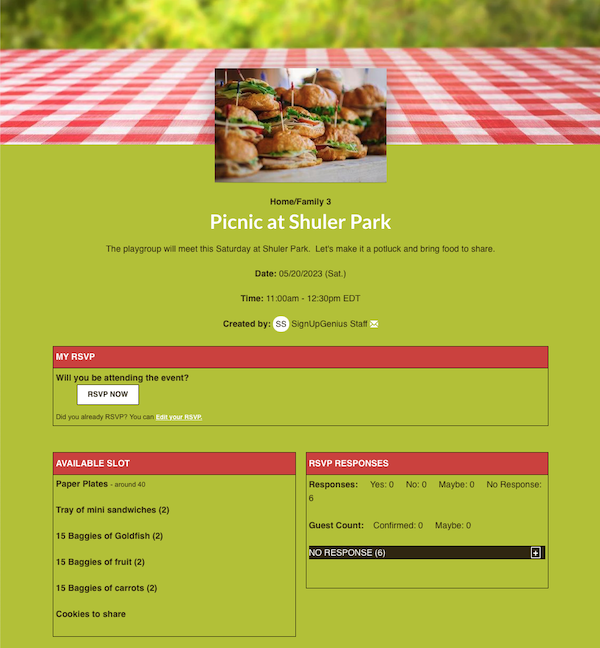 Crafting the perfect sign up for your event starts with picking a theme that matches your picnic style, and we have plenty of options to choose from! Or if you want to keep your sign up 'on brand' for your group, whether it's for your company or church, you can use your own images and designs to create a custom sign up theme with our premium plans.
Delegate tasks
Once you have the details decided, it's time to
create your sign up
. You can guarantee you won't be left with all the preparation by delegating food items and tasks to others that are attending.
Make a list of everything you need at the event. Then, set up your sign up with slots that have a quantity limit for each. You can ensure you have all the refreshments needed, without too much or too little of certain food items. Participants can easily opt to bring the food items, decorations or supplies when signing up.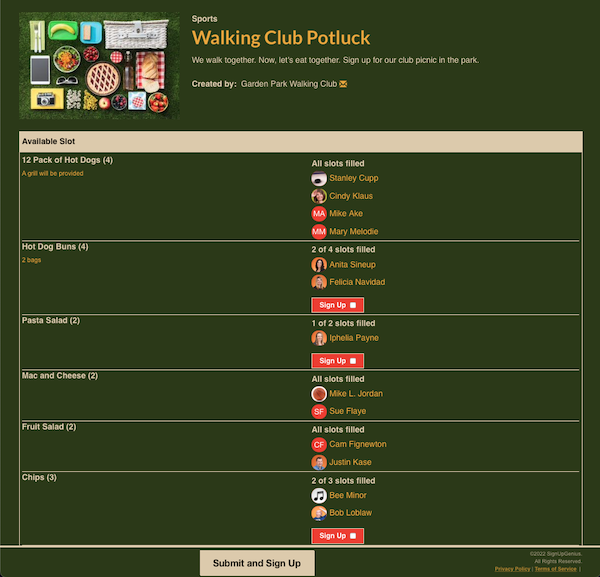 When your group is signing up, you can ask custom questions to collect information needed prior to your picnic, from dietary needs to t-shirt sizes. For example, knowing dietary restrictions in advance allows you to prepare alternative options so that everyone can enjoy a meal.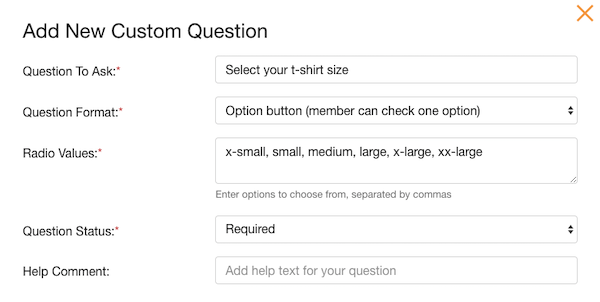 Plan the entertainment
Add a little extra fun to your picnic with some entertainment. Host games or consider hiring a local band for the event. If your event grows large and starts to have food vendors, consider using a sign up to coordinate their registration and
collect any necessary fees
.
Need volunteers to assist you in the setup of the event or during the duration of the picnic? Create a separate volunteer sign up and ask them for their shirt size ahead of time on the sign up. Outfit volunteers with t-shirts on the day of the picnic to make them easily visible for providing assistance. With our tabbing feature, you can combine volunteer, vendor, rsvp and food sign ups into selectable tabs.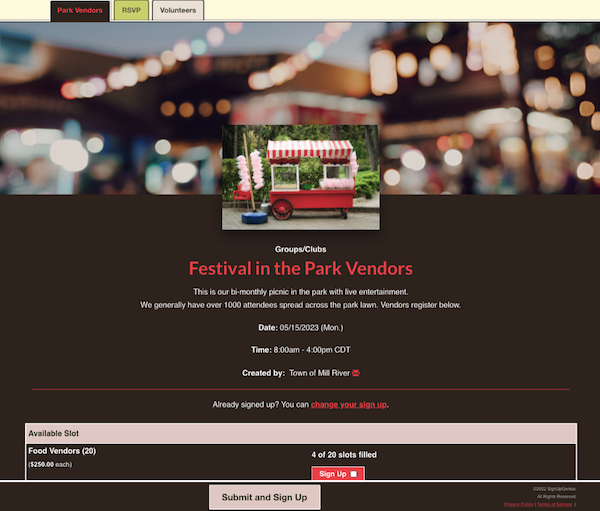 Spread the word and follow up
Sharing your sign up
with your group can be achieved in many ways through an email, posting on social media or sending a link within a newsletter. Check out these
5 ways you can promote your picnic
and get your group to sign up!
Once the sign ups roll in, make sure to keep your guests up to date with all the information they need prior to the picnic. You can send custom reminders out with details like where to meet, at what time and what to bring.
Enjoy the picnic!
Once the sign ups are sent, the slots are filled and your guest list is complete, it's time to enjoy everyone the event. If your picnic is filled with guests you want to get to know better, try using some of these
conversation starters
to make a connection and start chatting.
Outdoor games are also a great way to keep the group engaged after your meal, especially if there are little ones are in attendance.
Wow! Who knew your picnic idea could scale into a full-fledged community or company event? And, with online sign ups, it was easier than you think. So, get started today planning your next picnic or event gathering with an online sign up.