Press Releases
/ SignUpGenius Announces $5,000 Genius Tech Giveaway for Schools
SignUpGenius Announces $5,000 Genius Tech Giveaway for Schools
Online sign up company will award $5,000 for technology to winner of back-to-school contest.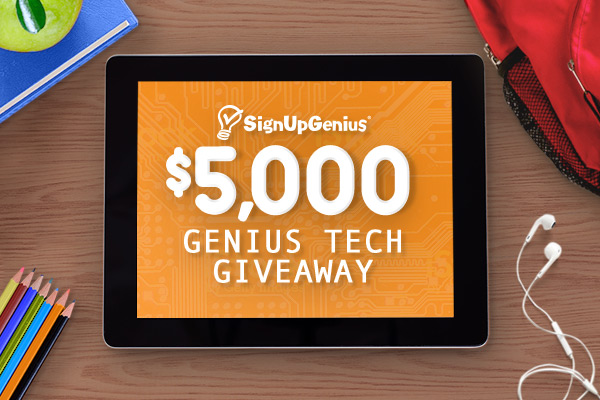 CHARLOTTE, N.C. — SignUpGenius, the leading online sign up service for event and volunteer management, will award $5,000 in its back-to-school Genius Tech Giveaway.  
One nominated school will receive the grand prize to energize learning with new technology. A winner will be selected randomly after the contest ends September 15. Nominators can enter the giveaway once daily.  
"Access to the latest technology empowers students to succeed in a digital world," Senior Marketing Strategist Kate White said. "We are excited to give back to the next generation of geniuses with helpful tools for their classrooms."  
Millions of parents and teachers use SignUpGenius each month to plan everything from classroom parties and PTA fundraisers to parent teacher conferences and snacks for sports teams. In 2016, 2.3 million events were organized on SignUpGenius and more than 66 million people visited the site. 
Last year SignUpGenius awarded 10 teachers $500 each to fulfill their classroom wish lists. Giving back is an essential part of the company's culture. With a focus on helping vulnerable and at-risk children, SignUpGenius partners with nonprofits including Brookstone Schools, a private Christian school that provides education to children from financially challenged families. 
About SignUpGenius
SignUpGenius simplifies the process of coordinating events and people by providing online sign ups for nonprofits, schools, sports, churches, families, colleges, businesses and organizations. By enabling up to 12 million unique visitors per month to sign up for tasks online, SignUpGenius has done away with the need for paper sign ups, "reply-all" emails and phone trees. The company was recognized as Small Tech Company of the Year at the 2016 NC Tech Awards, North Carolina's largest statewide technology awards program. 
To learn more:
SignUpGenius on Facebook
SignUpGenius on Twitter
Contact SignUpGenius: [email protected]