Press Releases
/ SignUpGenius Introduces New Sign Up Builder to Empower Organizers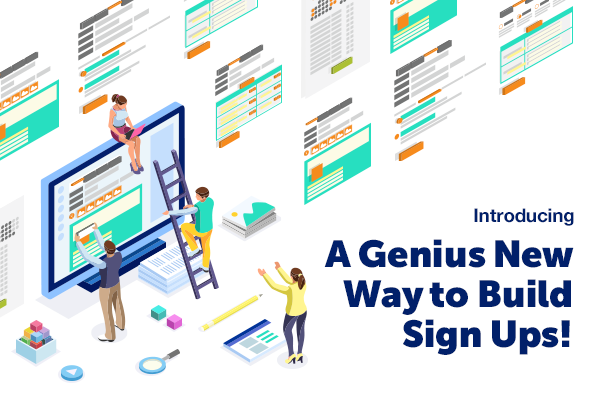 CHARLOTTE, N.C. — SignUpGenius announces an innovative sign up builder to make organizing faster and more streamlined for users. The original sign up tool was first used to coordinate soccer snacks in 2008, and the site has grown to become the world's largest volunteer management site with more than 96 million visitors annually. 
Over the last decade, people have used the classic 7-step sign up builder to create more than 13 million sign up pages to plan community events, organize volunteers, schedule business needs and accept payments. Today the company pulls back the curtain to reveal a brand-new sign up builder offering fewer steps and more utility.
The updated SignUpGenius builder supports the increasingly diverse need of groups including families, schools, businesses and nonprofit organizations. With this release, the site offers a faster and more intuitive experience, reflecting the company's mission to empower people to change the world by making it simple to organize groups.  
"Our clients' feedback inspired the new Sign Up Builder, and we're excited to help people save even more time when creating their sign ups," says Amy Tidwell, Senior Testing Analyst at SignUpGenius. "Our new tool will help simplify the planning process, whether you've been using SignUpGenius for years or are organizing your first event." 
New sign up builder features include:
Streamlined steps: The sign up creation process is now four steps (instead of seven) with one tab for design and one tab for managing slots.
Intuitive date/slot creation: Select and sort time slots and dates for the event in one place, and make edits easily as needed.
Updated look: A clean, modern design makes the sign up process simple and fun.
Real-time visual preview: Preview the sign up design and layout in real-time throughout the creation process. Users can also see how the sign up will appear to their group members using desktop and mobile devices.  
Simpler settings: View settings in one spot and choose from easy sign up sharing options.
  New Builder Reviews:
"I love it! So easy to use and I was able to create my sign up in WAY less time"
"I like that with this new version you get a slight preview of what your sign up will look like. With the other one you had to go through multiple steps before getting a preview. It's nice that with this new version you get to see that right up front."
"I like it much better than the classic builder. It was intuitive and saved time creating the different slots."
Additionally, SignUpGenius users can access sign up themes to organize seasonal events like spring graduation parties, summer camp registrations, vacation rentals and more.  
About SignUpGenius
SignUpGenius simplifies the process of coordinating events and people by providing online sign ups for nonprofits, schools, sports, churches, families, colleges, businesses and organizations.
SignUpGenius on Facebook
SignUpGenius on Twitter
Contact SignUpGenius: [email protected]