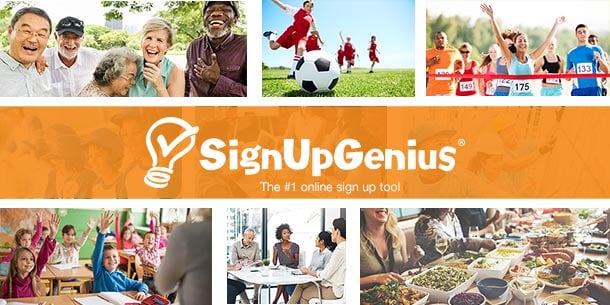 Are you ready to try the No. 1 online sign up site? If you're looking for an alternative to paper sign ups, reply-all emails or simplistic sign up sites, look no further. Getting started with SignUpGenius is easy — in just minutes you can create simple and powerful online sign up sheets. Our tool is easy to use, flexible for your needs and packed with features that can scale with your organizing needs.
Should I Use SignUpGenius?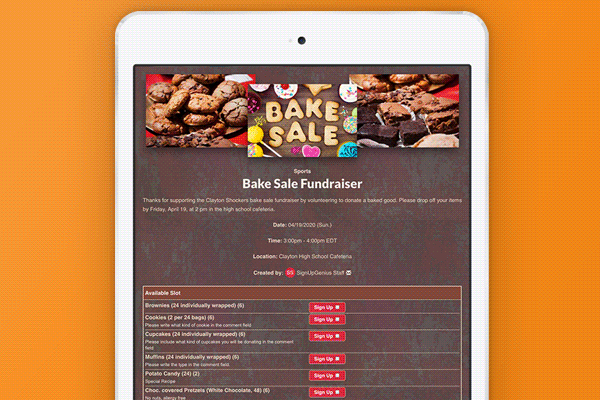 Any group can benefit from using SignUpGenius to coordinate events and responsibilities. Whether you're organizing training for new employees, planning the school
PTA's annual fundraiser
,
scheduling church volunteers
 or hosting a playgroup for neighborhood kids, SignUpGenius can help. Our sign up tool means no more reply-all emails or group texts to figure out who's bringing what and when they'll meet.
Plus, your group will never forget a commitment — like soccer snacks — again. Trust us, that's how this whole thing got started. Our automated reminders can be scheduled and sent via email or text message.
SignUpGenius is also the largest online sign up site in the U.S., with up to 20 million users each month. Chances are your participants have already heard of us or used SignUpGenius before! 
How Do I Create My First Sign Up?
You can get started with our
sign up guide
 or select the green
Create a Sign Up
 button at the top of the SignUpGenius header. You'll be taken through a few simple steps where you'll add event details, pick a fun and
colorful theme
(we have hundreds of free options plus exclusive themes for our paid subscribers) and invite your group.  
SignUpGenius can help whether you're organizing an intimate family potluck and need to collect RSVPs or a huge fundraiser that coordinates thousands of volunteers over multiple days.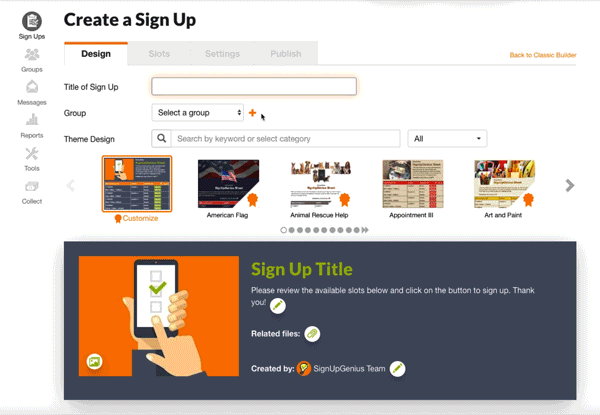 How Do I Invite People to Sign Up?
You'll be able to invite group participants to sign up for your event after publishing the sign up. Once published, you'll be taken to the Share tab and presented with the various options for sharing your sign up. You can send invites from our site or copy the link to share on your own. Be sure to check out these helpful ways to
share and promote your sign up
. 
If you'd like to introduce SignUpGenius to your group members before they receive their first sign up invite, you can share our Starter Kit and printable welcome letters with them. They'll think you're a genius, and they'll thank you when they realize it only takes a minute to sign up. We'll even send reminders a couple days before your event, so your group members don't forget their responsibilities.
How Can I Transfer Information?
All good things can't last. Maybe your child is graduating elementary school and you need to hand over PTA duties to a new committee chair. Land a new dream job? You can easily transfer your sign up data to another person to organize the office Thanksgiving potluck. Simply 
duplicate and/or transfer sign ups
to give new leaders a leg up with their planning.  
Do you need to transfer your sign up group information? From your account page, head to the Groups area on the left side of the page. Click the Transfer tab at the top, and you'll be able to select a group to transfer to another user. (Make sure to click the box "Leave a copy of groups in my account" if you want to be able to retain the information as well.) 
Are you training someone for the year to come? Add multiple administrators to your account to help them shadow you, create sign ups and be prepared to lead the charge. You can customize admin permissions - giving them full or partial access in the account.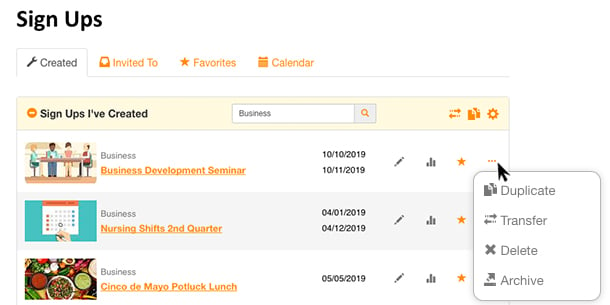 What if I Need Help?
No need to send up smoke signals! We'd love to help.
Try our FAQs
 or
write a message
to our award-winning support team. 
This Site is Awesome. Can I Do More?
Aww, you're so kind, you've made us blush. And yes, if you're organizing a large group, want ad-free sign ups, advanced sign up reporting, exclusive themes, text messaging options and more, check out our subscription-level
Premium features
.  Our site is always free for small groups and a great value for everyone!