Press Releases
/ SignUpGenius Kicks Off Back-to-School Season with $5,000 Giveaway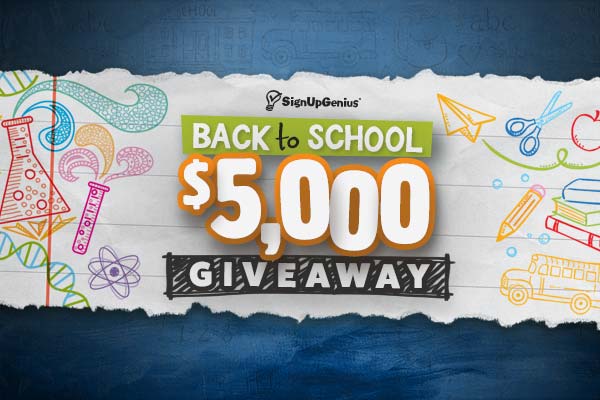 CHARLOTTE, N.C. - SignUpGenius, the leading online sign up service for event and volunteer management, will award a school $5,000 in its annual back-to-school giveaway.  
One nominated school will receive the grand prize to spend on programs benefitting its students and teachers. The winner will be selected randomly after the contest concludes on September 15. Nominators can enter the giveaway once daily.  
"SignUpGenius is excited to help a school start the year strong with $5,000 to spend on its greatest needs," Chief Marketing Officer and Chief Operations Officer Angel Rutledge said. "Whether it's technology to give students access to the latest learning tools or new athletic equipment for recess, we're happy to empower the winning school to reach its goals."  
Millions of people turn to SignUpGenius during back-to-school season to plan everything from class wish lists and PTA fundraisers to lunch room volunteers and sports team snacks. In 2017, people used SignUpGenius to organize more than 3.5 million events. More than 77 million people visited the site. 
Giving back is an integral part of the company's culture. With a focus on helping vulnerable and at-risk children, SignUpGenius partners with nonprofits including Brookstone Schools, a private Christian school that provides education to children from financially challenged families. 
SignUpGenius will also give back-to-school planning a boost with the release of more than 50 new sign up designs. The professionally designed sign up layouts will help organize events such as school open houses, company service projects and meal sign ups. SignUpGenius creators can access hundreds of free themes, and exclusive multi-photo themes are available to paid subscribers.  
About SignUpGenius
SignUpGenius simplifies the process of coordinating events and people by providing online sign ups for nonprofits, schools, sports, churches, families, colleges, businesses and organizations. By enabling up to 14 million unique visitors per month to sign up for tasks online, SignUpGenius has done away with the need for paper sign ups, "reply-all" emails and phone trees.
SignUpGenius on Facebook
SignUpGenius on Twitter
Contact SignUpGenius: [email protected]