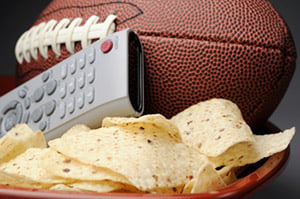 The Super Bowl is coming up and so is party time! Food, friends, fun, and oh yeah...football! Whether or not you like the food, the friends, the football…or maybe the fact that this is the end of football…here are a few suggestions to make your party a hit.
1. Use SignUpGenius to plan the party, send invitations, and track RSVPs.
This is a free online tool for creating and managing a successful party.
2. Keep food simple and portable.
Keeping it simple will allow you to enjoy the party, too.
A buffet is the best option when watching TV.
Prepare recipes beforehand that will not hold you prisoner in the kitchen.
Keep food warm with warming plates or crockpots.
With SignupGenius, you can track RSVPs and have plenty of food prepared! Or you can have friends sign up on SignupGenius to contribute dishes for a potluck.
---
Get lots of great Super Bowl party food ideas here!
---
3. Pick a theme.
Sure, it's about the game and those ridiculous commercials, but you can make it even more entertaining by choosing a theme to go along with football. How about a luau, a mexican fiesta, or a mardi gras flavor?
4. Be creative in decorating.
Once a theme is chosen, unleash your creativity.
Provide confetti to throw for touchdowns or at game's end.
Have life-size player cutouts of key football team members.
Hang up a game day banner. They should be available online or through local party stores.
Decorate with game day balloons.
Provides hats and noisemakers.
Use team colors, your kid's footballs, team jerseys, goal posts, and pennants.
Hang lights in the game area and at game time, dim the regular lights.
5. Strategize your screen set-up.
Set up as many televisions as you have available around the party area, creating 2-3 clusters of seats so everyone has a good view.
Designate a no-talking area for dedicated fans to watch the game--you know, those fanatics who keep telling people to shut up during the game.
Have a room without a television for partygoers who aren't interested in the game and want a place to talk.
6. Remember these safety issues.
Establish designated drivers before the party.
Make sure your TV and entertainment center are safely mounted.
Childproof your home if kids are coming.
7. Focus on the details.
Have lots of paper towels, napkins and rug cleaner handy for messes created during exciting plays.
Have plenty of coasters around.
Designate a place for coats and let guests know where to find them when you greet them at the door and collect them.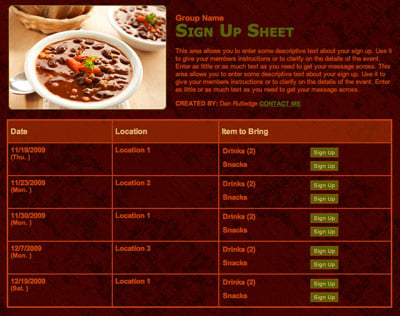 8. Provide Other Entertainment
There will be some who come just for the party, not the game. Keep the day fun for them, too.
Have a room with a television and a few rented videos for the non-football fans at your party.
Have a game day set of Super Bowl trivia to ask during half time.
Tape the half-time show and watch it later, so you can spend the time enjoying your guests or playing some halftime games.
9. Kids can come, too.
If kids are attending, put their sodas and juice boxes in a different cooler (than the adult beverages).
Make them a pizza in the form of a football.
Set up a room with video games and other games.
If the weather is nice, set up games for them to play in the backyard like volleyball, soccer or football.
10. Go the extra mile with party favors.
If you want to go all out, provide a party favor.
Team lollipops
Personalized water bottles
Team colored t-shirts that party-goers put on when they arrive. (You can find cheap t-shirts online or at a craft store.)
And whatever you do or don't do for your party, be sure that you remember the people are more important than the food or the favors. Enjoy them, and they will enjoy the party!
Janis Meredith writes Jbmthinks, a blog on sports parenting and youth sports. After being a coach's wife for 27 years and a sports parent for 17, she sees issues from both sides of the bench.