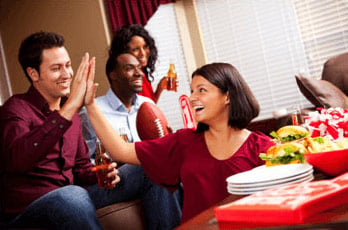 The Super Bowl is the best "party event of the year" and for many sports fanatics, it's the best excuse to host a fun-filled get-together. This game day bash has become much more than watching the game, screaming at the officials, yelling at the players and cheering when your team scores. It's about the total experience of combining the biggest sporting event of the year with non-stop food and drinks in the company of friends.

Now, tackling your game day festivities can be a large task without a game plan. But whether you tune in for the game, the halftime show or the commercials, you won't miss one minute of the action if you keep things simple with a "Super Bowl Potluck Party" full of make-ahead dishes and a super spread of great eats.  
---
SignUpGenius can help you organize your Super Bowl Potluck for FREE. Learn More.
---
A potluck party, with its casual, laid back atmosphere is a great idea, especially if you don't like the idea of buying, cooking and cleaning up the entire event. Though the term "potluck" suggests a random assortment of dishes, it's likely to turn out better when the host does a little bit of organizing. If you don't want to risk the chance that all of your guests will bring chips and dip, begin by assigning them a specific course to bring along.
From kickoff to overtime you'll score big with our Super Bowl party lineup ideas:
Your "1st and 10" Party List
1.  "Pass" the dip, spreads and savory appetizers! Whether you're celebrating at the stadium or on the sofa, pre-game layered bean dip, guacamole and chips, or cream cheese filled pinwheels will give your guests a lot to cheer about. Simple standbys like salsa and hummus or dressed-up bowls of fondue will score a big touchdown with most any of your arm chair quarterbacks.
2.  Winning "one pot" meals. Wherever your favorite team is from, work it into your menu and create a regional "one pot meal" that just gets better and better the longer it simmers on the stove. In the southwest it's chili; in Louisiana, gumbo; New England has baked beans; and the south has chicken and dumplings. You can even add a hot and spicy element to your Super Bowl party by working with a little Floridian gulf coast cuisine that gives your meal a spicy Cuban vibe. For your convenience, make it ahead of time and reheat it on the big game day.
3.  Championship Casseroles. Casseroles top the charts among Super Bowl food classics, from baked mac'n'cheese to over-stuffed chicken potpie to creamy tuna noodle casserole and lasagna. These dishes can be prepared in advance and even frozen so that they are ready to pop in the oven the day of the big bash.
4.  It's the "Soup"er Bowl! Chili or stews from scratch usually evokes warm winter memories and soups like potato, matzo ball, chicken noodle, cheddar cheese, French onion, minestrone or vegetable beef, served with flaky biscuits or cornbread are always crowd favorites. Serve the meal in large mugs so your guests can walk around and eat while watching the game.
5.  Wings-n-things. Roasting creates the mouth watering flavors and aromas that make hot wings and meatloaf some of our favorite foods. Buffalo wings are an integral part of every Super Bowl. In fact, the "wing bowl" is as eagerly anticipated by some as much as the actual game. Meatloaf is delicious hot, great cold, and perfect for hearty sandwiches, while ribs are always a traditional crowd pleaser. Roasted potato skins stuffed with bacon and cheese, and piled high with sour cream and scallions are terrific halftime main fare.
---
Check out a sample Super Bowl party organized with SignUpGenius!
---
6.  Breakfast blitz dishes: Lots of people find breakfast such a comforting meal that they indulge in their favorite breakfast items for appetizers as well. Small, tantalizing breakfast bites of quiche, deviled eggs, sausage balls and anything bacon-wrapped always adds up to a eating good time.
7.  First down fruits and vegetables. Whether they are crispy, like a crudité platter of celery and carrot sticks, bell pepper strips, broccoli, cauliflower and asparagus, or soft and succulent like potato salad or spinach dip, eating vegetables gives your guests the illusion that they eating healthy. A gooey caramel dip will perfectly complement a tray of fruit kabobs or cut-up green apples.
8.  Wow-worthy baked goods: When it comes to desserts, rich and creamy is the name of the game. Nothing makes nibbling more fun than homemade black forest brownies, decadent double chocolate chip cookies, decorated cupcakes or fruit laden pies. Any high-fat, high-calorie sweet is perfect for mid-quarter snacking.
9.  "Spike it!" Football and beer are a classic winning team, but some ready-to-serve cocktails might score extra points and make your game day blowout even more festive. Keep it light and mix up a potent pitcher of tequila, rum, pineapple chunks and lemon slices and pour it over ice. Remember to include a non-alcoholic beverage like lime sherbet fruit punch for your driving friends.
10.  Don't forget the extras! Pump up the party atmosphere with lots of fun football-themed Super Bowl party activities, party games, party supplies, favors, and decorations. Earn your MVP title with plenty of Super Bowl table decorations, table covers, centerpieces, plates, cups & napkins to set your table, decorate your home and make this the best Super Bowl party ever!